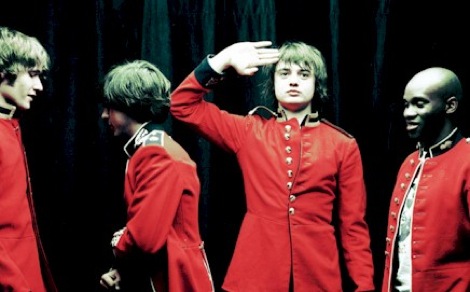 Yep, the whoppers in the miltary jackets are back. Urgh.

It'd be fair to say I've held back writing this piece since Getintothis started back in 2007. There's been ample reason to do so, but why draw attention to such fading mediocrity.
However, when news began to surface over the weekend that The Libertines were reportedly being offered £1.5million to reform to play the Leeds/Reading Festival double-header, the latent nausea gave way to full blown AIDS of the mind.
There's simply no band in the history of popular culture more responsible for crimes against music, fashion, media coverage and personal hand care.
The Libs were, are and always will be a circus of chimps, conducted by chimps, entertaining chimps.
Central to this monkeying around is chief baboon, Pete Doherty, a man whose head resembles an inflated pig's bladder which has been kicked around a Sunday League cowfield and greased in duck fat and then had it's slithery neck tattooed by a sozzled drunk using a needle the size of magic marker before having the insides of an etch a sketch tipped onto the grubby remains.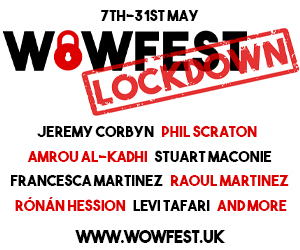 Pete, it's fair to say, has had many downs (jail, drug addiction, writing music) and the odd up (Kate Moss), yet it's somewhat understandable why there's this perpetual furore whipped up around this clearly charismatic, yet equally, excruciately overrated musician.
The yin to Pete's unwashed tramp's cock yang, is former drama student Carl Barat, the handsome equine lovie, who's limitless emptiness in the talent and charisma department was cruelly exposed when Pete repeatedly jumped ship, finally forcing the hand of his other half to form possibly the worst band in history: Dirty Pretty Things.
As for the other two, who cares, it's easy to take pot shots at a band that first look liked they'd raided an army and navy store run by The Scissor Sisters, only to crib a look, sound and lifestyle bettered by their producer Mick Jones' band over a quarter of a century before.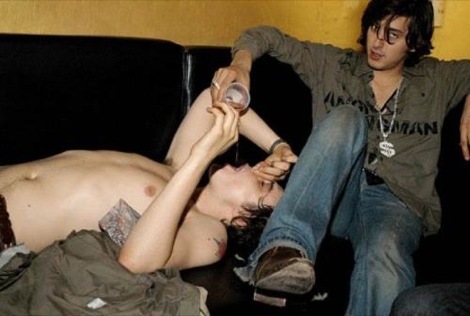 But it's the music that counts and these chimps occupy the most mucky of zoos littered with rotten bananas and crud-stained tires.
And still, this is a band that commands fantastical media hoo-ha for a debut record which was roundly derided upon its release only to be followed by an even poorer one and then, post-split, a series of breakaway projects which weren't just abject but should have carried government health warnings due to the severity of the ear damage that would be inflicted on consumers.
To date, you'd be hard pushed to assemble an EP of top quality Doherty/Barat compositions – and that too would have to include balloon-head junkie-poet Pete 'Wolfman' Wolfe's co-penned For Lovers.
As a regular reader, fan and supporter of NME you can understand the necessity to report the drama surrounding Pete's exploits, yet the publication is almost single-handedly to blame for their glorification as musical deities.
Operating like a Libertines Propaganda Bible, every toot of the crackpipe, cramping of the stomach and relieving of the bottom of Doherty's junk-fuelled japes were recorded with friends of the band, journalist Anthony Thornton and snapper Roger Sargent eventually compiling their words and images in their very real Libertines Propaganda Bible called The Libertines Bound Together.
All the while Doherty's legend of Albion – this mystical Dickensian dystopia where skag tasted of steak diane and came ready to feast from Kate Moss' vagina – were lapped up by illiterate internet forum teenagers believing John Wilmot, the Earl of Rochester, had been reincarnated in the body of a soggy hoover bag with hard-boiled eggs for eyeballs and teeth constructed from white dog turd.

Anthony Thornton, NME journalist and author of The Libertines Bound Together on how rad it was to see Pete, a crackpipe and a police van all at the same time.
Incredibly, popular myth would have you believe 2002 – the year arsecake Up The Bracket was released in the UK – was the nadir for new music.
But this is an extreme fudging of reality to fit with the 'legend' of the Libs: The Streets, Liars, Interpol, The Coral, Radio 4, NERD and BRMC all released killer debuts which put to shame NME's 12th album of 2002 while also in the main prove there's a career to be had in the longer term with or without the help of the hype machine.
Speaking of legacies, with the possible exception of Oasis, it's nigh on impossible to comprehend a more chronic list of jokers one band were responsible in spawning – The View, The Pigeon Detectives, The Others, The Kaiser Chiefs, The Kooks, The Courteeners, The Paddingtons, The Rifles, The Enemy, The Rakes, The Holloways, The Fratellis. And Razorlight – all decendants and key players in Britpop The Return: The Worst Sequel In Music History. Hardlines to teens in this era, you really did have it bad.
Only The Arctic Monkeys emerge with any credibility from this glut of pant-wettingly weak army of 'The' clowns – and it's clear that Alex Turner's infinitely more progressive lyricism together with the band's collective towering musicianship would have cemented the band for big things, with or without the influence of the so-called 'Likely Lads'.
It's fitting that James Endeacott of 1965 records, who signed The View, told Thornton in 2007: 'The View say that Oasis made them want to be in a band. The Libertines made them realise that it was possible.'
Nail. On. Head. Britpop Part 2, made it possible for precisely any young whopper to form a band, get signed and see the national music press lap up their lukewarm ear-urine.
And now they're back again. Urggh. Sad days indeed, that in some quarters their unearthing is met not with a muted shrug but once again viewed as a time for heroes…
Watch The Libertines first interview since reforming – NME exclusive.
And finally…
True Story: Glastonbury 2004, we stumble across Jason Pierce in the Lost Vagueness field an hour or so after he's played a blinder with Spiritualized in the John Peel Tent. He entertains us with numerous stories before we leave him to soak up the rest of the night.
Three years later, the exact same spot, a celebratory and rather worse for wear Klaxons stumble into us with Didz Hammond (he of Dirty Pretty Things/ex-Cooper Temple Clause) and one Carl Barat in tow.
We mention to Barat about our chance meeting with Pierce, to which he says, 'Who are Spiritualized? They sound shit, mate.' I tell him to look them up as they're far from shit, while making conversation about other bands playing the festival. Conversation turns to Led Zeppelin, who are heavily rumoured to be reforming later that year, to which I ask Barat would he be keen to see them?
'If I can smuggle myself in,' he replies. Before adding, 'Guess I better buy their Greatest Hits, I only know Stairway To Heaven…'
Comments
comments