Threshold Festival makes a welcome return to Liverpool's Baltic Triangle, Getintothis' Peter Guy chats to director Andy Minnis on their comeback and the ever changing landscape of Merseyside music.
Threshold Festival is back. After a year off to take stock the  Baltic Triangle based arts and music happening swings back into action on March 29-30.
Expanding upon last year's reduced Across the Threshold event, the 2019 edition returns to the wider original blueprint with venues including District, 24 Kitchen Street, Brick Street, Hobo Kiosk, RPM Studios.
The first headliner revealed is producer, singer-songwriter, World Loop-station Champion and record breaking beatboxer, SK Shlomo who brings his debut album to Threshold.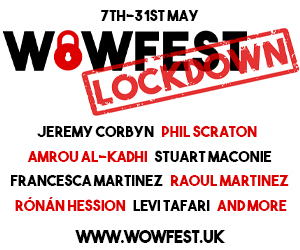 Also among the first wave of artists are Seafoam Green and the hugely popular Manchester electronic pioneer, Paddy Steer
Joining them on the bill are a variety of musicians including Felix Hagan & The Family, Science of the Lamps, Emilio Pinchi, The Soul Rays, SKAAR, Jollyboat, Impropriety, Little Peaches, Jazamin, Tosin Salako and the Unstoppable Sweeties Show.
The diverse line up also features Radio Exotica DJs including Rory Taylor of Positive Vibration Festival of Reggae. Manchester visual arts collective Gang of Five will bring their creative flavours to the Baltic, and graffiti artist Danny O'Connor.
Also on the bill are: Emergency Tiara, Katie Mac, The Mono LPs, Mersey Wylie, Milo Seabird, Chinchilla and more.
With all these plans afoot, Getintothis caught up with Threshold Festival director, Andy Minnis to find out more and reflect upon the ever changing landscape of Liverpool's arts and music community.
Getintothis: Hey Andy, Threshold's back – which can only be a good thing for Liverpool – what's your expectations?
Andy Minnis: Hey, thanks, it's great to be back and planning a full scale event for March. We'll be focusing on what we always aim for, a diverse celebration of emerging talent from Merseyside and across the country.
We're building on our relationships with promoters and venues we've worked with over the past few years and trying out some new partnerships too. It's going to be a bumper edition.
Witch Fever headline Independent Venue Week's opening party – ticket just £5
Getintothis: Obviously the Baltic Triangle has changed a lot since you guys started there – do you see Threshold as trailblazing the area and championing the Baltic?
AM: There has been incredible change in the area since we started, way back in 2010-11. 
In the eight years we've been going, the Baltic has changed so much but we have always been champions of the area. Each year we've popped up in new and empty spaces, to show off the amazing potential that the Baltic has.
We put on an exhibition and held performances in the empty space at Northern Lights which has now transformed into Hinterlands – and championed fringe venues like the Lantern Theatre and Siren when they were emerging as alternative creative spaces.
We were the first festival to be held in the Baltic and it's been incredible to see what's happened since.
Getintothis: Which elements of the Baltic do you like that's new?
AM: The area has matured so much and there are some real concerns about the pace of change and new developments – but I like now what I've liked for years and that's the ever changing nature of the Baltic.
New DIY venues like Brick Street have opened up, along with multi-purpose spaces like Love Lane Brewery. Now a year old, it's a building we used as a pop-up venue in 2015 and has been completely transformed.
It's also great to see the conversion of historic and empty buildings into studios and offices – alongside the bars and venues. Baltic Creative has been such a pioneer in that respect and really helped secure the growth of the area.
Merseyside music's best new acts of 2019 – Getintothis' new breed of the ones to watch
Getintothis: Obviously 2018 was a reduced Threshold – what's your aims for the 2019 edition?
AM: We're returning to our larger format – and returning to our roots, putting arts at the heart of the festival, alongside music.
In our first line-up announcement, we were keen to put performance artists like Little Peaches, Impropriety and Jollyboat front and centre.
Also on there is Jazamin, a visual artist who has over the years exhibited, curated, performed and been on our planning team, often all at the same time! Her practice is a perfect example of what we're all about and what we aim for every year.
Getintothis: Are there any big changes to this year's festival?
AM: The festival changes every year with different venues, different artists and different team members – no two years are ever really the same.
That keeps us all excited on the planning team – and hopefully keeps people coming back.
The theme for 2019 is Infinity and we'll be looking backwards and looking to the future – expect retrospectives, discussions on future festivals, blurring of boundaries and our usual secret and pop-up performances.
Getintothis: I always enjoy the arts programme – what's the plan?
AM: In 2019, we'll take it to the streets, literally. We're planning to project onto buildings along Jamaica Street to break down the traditional 'white cube' paradigm even further.
We've always been about exhibiting in unusual spaces and we will continue to integrate our exhibition into our performance spaces.
Blending art forms and encouraging collaboration between visual artists and musicians has been a key element of what we do, since the beginning.
Getintothis: What are the major challenges with planning Threshold – and a festival in general?
AM: Threshold is a volunteer-led organisation, which has incredible benefits but means most of our team work full time jobs.
This means time is precious and getting everyone together to meet can often be tough, but we have such a good time when we get together it reaffirms why we do it.
Apart from time, the other challenge (not surprisingly) is money – an issue for any small festival. We have been lucky over the years to get funding from public and private sources but we are a not for profit organisation and never paid ourselves for the work we do.
It's very much a labour of love, but when you look around a packed room and see people having an amazing time – it's worth it.
Getintothis: Are there any artists you'd love to have play – and which ones from Liverpool are you enjoying right now?
AM: If we're talking dream line-up, some artists that have been on heavy rotation this year for me are John Grant, Gus Gus, Beak, Fever Ray …but we're not really the kind of festival that markets itself on big headliners.
It's more about the mix and strength in diversity of the offer. As far as Liverpool bands – the last one I saw play was the amazing Queen Zee who are just going from strength to strength, playing all over Europe and touring again at the start of next year – go and see them if you haven't already.
Also loving She Drew The Gun, it's been so good to see them take off and love hearing them when they pop up on 6 Music.
I definitely want to name check Nick Ellis and The Vryll Society as well, but one group that is on our line up and I'm most excited about is Unstoppable Sweeties Show. They're anarchic, unpredictable and will be a perfect addition to the festival.
Getintothis: What's your thoughts on Liverpool's arts and music scene at present?
AM: When some key venues like Static Gallery, The Kazimier, Mello and Dumbells closed it felt like there could have been some really tough times for alternative promoters and emerging talent to find the right opportunities.
I know that it has been tough for many but like Liverpool itself, we keep going and find new spaces and platforms to explore and express ourselves.
Mainstay venues in the Baltic like District and 24 Kitchen Street and of course Constellations took in those displaced from the city centre, but it wasn't long before the North Docks really took off and there is such a great choice of venues there to play in now.
There are tough times but there are always shining lights out there that give me hope – the likes of Drop the Dumbulls, Melodic Distraction, Immix Ensemble, Positive Vibration and studios like The Royal Standard, alongside critical friends like The Double Negative. We're all part of a big, wonderful creative ecosystem which has plenty of ups and downs… but that's the way it's always been.
Getintothis: Finally, anything else to declare?
AM: Tickets are on sale now – just £15 for two days, visit our website – and thanks for the questions.
Comments
comments