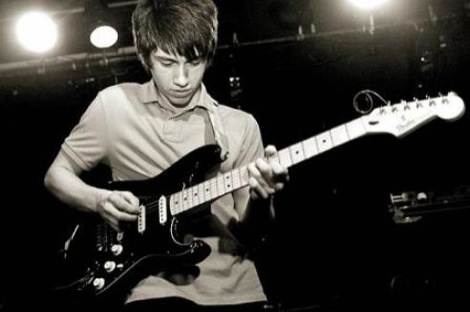 On the jukebox this week…

Fields: Everything Last Winter – Album of the Week
Atlantic
*SUPERLATIVES ALERT*
It's fair to say every musical exponent from Scandinavia is the shizzle: Dungen, Jaga Jazzist, Jóhann Jóhannsson, Sigur Ros, Bjork, heck even ABBA reinvented popular music as we know it.
Now Fields may be for the most part British but it's their one part Icelandic maiden – Rekjavik keyboardist and co-vocalist Þórunn Antonía – who is their secret ingredient.
Hailing from London and Birmingham, this five-piece evoke the spirit of medieval drone and shoegaze bombast, but Antonía inject its with that rare Scando potency; that netherworldly rustic spirit, an untouched innocence, spellbinding magnetism with an angelic faery vocal coo.
Opening like some Nordic invasion, Song for the Fields is emblematic of their gusto, four parts Rohan roughhouse, one part Lothlórien elven flair. Acoustic guitars jangle while electronic phalanx's thunder underpinned by the joyous harmonies between Antonía and lead vocalist Nick Piell. It's rapturous.
Schoolbooks with its 13C lament ala Espers, would be lost amid the current trend of freakfolk Banhart-a-likes where it not for Antonía's pixie dust scattered liberally among tribal drumming and brushed Kraut synths.
The breathy delivery of 'school books float on a riverside like leaves they choose to come and die,' echoes the spirit of Joanna Newsom with the throaty husk of ex-Concrete Victoria Bergsman. Juxtaposed with The Death which follows, the effect is doubly engaging, one soothing and meditative the other a sacrificial slaughter of the two-headed goat.
But don't let all this pagan mysticism put you off. You Brought This On Yourself is the greatest Blur song not penned by the hand of Coxon and Albarn; juggling a hook to hum, a Girls & Boys keys beep and a melody to shake your Adidas Sambas at. Its one of the catchiest tracks of the year.
Best of all Feathers sees Fields slamdunk all their bludgeoning power and intertwine it with layers of violin, cello and empassioned vocal discordance.
Quite simply, if another debut record in 2007 tops this I'd be staggered, rush out and buy this now, for like many of their Scandinavian contemporaries' releases, its a delight from start to Finnish.*
8.5/10
Listen
Kings of Leon: Because of the Times
Columbia/Hand Me Down
Poor Kings of Leon. You really have to pity the buggers. Emerging in 2003 they were the toast of the industry along with bleary-eyed upstarts The Strokes, Yeah, Yeah, Yeahs and White Stripes, and despite any real semblance of musical proximity bar a whiff of garage rock all were catapulted to the upper echelons of the musical foodchain with 'next big thing' tags draped heavily around their necks.
Having seen off the good (Von Bondies), the mad (Datsuns) and the ugly (Jet) also-rans of this new wave of copyists, KoL produced an understated follow-up, an underwhelming high profile slot on Glastonbury's pyramid stage and returned to Tennessee after extensive touring in Europe with little to show but a well documented dose of knob rot.
And now, to add to their woe, they return with their third long-player and have in some quarters been written off as pensionable has-beens despite barely legal drinking age in their home country. No wonder they're always yodelling.
But things aren't all bad. Upon release Because of The Times topped the UK album chart for a number of weeks and, thanks to high profile support slots with the likes of U2, you can see why: this is their BIG tunes album.
Kicking off with album highlight Knocked Up, producer Ethan Jones whacks the effects up to the max with echoplex guitar the Edge would be proud of as Caleb, disturbingly (bearing in mind their STD history) declares 'I don't care what nobody says, we're gonna have a baby', amidst booming delayed drums. It's so Joshua Tree you can almost taste the dust.
Jones' magical box of production tricks are further utilised on lead off single On Call which is akin to My Morning Jacket at their most grandiose and catchy – soaring vocal strains, chiming guitars and relentless sticky basslines. It's as tight as their ball-clenching Levis.
Of course, KoL you suspect will never deliver a record of astounding avant-rock ala Battles or Mars Volta, but you simply can't knock them for bringing new ideas to their own modestly decorated table. McFearless is a screeching buzzsaw of bruising rock, Black Thumbnail combines their celebrated hoedown inbred southern rawk with all the fun of a Guns & Roses rock & roller while Fans is an MoR fest in the vein of Boston complete with multi-tracked punch-the-air harmonies.
Sadly as with many bands who road test new ideas, quality control can go out the window and here, uncharacteristically for KoL, three quarters in Because of the Times' momentum falters and the tunes run dry. Where KoL previously revelled in brevity here its overload and only closer Arizona – a cloudbursting arena rocker in waiting – saves the record from a tiresome final furlong.
Shame really, as for the most part, the brothers done good.
6/10


iLiKETRAiNS: Progress. Reform
Fierce Panda
You know the way everytime you're watching a channel 4 documentary on the holocaust or the next threat to human existence Mogwai's Like Herod, Radiohead's Lucky or some incomprehensibly titled Godspeed track is guaranteed to be soundtracking the on-screen doom.
Well, it's a safe bet that if C4's sound editor's ears are in the right place you can add to that list any track off the frighteningly apocalyptic Progress. Reform.
Rooted in the metallic coldness of Joy Division but magnified by the epic scale of Mono, the alphabetically challenged iLiKETRAiNS are a more than solid addition to the post-rock stable.
Hailing from Leeds the five-piece wear their misery like a code of honour. Each of these seven tracks are brutal but nevertheless beautiful on the ears while vocalist David Martin introduces himself as the most morbid man in rock since Morrissey.
Terra Nova is awash with haunting Explosions in the Sky guitars set to a backdrop of Interpol's droning miserablism while Martin declares, 'Great God, this is an awful place, but I don't think we can hope for any better…'
His joie de vivre continues unabated on A Rook House For Bobby, where he reveals that all he 'ever wanted to do, is play chess with you,' amid the blackest of noise. Quite clearly a night down the discotheque swigging alcopops is not on iLiKETRAiNS agenda, and it'd all be hilariously over the top had the music not such incredible power.
No Military Parade adds layers of dusty bleakness to a weeping string orgy akin to Elbow scoring a funeral procession.
Events take an even more worrying turn on the magnificent eight-minuter Stainless Steel, where Martin implores to his partner, 'Don't go into the kitchen, that's where the knives are.' You suspect dicing up some onions is not his primary concern.
For while iLiKETRAiNS' music may bring little to the post-rock dynamic, clocking in at just 37 minutes this mini-LP never tires and like Manchester contemporaries Oceansize they mix quiet with loud to wondrous effect.
In the future when live executions are broadcast during ad-breaks and snuff movies are the norm on cable TV, iLiKETRAiNS' pathological drone will soundtrack events. And all will sing along joyously.
7/10
Scary Stuff.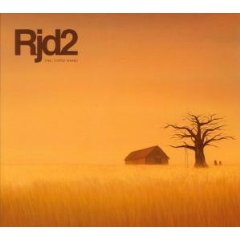 Rjd2: The Third Hand
XL
Diversity in music is a good thing. All the finest creative genii are restless shapeshifting chameleons hungry for that new sniff of sound.
So when presented with Ramble John "RJ" Krohn's newie, the innovative mixmaster of electronic eclectism, the omens were good. After all this is the man responsible for instrumental cuts namedropped in the same breath as DJ Shadow and Dangermouse/MF Doom.
Previous works have all been showered with generous thumbs-up while thrusting him to the fore of the underground poster boy status of skateboarders and WestWorld shoppers alike.
But where in the past RJ has mutated lifted samples and beats, The Third Hand his major label debut, is predominately all his own work – and in essence is an electronic pop record. The result is chaos. And dull at that.
The tone is set from the outset: a Toy 'R' Us piano parps and suddenly we're thrust into Ben Folds Five's garage – all jolly, saccharine and utterly plain.
See, its alright to be able to throw every known instrument into the mix, just ask Beck. But the Third Hand simply hums along, directionless and bland, unable to decide whether it's some kind of MoWax smoker's chillout or a Money Mark funk-pop breakout.
It doesn't help that RJ is no Jamie Lidell, ultimately lacking both the vocal range, and indeed, variety to carry a record which struggles to get out of second gear. Take Laws of the Gods – all Phantom of the Opera pomp before settling back into its couch and rolling a fat one and just faaade…
There are highs, albeit brief. The funk-like Have Mercy with its horns squelch and organ riff momentarily induces head nodding while Get It, marking the midway point, finally injects dynamic rhythm with cute synthetics.
It's not enough, The Bad Penny is a Jamiroquai B-side, Sweet Piece a limp RnB blipfest and Just When a near replica to two thirds of what's preceded it.
For all its boundless musical accomplishment, jerky time signatures and three minute pop symphonies, The Third Hand is a triumph of skill over soul.
3/10


Arctic Monkeys: Favourite Worst Nightmare
Domino
Dan le Sac and Scroobius Pip were right: Arctic Monkeys are just a band. But here's some observations:
A) Britain is currently a beat frenzy zone. Everyone is shaking it. And so they might, as along with Bloc Party's Matt Tong, the Arctics' Matt Helders is fast approaching legendary status and worthy of mention in the same breath as Moon, Bonham and Reni.
Its been mentioned that in the build up to FWN, Helders took up boxing, well, judging by the meaty slabs that dominate their second offering he could floor Ricky Hatton and Joe Calzaghe with a mere flick of his wrists. He's that good.
B) Jamie Cook knows a riff. Picking up from Fake Tales, Dancing Shoes and Dancefloor, Cookie has followed suit with some of the tightest chopping this side of Lizzie Borden.
Its fair to say that few bands this year will equal Teddy Picker in terms of indie disco clout, while D Is For Dangerous combines spiky badass fervour with laddish harmonies provided by Helders and head chimp Alex Turner that's more addictive than skag.
And as for that cheeky Knightrider coda in Old Yellow Bricks, well that's just hilarious.
C) The Arctic's pull off the best breakdown's in the business. No-one races into riff corner at 100mph before hand-break turning into the pit lane switching gears only to career off into the sunset. No-one.
D) There's no Certain Romance. Its true. Not one tune on FWN matches their debut closer in terms of scale, lyrical brilliance or all-round band dynamics. 505 comes within a whisker, with its distorted organs, towering guitars and distorted vocals, but they've yet to match that debut classic.
E) Turner won't disappoint. As if to prove his acerbic wit running through Whatever People Say I Am, That's What I Am Not was no fluke, he's further upped his game with reams of quotable couplets while painting a broader lyrical picture of Arctics life away from their native Sheffield.
It'd be easy to run off a plethora of such poignant Turner observations, but as with many of music's great writers the effect is lessoned without the delivery and his very special enunciation.
F) Ignore the hype, Fluorescent Adolescent aint as good as its twin sister Mardy Bum.
G) Arctic Monkeys are no cultural, nor indeed musical, phenomenon. For all their obvious talent, insanely catchy riffs, propulsive beats, lyrical marvel and not least enigmatic swagger. They are just a band. Whatever you thoughts on Oasis, the Monkeys have not, and by their very existence two albums in, will not inspire a cultural – least of all – musical shift. For better or worse the Arctic Monkeys, have not replicated the generational tremor that the brothers Gallagher induced upon release of their first records.
Indeed the Monkeys may have unintentionally invented mass scale online marketing which successfully generated into huge sales figures.
But they haven't impacted this country or beyond anywhere close to Britain's last huge musical phenomenon. Of course this may all seem naive – times change – but music has, and will always, throw up a motley crew who prove to be, not just a band.
7.5/10
* Apologies to all for the grose pun usage at the end of the Fields review, it was just impossible to resist!
Comments
comments