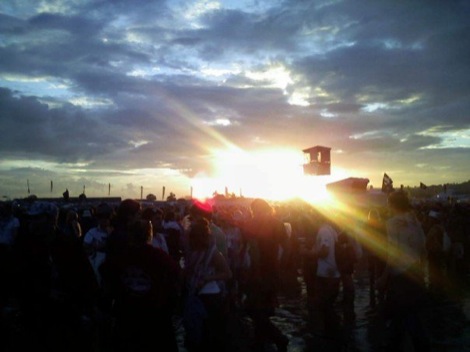 It may have been another apocalyptic mudbath, but nothing could stop 2007 being one of the best Glastonbury experiences ever, read on for Getintothis' comprehensive picture and feature special.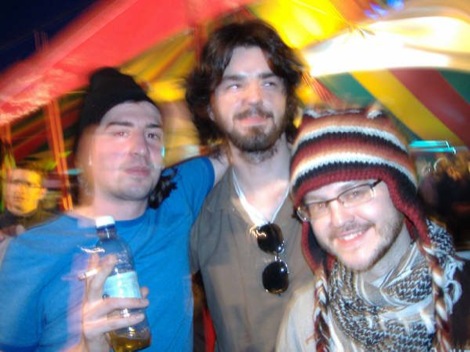 We're back! Ben, Mike and moi land in the fields of Avalon
Wednesday:
After what seems an eternity, the big day arrives, 2007 Glasto is a go-er – and this time, after 2005's nightmarish mud extravaganza, the wellies are the first thing on our coach. A tolerable seven hour ride from 9am sees us land in Pilton lay-by late afternoon, and I stride out to our usual camping zone atop the splendid hill overlooking the talismanic pyramid stage and take in the sights. How we've missed you Glastonbury. And the good news – it's sunny!
Familiarising myself with the glorious site, we enjoy a beautiful Thai curry in the greenfields, purchase a hippy hat – something which proves invaluable over the course of the weekend – enjoy a few beers and take a much-needed early night in preparation of the musical marathon ahead.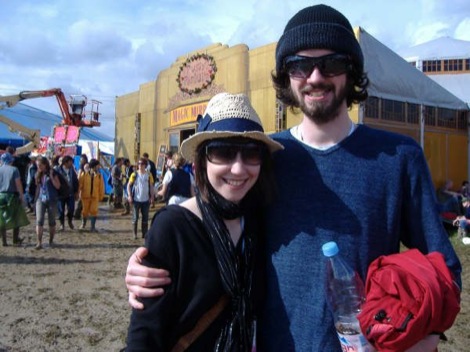 My sister Kathryn and friend Mike enjoy the sun outside the Pussy Parlour in Dance Village
Thursday:
An unforgettable day sees us take in the many delights – the circus field, a spectacular clay model exhibition in the greenfields reminiscent of the Chapman Brothers sculptures, the tepee fields and a brief wonder up to the stone circle complete with Banksy new portaloo exhibits.
The night is mayhem. We meet up with Daily Post staffer Ruth and other friends before a visual treat at the pyrotechnics show which sees semi-naked performers blasting hundred feet high flame-throwers which even from 50-yards scorch your eyebrows and send your hair billowing.
Unfortunately, light rain begins, and so we head for shelter. What we find is Glastonbury in its most bizarre and wonderful form imaginable.
Tucked away in a corner of Trash City – a field comprising huge scrap metal sculptures is a life-size crashed plane which hosts a party and on board martian dolly birds handing out multi-coloured cocktails and 'free love'.
We tinker around in the cockpit, then play with the onboard computers and phones and quietly take our leave.
What follows is even more exotic as we form a disorderly queue and enter a new feature to Glastonbury – the Stereovision Trannie nightclub. Swapping money for drinks chips we're treated to a monster rave featuring the wildest sights this side of the Rocky Horror Show.
Deep house pumps from the speakers before segueing into funk and cheesy dance, all the while gimps, hairy men in frocks and transgender dudes mingle with the happy punters. It's hilarious and utterly surreal. And we're downing champagne and grinning like an idiot.
At around 4am we trek back, completely deranged and tired but eager for Friday to kick in and the festival to really commence. We don't remember getting home, or sleeping. But waking up wasn't pretty.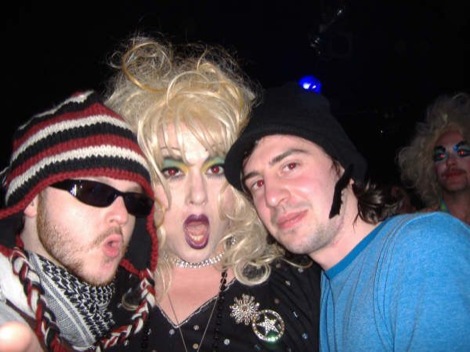 One of many colourful friends we met in the new trannie nightclub in Trash City.
Friday:
It started around 5am. We'd been asleep just 20 minutes when the heavens opened and that most unwelcome of sounds whispered into our ears. No, not a gimp asking us out on a date, rain on tent. And just like 2005, this wasn't just rain, this was a flood in the making. All around you can sense the dread and optimism seeping away. Next to my tent friends are moaning and cursing. I awake several hours later, sort my headache, and take shelter under our gazebo as Adjagas open Glasto 2007 on the Pyramid stage with about 150 people shivering as they belt out a clamour akin to Sigur Ros fronted by Damo Suzuki jamming in Kenya. You can imagine them propping up the world music corner on Jools very nicely. If that's your bag. Moments later Dundee tykes The View take their place for the first of two sets, and they momentarily raise the spirits with a blustery set of indie-pop. You know the script.
Better still are The Earlies – a psychedelic wash of synths, Americana and transatlantic grooveadelica. It's fun, but there's only about ten people arsed. Unfortunately such is the gush coming from the heavens, my interest (mainly sexual) in Amy Winehouse wanes after about 15 minutes – and the chances of getting sodden wet just for a rendition of Rehab is nil. So I make my way back to the safety of the tent, gather all waterproof swag and make my way over to the Other Stage for the Super Furry Animals.
Due to the already emerging sludge, I miss the majority of their set, sparkled by Gruff's Power Rangers outfit, but am buzzing off their customary finale, The Man Don't Give A F*ck – my spirits are reet good now.
If there's one superb addition to Glasto in recent years it's the Dance Village. Providing a veritable array of tents and watering holes, you'd be hard pushed to find something which even the most anti-dance punter couldn't stomach.
And it's in the Dance East tent that we stumble across what proves to be one of the acts of the entire weekend – the unpronounceably named !!! – or Chk, Chk, Chk, as they're commonly known.
This nine-piece use their three-drummer attack to channel their indie-dance crossover to the max as their Mick Jagger-meets-Prince frontman Nic Offer sends the crowd into a frenzy with his moves and flirtatious patter. The rapturous Heart of Hearts sends everyone delirious and we leave content knowing that was a showstopping display.
I've barely taken notice of The Coral for 18 months – despite having all of their records – but it's amazing just how many hits and superb tracks they've amassed. James Skelly and the boys do Liverpool proud and everyone is elated by their pop magic.
The bar is further raised by Rufus Wainwright; the King of Camp. A note perfect set is concluded by a tremendously emotional duet with sister Martha of Leonard Cohen's Hallelujah before he waltzes off for a costume change and delivers an utterly hilarious Judy Garland number, which despite sound difficulties, proves another musical high of the weekend.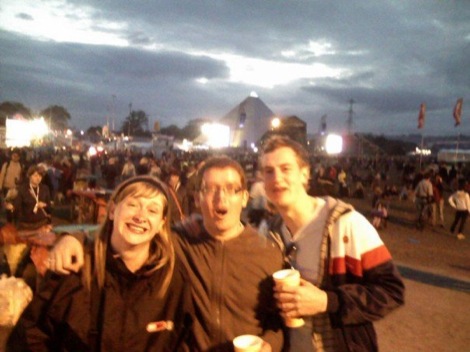 Suzy, Dave and Jon enjoy a late night singalong in front of the Pyramid Stage
With our bellies full and reclining on an inflatable coach, we catch Montreal minstrels Arcade Fire, who hit and miss in equal measure. They're a phenomenal live band, but in the setting of the Other Stage, you lose both their intimacy and the on stage madness which comes with every show. It's simply not enough to hear classics off both their records, when you know how much better it is to see them in full rampant mode inside a dingy club. That said, they're still a class act and Regina's vocals on Haiti, the power of Wake Up and the melodic majesty of Intervention are all outstanding. Back to Dance East and the Klaxons produce a similar vibe. Great songs, but unable to get inside the tent (it's positively bulging) and the new-rave drone is lost and all we're left with is toe-tapping and starring into giant glowing eyes in their faces displayed on the backdrop.
Before the festival the big dilemma was always Bjork v Arctic Monkeys, who on earth to see?
In the end it was simple – with the rain lashing down and a few beers consumed, a sing along and some good old fashioned guitar anthems was needed, and any doubts still lingering were quickly dispelled as Alex Turner strummed the opening lines of When the Sun Goes Down inviting the crowd to sing along. Few bands, let alone making their debut and headlining show, could so confidently stride on stage expecting the fans to sing back without so much as an opening line – this lot did it with ease.
Classic riff after riff, pounding drum beat after drum beat follows and by the time glorious closer A Certain Romance fizzles out, you know that the Monkeys have risen to the challenge and conquered all.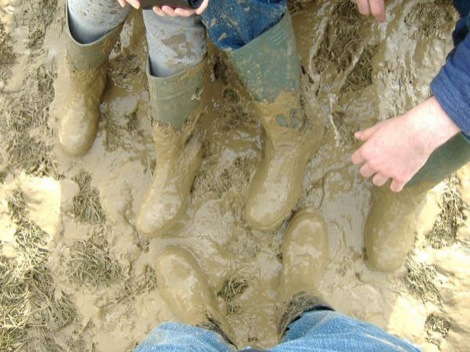 Mud, glorious, mud.
Saturday:
With our ears still ringing, we're awoken to the dirty sound of Seasick Steve sliding his way through dusty blues, and having devoured an equally grimy sausage and egg baguette The Pippettes provide a cute early morning pick-me-up with their faux-Motown ditties. Over on the Other Stage, The Long Blondes prove a frustrating listen. Kate Jackson epitomises the nagging dilemma; on the one hand she looks sultry in her red cocktail dress but on the other her over-zealous vocals begin to grate alongside tunes which fail to truly take off. They're good, but not that good.
Biffy Clyro, however, are immense. Their all-to-brief set showcases much of their latest LP Puzzle while old favourites from Vertigo of Bliss and Blackened Sky raise the roof. Their prog-poprock manages to remain technically incredible while simultaneously remaining accessible for all to enjoy.
The rain by now is forcing many people to flee for shelter and just as my spirits begin to fade Lovefoxxx and the addled CSS crew rip onto the stage with their sprightly psychedelic fun-rock.
Dressed in multiple layers of leotards, Lovefoxxx implores the crowd to dance and with tunes like Music Is My Hot Hot Sex and Let's Make Love & Listen to Death From Above it's impossible to resist. For the second time in the weekend, the Klaxons fail to shine, and again I find myself questioning the suitability of both the mid-afternoon slot and the piss-poor conditions. Rave was never invented to accompany wet lunch breaks.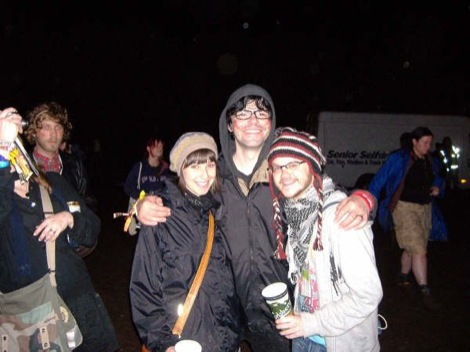 Kat and me snuggle up to a delightfully cheerful Tim Burgess of the Charlatans
After a tea break, we assemble at the tents ready for evening with Paul Weller rocking and soothing in equal measure. His blend of the comforting (Wild Wood, Broken Stones) and the brash (Walk on Gilded Splinters, Town Called Malice), are ideally suited for the setting sun.
Slag them all you will, but my guilty pleasure for the weekend was The Kooks – for someone who detests the supermarket fodder of Razorlight and the Kaisers, I can't escape the great pop provided by the Brighton ex-Stage Schoolies. And judging by the mass of people descending upon the Pyramid Stage neither can most of the people here. I find it somewhat remarkable that Luke Pritchard can be conceived to be contrived when the lad can barely string a sentence together (his attempt at being profound went something like: 'It's great to see so many people in this beautiful, big… area…). One thing that's undeniable is their sense of melody and pop hooks and at Glasto that's a recipe for success. Playing their debut almost in its entirety and some even better newies they're a treat and we amble off for the last 20 minutes of another albeit unexpected treat in the shape of Creedence Clearwater Revival legend John Fogerty.
With his mane of hair wafting in the breeze on the Jazz World Stage, Foggy lashes through Bad Moon Rising and a uproarious Rockin' All Over The World. I'm compelled to try and phone my dad, but he's out, I'm sure he would have approved!
Skipping all the headline acts (who on earth chose The Killers!?! Why did we miss Iggy!?!) we escape to Lost Vagueness – Glastonbury's chaotic netherworld set up and organised by the original festival hippies.
Here we enjoy a Japanese catwomen-fronted band in the Chapel of Love & Loathing, performing inside a boxing ring, then watch a drunken soldier perform an autopsy on a member of the audience while a baroque dancer cackles as fake blood explodes before taking in a three-piece performance art troop of latex-clad nurses inside a mini theatre. Stumbling across Tim Burgess, Jamie Klaxons and Carl Barat we briefly embark on some top notch ligging before the night is topped off in style with a not-so-secret Fatboy Slim gig inside the casino as hundreds of pill-popping punters lose it to the sound of Prince, Michael Jackson and Grandmaster Flash. We arrive home when some people are getting up. It was quite a night.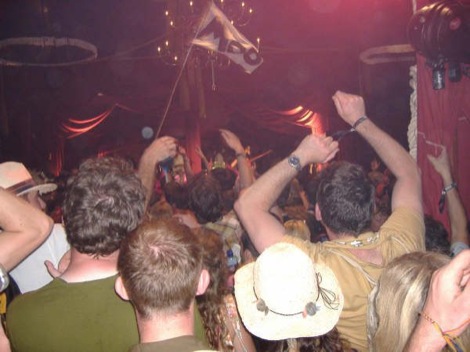 Fatboy slim works the crowd at his 3am 'secret' party in Lost Vagueness
Sunday:
Fatigue is really setting in now. And our tolerance to the mud is at breaking point as we take in beautiful sound of The National Youth Orchestra.
Not even some organic vanilla milkshakes and a swift game of backgammon can shake our the tiredness from our weary bones.
Nevertheless we stride out in the thick gloopy brown syrup and head for a mammoth session by the Other Stage.
Leeds wah-guitar and cowbell specialists Sunshine Underground dazzle with their New Order influenced dance rock and by the end singer Craig Wellington has smashed his mic and drums to tiny shards.
Cold War Kids begin like with an underwhelming Keane piano droop but soon morph into Tom Waits heavy rock beast, all neck bulging vocals, off-kilter guitars and odd drum signatures.
It's powerful stuff, particularly when they start summoning up the spirit of Pope John Paul II and throw in lyrics about the devil.
An all together lighter but equally emotive slice of pop arrives in the cuddly shape of Sam Duckworth, as his sunshine troop of Get Cape, Wear Cape, Fly mix the twee brass-led sensibilities of Belle & Sebastian with Badly Drawn Boy's romanticised folk rock. It's joyous stuff, and never has singing outloud been so liberating.
Back over in the Dance East Shitdisco bomb with their shit disco, lacking all of the punch and drive of their debut Kingdom of Fear, faring much better is the Roland Rat meets Spiral from Big Brother chancer Kissy Sellout, who punches the air with delight and sounds his klaxon as he mixes cuts from The Bangles, Josh Wink and old school techno. Laughably even the security staff are doing lines and pills.
It's that kind of festival.
Unable to make the tortuous wade to ol' Dame Shirley Bassey, we are forced to endure the abomination that is Mika. His woeful attempt at rousing the crowd made all the more cringe worthy as he fails to hit the notes and his bad Eurovision stylings flop disgracefully.
I seek solace in the Queens Head bar were I get leathered to Polytechnic (fine indie pop) and Lea Shores (decent Americana meets stoner rock), before gobbling down a rain-drenched excuse of a pizza.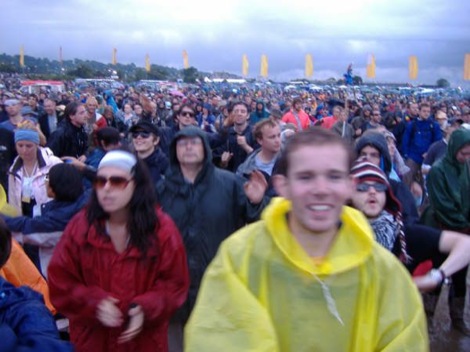 The Go! Team send the crowd wild at a very muddy Other Stage
Things pick up immediately when The Go! Team's dynamic wondergirl frontwoman Ninja bursts on to the stage and, rivalling Lovefoxxx in the fun stakes, issues dance instructions to each and every number.
The Brighton 6-piece's rap-rock-disco is ideal for injecting this greyest of nights with some much-needed bursts of colour.
New tunes blend excellently with old as Panther Dash, Bottlerocket and Ladyflash ensure everyone is in full on party mode.
For the last hurrah we gather all remaining stores of alcohol and pick-me-ups and assemble at the main tree opposite the Pyramid Stage.
With the rain unrelenting we're prepared for one last blow out and who better than legends The Who to round off an unforgettable weekend.
I wouldn't even call myself a huge fan, but their remarkable back catalogue cannot fail to impress and you really have to pity the fools that trudged off in search of Corinne Bailey Rae.
From the rock riot of My Generation, the towering epic of Won't Get Fooled Again, and the masterstroke that is Baba O'Reilly, you'd be hard pushed to find a greater band to finish the festival.
Roger Daltrey is every inch the classic rock frontman, with superb drumming from part-time Oasis-er Zak Starkey, but the real star of the show is the indefatigable guitar warlord Pete Townsend who leaps and windmills like it's 1968. And unlike previous nights where the sound on the mighty Pyramid stage hasn't been up to scratch, here, The Who are awesome, crystal clear and as the rain beats down we're spent, but utterly thrilled and can't wait for Glastonbury 2008. Hopefully the sun may also make an appearance.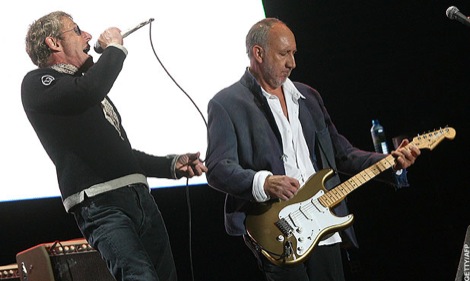 Roger and Pete give the festival the perfect send off
Comments
comments