Justice deliver cinematic slickness, David Vandervelde provides peacock pomp, Perry Farrell's Satellite Party attempt to save the world, Electrelane induce skipping and The Enemy wage war on The Man. Getintothis tackles them all…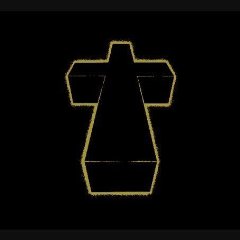 Justice: † – Album of the Week
Ed Banger
Every great film has a purpose built shot of a character dripping celluloid cool to the sound of a killer cut. Think De Niro in Goodfellas oozing menace as 'Sunshine of Your Love' kicks in, Pam Greer ass-swaggering her way through an airport to Across 110th Street In Jackie Brown or Paul McGann flipping down his clip-ons during Withnail & I as his vintage rust-bucket Jag tears down the motorway to the strains of All Along The Watchtower.
It seems Parisian duo Gaspard Augé and Xavier de Rosnay have been paying close attention, designing 12 tracks with ice-cool cinematic chic, perfectly straddling the catwalk, the dancefloor and everything else in between. Every note of † exudes hipster class.
Genesis is John Williams orchestration meets Etienne de Crécy's pumping house melting seemlessly into the syncopated riff-heavy hussle of Let There Be Light while Stress is French contemporaries Cassius doing Jaws, a nasty, slick grind of electrofusion.
Justice are clearly not soft in the production stakes either, by fusing † into one extended set, the record successfully recreates one of their infamous DJ sets so much so it's ideally suited for your own houseparty as it is for the headphones or car stereo.
The Motown funk of D.A.N.C.E is the slickness for nubile scenesters to body-pop to on springloaded floors while New Jack draws inescapable comparisons to older brothers Daft Punk with it's cut and paste Discovery beats. DVNO channels Prince having it off on Gary Numan's backseat and Waters Of Nazareth makes intergalactic drones for the in-house stereo aboard Battle Star Galactica.
Symphonic keytars and flourescent spectrums of chunky beats radiate through Phantom and bigger sister Phantom Pt II – it's like Bladerunner for Jabba the Hut's bar. Fat, funky mutant rock. As if to prove their uber-cool status Justice rope in Miami/Hong Kong teenage sex princess Uffie to sprinkle her teasing, clunky non-rap over Tthee Pparrtyy.
In short, † is effortless, hard, savvy and utterly now – Justice have created the soundtrack to our lives.
8/10.
TrÚs bien, merci.
David Vandervelde: The Moonstation House Band
Secretly Canadian
Did I miss something, or is glam back in? Earlier this year I was caught in the throws of Pop Levi's joyous T-Rex dandyisms at Liverpool's Korova Bar while back in June, Battles' Mirrored grabbed my attention with its spaceage Glitter band stomp.
Now there's Mr Vandervelde evoking the spirit of '73 with this colourful eight-track of sparkling alt-pop.
Wearing his influences like badges of honour, The Moonstation House Band should be packaged up with accompanying eye-liner and blusher, such is the Chicago-based star-tripper's radiating peacock-like pomp.
Caught somewhere between the rich orchestration of David Bowie and the mystical whimsy of Syd Barrett but with a huge dose of strutting Bolan glam, Vandervelde has woven a charming debut which belies his 22 years.
Frazzled stand-out and album opener Nothin No is masked in a fuggy haze but underneath is a driving sitar, whistling hammond and Vandervelde's echo-drenched vocals. Jacket is bristling with lascivious retro psyche and the violin chirruping of Wisdom From The Tree is a late-period Beatles-esque joy.
The only signs of fault are on the more low-key numbers, Feet of a Liar, is so laid back it's vertical, while Corduroy Blues, with it's Hovis ad trumpets, is lack lustre and plodding. Much better is the stomping hook of Can't See Your Face No More decrying Jesus as the jilted Vandervelde asks, 'Why aren't you tryin to tell me another fairytale?'
Closer Moonlight Instrumental, featuring Beck's father and Canadian composer David Campbell, is a whistful star-chasing dose of strings and flutes offering a stiring wink into Vandervelde's multi-dimensional world. The boy could go far.
6.5/10.
Van the Man.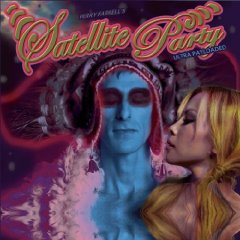 Perry Farrell's Satellite Party: Ultra Payload
Columbia
I've always thought of Perry Farrell as Prince's more perverse, alt-rock cousin. Like the purple one, he seems to exist inside his own exotic aura, mixing styles, politics, bands and dripping in sexual ambiguity. But where Prince ultimately embraces light and salvation, the former Jane's Addiction frontman acts as a twisted Loki figure dabbling in the darkside wrapped up in leather bondage gear while trying to steal your clobber.
However, on his latest foray Farrell has assumed the role of Super Party Man focusing less on hedonism and more on saving the universe and other slightly less interesting stuff, like love, peace and group hugs.
Helping to co-ordinate this rock & roll Green Party is former Extreme guitarist Nuno Bettencourt (he with Rapunzel-like hair and six-pack), Chili Pepper's Flea and John Frusciante, New Order's Peter Hook and even Black Eyed Pea's lass Fergie drops in to add backing vocals.
The result is somewhat predictably a mess. Opening shot Wish Upon A Dog Star recalls Farrell's Porno For Pyro's as he applies his trademark lizard-like delivery without that band's funk or menace and the alarm bells really start ringing on schlock rocker Only Love, Let's Celebrate which lifts Rare Earth's I Just Wanna Celebrate and coats it in MTV schmaltz.
Hard Life Easy is a passable Chilli Peppers imitation with Flea and Frusciante dressing it up with layers of meaty hooks but Kinky is simply depressing.
Events take a turn for the worse on The Solutionists were any semblence of Farrell's political message is lost within heavily compressed orchestration, tablas and Eastern atmospherics. Heck, even a sitar is thrown in for good measure.
Most laughable of all is Awesome, a ballad so pink, fluffy and devoid of emotional resonance it'd struggle to hold weight soundtracking a Care Bears film.
As if there weren't enough going on, the Lizard King Jim Morrison is brought back from the dead (honest!) to add vocal duties on finale Woman In The Window but the tune is so desolate and the lyrics so inane (sample: 'Just try and stop us/We're going to love…') you wonder who was responsible for sanctioning The Doors frontman's lost archives for such a piece of woeful dross.
2.5/10
You Say Party, We Say No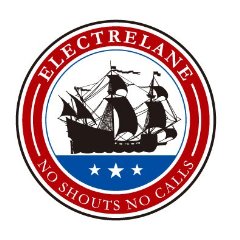 Electrelane: No Shouts No Calls
Too Pure
Skipping. Not exactly the kind of activity I engage in too often. In fact, it's not the kind of activity I engage in at all. But listening to No Shouts No Calls at my local train station I was suddenly taken over by the greatest of urges to skip up and down the platform such was the joy filling my ears.
Thankfully, I suppressed the desire – I'd have looked a right tit.
No skipping should be left to precocious teenagers and indeed there's always been a child-like naivety to Electrelane's much underrated avant-rock. Channelling a fiercesomely independent art-rock sound akin to that other cross-Atlantic all female trio Sleater-Kinney, Brighton's Electrelane have grown from their debut post-rock jazzouts on Rock It To The Moon to the Steve Albini-produced follow-ups The Power Out and Axes. Their latest effort sees them throw krautrock into the mix resulting in a vitalic, powerful record brimming with rapturous zeal.
The great whooshes of synths and splashing cymbals which kick off Greater Times is emblematic of things to come as close to breaking point harmonies find vocalist Verity Susman gushing 'Since I found you I'm tearing down the walls.'
It's a stunning beginning and there's little let up throughout. Susman nearly loses it on To The East, with various whoops and hee-hee's adding to the ecstasy.
After the Call is a reminder of their earlier work, all skeletal riffs before exploding into frazzled garage while Tram 21 is pure post-punk attitude encased in whistling organs. The whole thing has a truly improvisational feel giving the impression the music is thrillingly close to disaster – a quality which only adds to the excitement.
And it's not all joy and wonder, Five is a squalling devil of white noise while
centre-piece Between The Wolf And The Dog combines ragged riffs, bullish basslines and swirling sequencers all topped off with the harmonies of The Pipettes – if they were evil.
If there's proof the band are adding depth and invention to their distinctive palette it's on Cut And Run, where Mia Clarke swaps guitar for banjo on a delicate, sunshine ditty.
Electrelane may never catch on with the masses but on No Shouts No Calls, they've created a mini marvel which more than deserves to be shouted from the rooftops.
8/10.
Our Friends Electrelane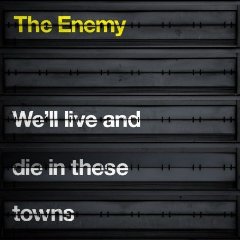 The Enemy: We'll Live And Die In These Towns
WEA Records
Last week's Nationwide Mercury Prize brought home to me what an awful state of affairs British guitar music is in. When an award reknowned for saluting exciting new talent can only muster The View and Young Knives as leading lights you know there's problems afoot in Blighty's rehearsal rooms.
Bands such as the Long Blondes, The Twang and The Horrors have been handed huge industry pushes and touted as the next big things yet all have failed to deliver convincing debut records. Next up to try their hand is Coventry's most famous export since Cyrille Regis, The Enemy.
A powerhouse trio that mold classic rock of yester year with heavy doses of mid-90s lad-rock infused with lyrical ire firmly directed at sticking it to The Man. Indeed every inch of We'll Live And Die In These Towns rallies against the system set to the backdrop of raucous indie rock and it would be all very much agreeable had it not been done so much better, many, many times before.
They only really get it dead on, on singles Away From Here and Had Enough; deploying infectious choruses bemoaning the humdrum of the 9-5 and a longing to while away the day watching Richard & Judy.
Elsewhere the stale thematic repetitiveness of escaping dead-end jobs in Nowhereville (interestingly, the band have recently said they will never leave Coventry, which is ironic given their obvious contempt for their home town) and the sheer rip-off quality of many of the tunes (check the title track's alarming similarity to Going Underground; a steal even Noel Gallagher would find hard to get away with) results in a record which after several plays sounds flat and distinctly grey.
By fusing The Who, The Jam, Oasis and even Joy Division, The Enemy have delivered a record topped to the brim with teenage kicks but crucially lacking in the individuality that gave the aforementioned that undefiniable 'band of a generation' quality.
The kids are indeed alright, but that's simply not good enough.
4/10
Here
Comments
comments