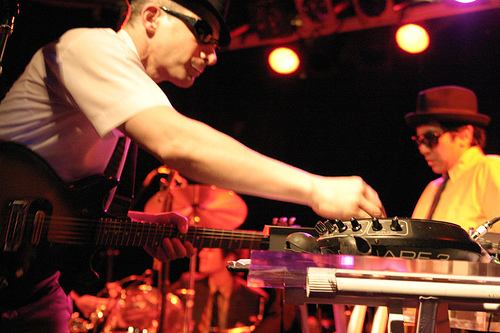 Kevin Core discovers the Beasties still have license to thrill.

On Paper, a night with The Beastie Boys should not be this entertaining.
Formed in 1979? New instrumental album out? Brixton at the height of a Tube strike? You can't help thinking it's all pointing to a bit of a disappointment, but midway through Tuesday's set Mike D gives us a hint as to why it works.
He says the reason they love the venue is they've been here before – in 1986 and 87 supporting Run DMC and Public Enemy – there's a bit of a frisson as a realisation goes through the crowd, this is rap royalty – and they've never worked on paper anyway.
Three squeaky, white frat-types on Chuck D's stage? Public Enemy's 1988 masterpiece It Takes a Nation of Millions to Hold us Back may have scared the life out of white radio with its "pro black radical mixâ€? but check the sleeve notes and there it is – big thanks to The Beastie Boys.
They've always been where they shouldn't – rapping when the media wants singers, and picking up their instruments the second the market for rap picks up – outside the industry and ahead of it, one of the first bands to make an MP3 available on their site, winning heavy MTV rotation for their guerilla-style Spike Jonze vid for Sabotage, and at the same time Grammies for the mad eclecticism of Hello Nasty.
We can add to this promoting Tibetan peace concerts while their peers are still waving Glocks in the air, and in the midst of rap's adoration of "bitches and booty� coming up with this gem on Sure Shot:
I want to say a little something that's long overdue, The disrespect to women has got to be through, To all the mothers and sisters and the wives and friends, I want to offer my love and respect to the end.
Tonight New York's finest are cutting a dash in some fiercely tailored suits, Mike D's resplendent afro feasibly harbouring ALL of London's striking tube drivers, Ad Rock looking sharp in a pork pie hat and MCA louchely loping his way around the stage.
After heralding their arrival with some furious scratching and the usual eclectic drop-ins (was that Rage Against The Machine in there?) we bang into it with a rock start and an early appearance for Gratitude, MCA showing his considerable skills on the bass which began to set the tone a little.
Whatever the reason, he looks just a bit knackered tonight, more comfortable propping up the double bass on the instrumentals, and call me old fashioned but incessant gum chewing on stage, as opposed to making you look cool, makes you look like you're waiting for the bus.
The same could be said for a portion of the crowd which seemingly did not only fail to recognise a single lyric by the band, but actively took offence at anyone who did know them.
A case of attending the gig you should be seen at – but not the band you actually like maybe? It is London after all.
MCA's swagger aside, his gruff delivery is spot on, especially on Ill Communication classics like Root Down.
The rapping is faultless, not just tight as hell and but courtesy of the agile Mix Master Mike its organic, lines are stretched out and he picks up the beat when he's needed, at one point during an incendiary Ch-Check it Out Mike D stops the song dead to give the crowd a chance to join in with a lyric – there's no time counting, no click track, no tapes just three MCs and a DJ.
Mixmaster hits his mark like Bristow going for a bullseye and we're heading into the climax of a viciously judged setlist, with Intergalactic, So Watcha Want, Body Movin' and Sabotage to come.
If he hadn't impressed the Brixton crowd already with a totally tireless, fantastically spiky performance, Mike D definitely knows how to pay a compliment, taking the time out to say they were impressed by the effort we had made in the face of the tube strike and how the band had appreciated it.
He'd obviously been reading the papers.
The next morning the Tube strike was called off, no doubt after Mike D had personally sat down with Bob Crow, the RMT and Ken Livingstone and thrashed out a settlement.
Despite some longeurs in the form of hookless instrumentals it's a brilliant finale, with Money Mark taking out his keyboards in a flying scissor kick during a hectic Sabotage.
As the crowd left for the trek to Stockwell Station, the thought occurred that in an industry that thrives on its feuds, its name calling and point scoring, I can't readily think of anyone who's gone so far as to diss them.
The Beastie Boys – rap royalty who wear it lightly.
Comments
comments