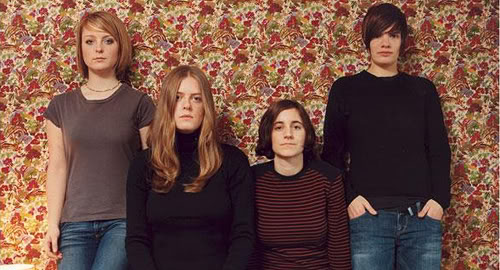 Amiina provide heart-warming stuff as Electrelane sadly call it a day. Greg O'Keeffe delivers his singles round-up.

Amiina with Lee Hazelwood: Hilli (At the top of the world) – Single of the Week
Lovely, heart-warming stuff this without the faintest whiff of overly sentimental camembert.
Sixties crooner Hazelwood provides a spoken word vocal to the stirring instrumentation from Icelandic band Amiina, best known for supporting Sigur Ros on tour.
The backstory of this single alone gives it oodles of pathos and intrigue, with bed-ridden Hazelwood – who died in August – recording the reading based on a Finnish legend he'd once heard about an island where the snow tasted of sugar.
Amiina add perfect brass and other orchestral decorations to this rare and unique creation which should become a cult classic. Hazelwood did not live to hear the song, which was first played at his Memorial Party in Phoenix two months after it was recorded.
Peter Van Poel : The story of the Impossible
Choirboy vocals over muted acoustic guitar strumming which would fit nicely onto the soundtrack of a Wes Anderson film. Like his Scandinavian pals Peter, Bjorn and John, Mr Van Poel even enjoys a little whistle towards the end of his charming song.
Electrelane: In Berlin
Sadly this Brighton-based post-rock outfit decided to call it a day after releasing this single, which neatly sums up their appeal.
Similar in tone to Neu! and Stereolab this track merges melancholy keyboards and understated female vocals which works effortlessly.
It Hugs Back: Early Evening
OK someone, somewhere has been stealing someone's schtick here. I want to know who got a record deal first – this lot or Conor 'Bright Eyes' Oberst. The other should then be forced to apologise and hand back their advance.
The song is actually really nice. Breathy, fragile voice with twinkling acoustic guitar and horn section are cute in a camp-fire sing-song way.
Jack Penate: Have I been a Fool?
This breezy track from debut album Matinee is a radio-friendly pop song which fizzes along with tinkling piano, skiffly guitar and a catchy Housemartins chorus.
Penate's sound is in vogue but it's his pop nouse which should ensure longevity. This would've been single of many a week but for Amiina's effort.
Amsterdam: Home
Something approaching an anthem for the Liverpool group which veers from mellow to stirring as Ian Prowse gets all nostalgic about home.
The cod-Celtic pipes over the chorus jar a little but this is a heart-felt, pleasant enough song. Eerily similar to Westlife's latest single as well.
Scout Niblett: Kiss
Pared-down and soulful latest track from this foxy American singer/songwriter , featuring Bonnie Prince Billy. Kiss takes a simple palette of languorous guitars and shimmery strings. Possibly a bit too long but otherwise an impressive, dark track which hints at good stuff to come.
Comments
comments