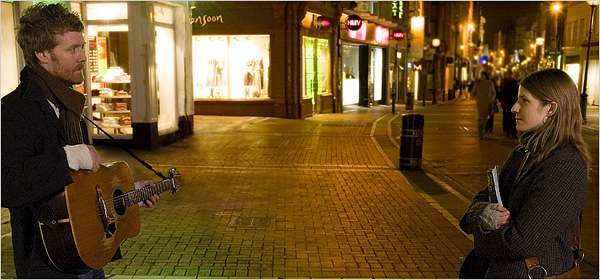 Busking. Someone's gotta do it.

The life of a busker. What an extraordinary way to make a living. You really have to take your hat off to them – even the rubbish ones.
It must take an enormous amount of courage, pleasure – or indeed desperation – whichever way you look at it.
I mean, when you go to a live concert at least the performers know they've got the audience onside to some extent. You're there to listen, and most likely you've paid, so you actually invest some effort in the performance.
But what about busking? When did anyone wander round town thinking, 'You know what, I think I'll go watch that scruffy fucker with the banjo and his three-legged dog – they sure do put on a great bit of folkie shit…'
More to the point, when do you have the time to even stop and listen? In today's non-stop high-street carnage if you see a busker you barely have time to register their presence let alone their music before you've whisked passed them and into some shop to be hit by some insipid drivel blurting from the in-store stereo.
Every city has them. Liverpool has at least four regulars – not including the old geezer that wore a bear's head and operated a mechanical dancing teddy. Sadly, he's dead.
There's the Keith Richards type who normally features on Bold Street, or occasionally down by Next. With his purple-tinted Lennon glasses he only really knows one track, but it's a blinding slide guitar lick which reverbs brilliantly out of his knackered amp that he uses to perch on. He looks like the kind of casualty found in the Lost Vagueness field at Glasto, but disappointingly I've not seen him round Liverpool for some time.
Then there's the Waterboys dude who plays electric fiddle and has a penchant for dodgy suede jackets.
His hair looks to be made up of the Keith Richards guy's steel guitar strings, so maybe there's something in it as to his mysterious disappearance. Furthering the intrigue, this guy now plays outside Waterstones where ol' Keith Richards used to squat.
Whatever the case, The Waterboys busker is equally grand, though now I start to think of it I can't recall anything he plays…
The new kid on the block is situated down by Boots and he's a cheery soul in his Dylan cap whacking out classic standards from I Wanna Be Adored to Mr Tambourine Man. Rather optimistically, he has copies of a demo in his guitar case, but let's be frank, most people are reluctant to buy records at gigs these days – so who the fuck is going to buy a CDR of covers from a busker?
Last, and by no means least there's the legend that is the old accordion player on Bold Street. This guy must be about 94, he can barely see, stand or speak, let alone play his battered instrument which he just about manages to squeeze together in an act which resembles a weight lifter taking the strain.
Hats off to them all.
Anyway, the reason I write this is I've just seen the Oscar-winning indie Irish film Once starring Glen Hansard (of The Frames) and Markéta Irglová.
Hansard stars as a vacuum cleaner repair man that busks in his spare time and develops a close bond with Czech single mum and pianist, Irglová. What unravels is a simple, deeply affecting film, which contains little narrative but is held together by the pair's developing relationship through the music they make together.
Avoiding cliché and containing some remarkable tunes, Once is a mini gem which should touch the heart of buskers and film-lovers alike.

The DVD of Once is out on general release through Fox Home Entertainment now.
Comments
comments