Yeah, so what if Bluekipper forum heads are talking about Sigur Rós and DiS are writing off the most overused adjective in music since 1999? Good music is good music. Well here's two instrumental call-em-what-you-wills going head to head, proving there's life in the post-rock tag yet.

Right, first some background.
This Will Destroy You are four Texans in various states of hairyness and this their self-titled second offering after 2006's Young Mountain, is produced by Explosions in the Sky's John Congleton, so you can pretty much gather it's full of twinkle high notes and clean guitars for couples to wet-lip to as fireworks erupt in their crotches.
New Kids signing, Kyte, are from my university bedrock, Leicester and despite having started out as a Metallica tribute act (uh oh!) are now more akin to Scando nutters Sigur Rós but they sing real words as opposed to whale-noises and have already garnered praise from Ulrich Schnauss and fellower midlander Maps.
So, let battle begin.
1. A Three-Legged Workhorse v Planet
EAT MY MOGWAI. This Will Destroy You don't mess around on this opening beast – nine minutes of broken radio fuzz transmografies into a glistening mountain of heavenly bombast with cellos.
It's completely frickin ace.
Kyte kick off with the song that got 'em signed to shoegaze specialists Sonic Cathedral, and it's an epic belter that instantly recalls lost Swedes Jeniferever; all keening vocals, gradual chiming guitars and languid drum fills. Sure, there's little new on the ears but it is beautiful nonetheless.
1-1
2. Villa Del Refugio v Boundaries
There's a nice big map of Texas inside TWDY's inlay, just in case you're lost and attempting to navigate across the New Mexico border. Track two is the ambient Stars of the Lid bliss out after the thundering opening, I'd have switched this further down the pecking order, but the malevolent humming keeps things ticking along. Good, in a first brew of the day while nursing a carcrash of a hangover kind of way.
Boundaries, so the press release handily informs us, was aired during an ad-break for the Sopranos. Hardly the same as providing the soundtrack to Paulie Gualtieri pistol-whipping some schmuck across the chops, but kudos to the kids from Leicester. Unlike most post-rock this lot actually sing and though it's all vague murmuring about 'silence choking you,' it stirs things up a bit. Four minutes of prettiness to be frank.
1-1
3. Threads v Secular Ventures
More strings and xylophones from Kyte, but this one's a tad staid and skirts too close to post-rock cliche, and could very well soundtrack a love scene from the OC.
The Yanks though are working themselves up through the gears taking tips from their Texan contemporaries Explosions in the Sky; this is pure, cyclical groove-orientated hymnal bliss. Another corker. Speaking of which check this alternate vinyl-only cover for the record – so whacked out it's a winner. It looks like one of those 80s T-shirt designs worn by soft-rock camping nerds.
1-0.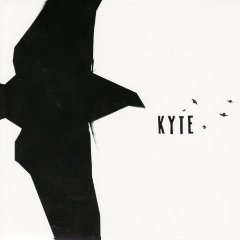 4. Leather Wings v Sunlight.
Highly uneventful stuff from the Texans – their first blip. This saunters along like an army of grannies on market day and all's you wanna do is boot them out the way and yell 'DIE!'
Kyte, meanwhile, have mixed it up a bit, doing the electronica and piano trick with neat little breakdowns which squelch a bit then kick in and the vocals add more sentimentality for gooey-eyed effectiveness. Does fanny around a tad too long mind.
0-1.
5. The Mighty Rio Grande v Home.
The Leicester lot take their post-rock to the kitchen on track five, plenty of gentle pan-boshing, more xylophones and general alt-folk loveliness. Neat little interlude indeed.
But, frankly it pales in comparison to the sheer colossus on offer by the Yanks – 11 minutes of heart-breaking swoon with crashing strings, deadening drums and billowing washes of noise. Truly ace.
1-0.
6. They Move On Tracks Of Never-Ending Light v They Won't Sleep.
Great bit of variation from TWDY, the clean washes of guitar are interspersed with glitchy crackles and electro-light. Perhaps sticks around a tad too long but it keeps up the momentum til the swansong.
Kyte are surely taking the mick with this effort – it's a complete copy of Sigur Rós Hoppipolla – you know the one that soundtracks every episode of the Blue Planet. Everything from the bobbing piano-melody, to the understated orchestration. Cheeky monkeys!
1-0
7. Burial on the Presido Banks v These Tales Of Our Stay.
Right, what we need now is an EPIC finish ala Popplagið (untitled #8) from Sigur Rós's ( )…
Mmm, Kyte almost get there with their eight minute finale, but just when it should cloudburst into something stunning it kind of saunters, flapping and then nose-dives. Good but not the send off we were hoping. Ho-hum.
Two minutes in, and the American's aren't delivering either. Unfortunately, it's more of the same.
But wait! A few deeeeep bass rumbles on three minutes, and silence – surely we're in for an explosion… five minutes gone; louder, doomier… NOOOOOOO! It's gone quiet.
Oh, hang on! Someone's pressed the Red Button!
Six minutes 18 seconds and Houston we have lift off! Everything's gone completely Mono – which can only be a good thing.
Seven minutes and 43 seconds: and, relax. Total post-rock orgasm.
Bonza!
1-0.
Final score:
6-3.
Heady, and occasionally quite brilliant, stuff from Kyte. The only draw backs were lack of variation and their most blatant stylistic smash-and-grabs from the usual suspects, which while is ok on this their debut, they'll need to shape up, and fast if they're to last the distance.
But there's no doubting the winner. Similarly, to the Brits, This Will Destroy You hardly break new ground – this type of record has been done before, expertly so by Explosions in the Sky – but there's simply no getting away from the melodic power and emotional richness on offer.
I can but guess that on the stage – the place to truly capture all post-rock – they would be a welcome addition to the bulging, but very much alive, stable of marvellous musicians and performers.
Comments
comments