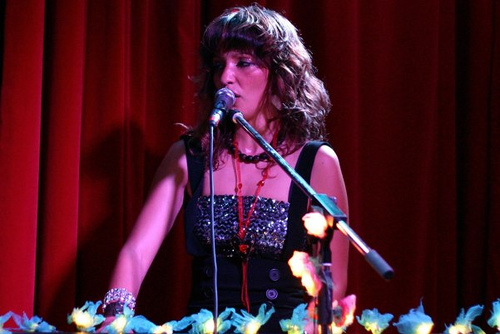 Hot pants, cardigans and witches hats – just another day down the Static Gallery, as Matthew Gordon enjoys the delightful the sights and sounds of Liverpool Sound City.

The Metropolitan is one of the venues hosting unsigned nights, all week – and for free – so my festival began with a sip of Earl Grey and the Legomen playing a lively and enthusiastic mix of rap-rock, metal and punk. The name suggests pastiche, and that's what it is, swapping instruments for every song they also change sound.
The bulk of their set is Linkin Park-style rapcore, with Coral-esque jaunty punk towards the end, and finishing with a Madchester inspired song with afro-keyboard at the fore. An eclectic band to see first – which is a good omen for the festival as a whole – but one that can't quite decide who they are or what they want to do.
It's still daylight has I trundled over to the Static Gallery for the main event – and daylight is the only sure sign that Rosie and the Goldbug aren't a troupe of fairies that sprout from the ground during a full moon.
As well as she can play, the eponymous Rosie seems to hate being tied down to the keyboard, writhing over the keys in tight hot pants and trying to climb on top and play with her feet. Rosie plays jittering fairground melodies over the thundering bass and drums of her band mates, going from melodic pop to dissonance at the drop of a Witches' hat.
She has an excellent voice, whether singing operatically or screaming manically. There are parallels to The Kills with RGB's raw, electronic sound, and to The White Stripes with their uniform of white, red and black and bass-player Pixie's theatrical top hat. Despite that, RGB have a playful style of their own, without the straight-faced pretension of similar bands.
Things calm down and the chairs come out. Well-dressed indie-kids move to the back and are replaced by men and women with beards while King Creosote begins his earthy and heartfelt indie-folk.
The music is traditionally anchored, but anchored just offshore and hidden in mysterious Scotch mist. Ethereal synth adds a subtle texture and proves that he isn't just an acoustic Luddite.
Halfway through the set the guitar changes hands and KC switches to accordion, making things even folksier in the best tradition of Bert Jansch or Barry Dransfield. He knows the instrument well, playing droning folk-ballads alongside vigorous and humorous jigs.
There's a smile on his face when he tells the audience to move back because he's feeling claustrophobic, everyone gets the joke and crowds as close as they can. King Creosote plays for over an hour, covering a good chunk of his impressive catalogue. The King gets his guitar back to finish with his personal anthem, singing L-I-V-E-R-P-O-O-L.
The audience changes again to make way for an army of not entirely young men here to see their idol of the 1990s.
John Power takes to the stage with his for-now three-piece band, armed with trademark electro-acoustic, and opens with a straight blues song backed by a swaggering lad-rock beat. That's what his fans are here to see, but rootsy blues is the theme of the set, taken from his new album Stormbreaker.
Midway an extra hand comes on board to take over bass and make way for even bluesier bottleneck guitar. JP jokes about wearing a cardigan, but that's really the type of set this is – music for cardigan, slippers and old blues records on the wireless.
His band is tight and talented, keeping the pace up for the crowd and obviously enjoying what they do, but everything has the feel of a jam session. His fans still love it, but there's nothing new being done.
Comments
comments