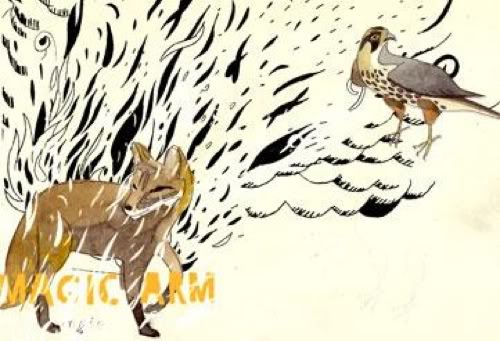 Magic Arm wave their magic wand and Alistair Houghton falls under their spellbinding charm. Elsewhere Primal Scream return and much-hyped Cool Kids deliver.

Magic Arm: Widths and Heights: Single Of The Week
Electrofolk pocket epic, replete with Byrdsian harmonies, a touch of the Beta Band minus their gloominess, one-finger keyboard solo and a storming brass finale.
Like the feeling you get when you make a meal out of all the good stuff you love and it tastes better than you dreamed possible.
Saying 'charming'" sounds like damning it with faint praise, but that's what it is in the best possible way. With bonus B-side cover of Gallic pervmeister Serge Gainsbourg's The Ballad of Melody Nelson.
The Get Out Clause: Paper
You may well have seen their smash hit YouTube video, in which these Mancunian scamps compiled from a series of performances they gave to the city's CCTV camera network. In that case, you'll already know this wannabe Coldplay Chris Martin Band effort and have reflected on how the song just doesn't match the video. If you haven't heard it, imagine what that Chris Martin/Keane supergroup would sound like, and sigh.
Micah P Hinson: When We Embraced
So old-school country it sounds like it can't possibly be a new song and must truly have come from an old 45 secreted in an Appalachian attic. The voice of a grizzled sixtysomething, but apparently he's only about 27. Short and charmingly cheerful.
The Feeling: Turn It Up
I admit to a soft spot for The Feeling's first album, and even the soft rock that inspired it. But this is just anaemic, despite the big production. It's Feeling-lite if such a thing is possible. With bonus B-side butchery of the Velvets' Femme Fatale.
The Hair: Half Cut
Jerky yelpery leads wailing keyboards to shouty finish.
Primal Scream: Can't Go Back
Inanely speedy shouty garage punky stomp. Far from awful – pretty good, actually – but their record from Screamadelica to XTRMNTR shows they can do so much better.

Cajun Dance Party: Colourful Life
Somehow reminiscent of sunshine coming out from behind the clouds, an 'it's all going to be alright vibe' suffuses this okay oh-so-North-London effort from the A-Level students of CDP. Even the piano sounds optimistic (yes, I know, that's like saying a quiche tastes of Newton-le-Willows). Produced by Bernard Butler, apparently, who seems to be everywhere at the moment.
The Cool Kids: 88
Their upcoming The Bake Sale CD boats a cover reminiscent of The Beach Boys' legendary Smile, though there's no dense harmonies and multi-part song suites about the elements here.
Hi-hat heavy uptempo old school (or is it old-skool?) hip hop from the Chicago duo, not so Cool that they can't borrow from Men Without Hats' 1983 hit Safety Dance.
A Silent Film: You Will Leave A Mark
Somehow unsatisfying Keane meets Futureheads wannabe epic, piano-laden stomper.
Claims to be about "the guilt and shared responsibility that comes with being white and born in the western hemisphere", which at least is a step above the usual vague sentiments about love and, y'know, feeling a bit, like, unhappy.
Nelly: Body On Me
More cheerfully lusty R&B, where every man in the building "is like, Oh My God". Musically, it's all a bit mediocre-fifth-single-from-a-1990s-George-Michael-album-esque.
Vile Imbeciles: Bad Idea
Jerky punk-funk, almost like the Red Hot Chilli Peppers with none of the forced jollity or needless bass noodling.
Given as they call themselves "death jazz" they won't like that RHCP comparison, but then they also call themselves "junk funk". And the guitarist is happily noodling away on what sounds like another song entirely in the background.
Comments
comments