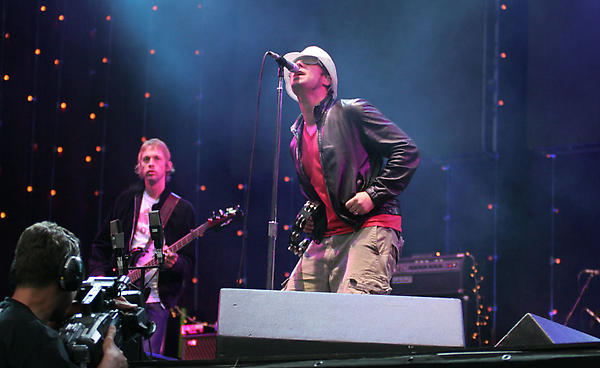 Luke Traynor reports…Thank God we don't have to trek to Manchester anymore to see one of the world's best bands in action. It's gigs like this that the Liverpool Arena was built for.

Oasis last played Liverpool at the infinitely smaller Royal Court and they were back last night, very much a different beast to their Definitely Maybe and Morning Glory heydays.
Half the fun was guessing what the Gallagher's would choose to play and the crowd were surprisingly lukewarm towards opener Rock N' Roll Star, but the initially passive crowd burst into life with a rousing rendition of Lyla.
Incendiary new single The Shock Of The Lightning followed which worryingly failed to motivate the crowd like a Hindu Times or a Go Let It Out would surely have done.
Liam's vocals were outstanding all night, and proceedings were soon rectified with the heartwarming fatty chords of Cigarettes And Alcohol. That'll warm you up, mateys.
Noel remained virtually immobile throughout the whole gig, his three fractured ribs caused by an irrate fan in Canada having their effect.
This was a Tuesday night, and the Liverpool crowd needed livening up. And they got the nod with the always poignant Masterplan, Liam's 'two chords' Songbird and a quite brilliant Slide Away, deservedly many fans favourite Oasis song.
I don't know, I don't care, all I know is you can take me there…", the Scouse crowd sang with a proud passion that was never bettered all night.
That led to Morning Glory, outstanding when played live and the quirky The Importance Of Being Idle – the one which allows the ladies to strut.
It was good to get Liam's I'm Outta Time next, unshamedly Lennon, followed by a stunning My Big Mouth, a bawdy Wonderwall and the genius of Supersonic.
The Mancunians left us briefly only to return for a rousing encore consisting of a beautiful acoustic Don't Look Back In Anger, Noel's Falling Down – the stand-out track from Dig Out Your Soul – and a wonderful Champagne Supernova.
The old ones are always the best. Cue I Am The Walrus and pandemonium. I think Oasis have more than a little respect for Liverpool's finest.
All in all, a triumphant night. It's not the Oasis of the early 90s, but a mature developed rock outfit who still have the ability to write memorable pop songs.
'Nice one for coming, the credit crunch and all that,' Liam quipped. I reckon we would have paid well over over the odds mate.
Shall we do it all again tonight? Same time, same place. Do You Know What I Mean? Sorted.
Comments
comments