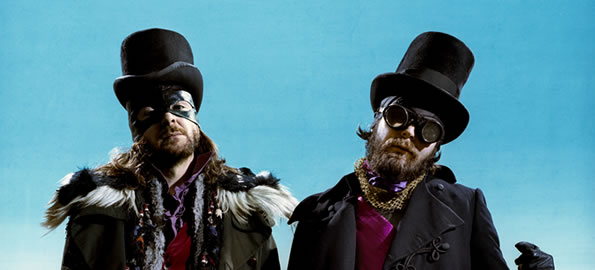 Animal jumpers, rubber lovers, Scousers that sound like Brooklyners and the most perfect indie pop song heard in ages. Getintothis' Liza Williams fills her boots.

The Horrors: Who Can Say – Single Of The Week
This is the most perfect bit of indie pop i've heard in ages.
80s keyboards, crashing guitars, a Phil Spector wall of sound beat in the middle, what more do you want?
Dark but poppy, dramatic but catchy- like the Jesus and Mary Chain crossed with OMD, in stupidly tight trousers.

God Help the Girl: Come Monday Night
For lovers of animal jumpers, eiffel tower figurines and cup cakes.
Twee indie at its loveliest, courtesy of Catherine Ireton on vocals and Stuart Murdoch from Belle and Sebastian on guitar.
The song features on the God Help the Girl soundtrack, a film written by Mr Murdoch to be released next year.
To be fair you probably would have guessed.
Marmaduke Duke: Rubber Lover
Come on now, is this side project just an excuse to dress up in 16th century regalia and release singles under a draft name?
The track itself from Simon Neil of Biffy Clyro and JP Reid of Sucioperro is about a pink rubber lover pinned to the top of someone's house (?) and samples Billy Joel's 'Sleeping With The Television On'.
It is an unsettling combination, but not a bad track.

Ladyhawke: Back Of The Van
Not as stand alone as previous singles Paris or Dusk till Dawn, but along the same nostalgic track.
It's more mellow and laid back, and perhaps more of an album track in that sense.
Strawhouses: A Good Night Out
Quite an original sound from this Liverpool four-piece. The vocals remind me a bit of Clap Your Hands Say Yeah and the guitar work is really well put together.
Royksopp: The Girl and the Robot
Royksopp have written some beautiful songs, but this isn't one of them.
Robyn features on vocals, squealing about being 'in love with a robot,' which isn't pleasant.
They are trying to hard to sound futuristic, to the point where the single begins to seem dated.
It's is a long way from Poor Leno.

Tiga: Shoes
I can only assume this is a piss take, lyrically: 'I'd love to do those nails, before someone get hurt, don't be such a flirt, i'd love to do those nails.'
As camp as Christmas.
Kasabian: Fire
Hardly a psychedelic revolution as promised, but a good single with a very catchy riff.
Polished to perfection.
Pop Levi: Police Sign
Inserting hand claps and warbling into a song does not constitute a good tune, or mean you are Jack White.
Maybe it's a grower, but i think the single is a bit boring.

Broken Records: Until The Earth Begins To Part.
Music for grown ups- very worthy, but a bit too serious.

Comments
comments