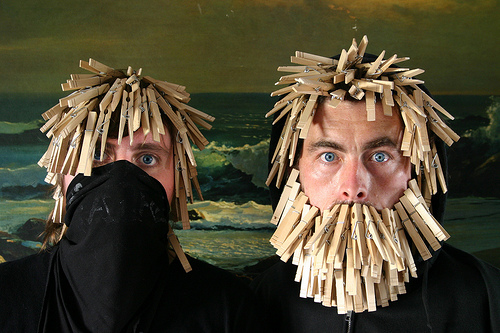 Tales of the unexpected – and one of unadulterated joy!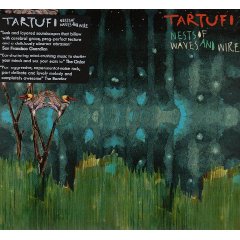 Tartufi: Nests Of Waves And Wire – Album of the Week
Southern
Perhaps the reason why musik is such a treasured artform is it's delivery of the unexpected – the moment when your emotions are heightened to such extremities that you attain an almost out of body/mind spiritual experience because you hear something so fresh, so vital that it touches you in a way you've yet to feel before.
Of course, you will have, simply the last time you discovered your 'new favourite band'. But when that initial moment of hearing a new fragment of sound for the very first time comes around once again, the surprise is so unexpected, so personal and so revitalising it has the power to rouse the senses into such a state of euphoria you're not quite sure if you'll ever feel the same way about another noize ever again.
Of course, you will. But for that moment, and the weeks, and repeated spins that evolve around your 'new favourite band' the euphoria and the awakening of those senses appear to suggest that this most special of times could indeed last forever.
This feeling is invariably unexpected because you've stumbled across a new band, a new set of people bringing their own touch to musik – it's rare a band you're so well acquainted with can capture that feeling you experienced when you heard them for the very first time, and if they do, they're a very special band indeed.
Delivering the unexpected to a home near you are Tartufi – a name derived from precious Italian truffles – and they are the kind of band that capture that feeling again, and again on their new record Nests of Waves and Wire; an oblique title which is central to their rich beauty.
For Tartufi are San Francisco duo Lynne Angel and Brian Gorman and they create their stunning sound through quite literally a maze of sound waves using a 'nest' of wires; loop upon loop upon loop.
Their sound is oceansized.
Assisted by producer Tim Green (Joanna Newsom, The Melvins); the duo have created a vast canyon of instrumentation and atmospherics which to the uninitiated could only be produced by a small army of musicians – and the effect is utterly beguiling.
Engineering, clocking in just shy of the 13-minute mark – is cinematic in its scope and vision and is unlike anything these ears have ever heard. By the time the midway mark is signalled by the exhausted shrieks of 'I'm still running,' a legion of manic monkeys have battered their way through a drumshop, a Michael Rother-inspired guitar solo has pierced the air, a battle-cry accompanied by doom-laden bass chops and a post-rock interlude have all weaved their way in and out of the mix. Then as if to show they can bring the party, they fire up a twinkling hip-pop stomp which recalls Yeasayer down the disco.
It's exhilarating – and so much fun. The final quarter then transforms into a moody psychedelic bliss out with accompanying cyclical acoustic strum – presumably in an effort to cool you down – and after all, how many forms of music can one band squeeze out into one track?
But that's the beauty of Tartufi – they sound very little like anyone else, and on Nests… they very rarely sound like one band at all, and it's all the more arresting and unexpected from one song to the next.
Regular readers will know how tired post-rock has become to these ears, but on the ridiculously named Fleet Week (The Corruption Of Incredible Inv????) we're treated to rolling heavy rhythms ala Sigur Rós circa ( )-era before punishing fuzz-soaked guitars are employed to maximum devastation.
And it's not just instrumentally that Tartufi are exciting, vocally they combine to create an almost sexless, otherworldly creature recalling Joanna Newsom or even Jónsi Birgisson at their most elven extremes.
Indeed the first two minutes of closer Hole In Space begins like a tribal gathering of imps all chattering nonsense before a colossal riff tumbles out of nowhere shattering the vocals amid a thunderstorm of relentless polyrhythmic drumming.
On first listen, such is the weight of noize at play, you'd be forgiven for requiring a rest break but with repeated listens it doesn't just seep under your skin but reveals even more, which in turn probably calls for another breather.
But persist and it soon becomes apparent that Nests… isn't the difficult listen that first seemed apparent. Infact it wouldn't be an exaggeration to suggest there's plenty of pop at work: System Folds is a three minute krautrocker designed for lazy summer nights, Dot Dash may begin with clanging church bells but it soon evolves into a soaring mix of ecstatic vocals married to driving guitars while opener Fear Of Tall Giraffes, Fear Of Some Birds despite it's near-seven minutes hurtles along when out of the dizzy chaos sleighbells and a guitar solo – which can only be described as Christmassy (!) – bring things to a colourful, snow-tipped conclusion.
It's very probably my favourite track of the year.
Of course there's plenty of nuts stuff here too: check the demonic laughing outro to Hole In Space as we're taken on a journey to the heart of madness or the entirety of Church Of Hanging Leaders (yeah, they don't do conventional song titles either) which imagines Lightning Bolt jamming with Tortoise and a small posse of Gregorian Monks – it's way better than that description would have you believe.
And so to is Nests Of Waves and Wire. Not since Bear In Heaven's Red Bloom of the Boom have we felt this excited about a new record. It came out of nowhere and knocked our bloody socks off.
9/10
For fans of: Listening to albums from the start to finish, Yeasayer, cookery programmes.
Listen to Tartufi
Ze T site

Tartufi Fear of Tall Giraffes, Fear of Some Birds live at KSDT

Tartufi live at The Bottom of the Hill Pt 1.

Tartufi live at The Bottom of the Hill Pt 2.

Tartufi live at The Bottom of the Hill Pt 3.
Comments
comments