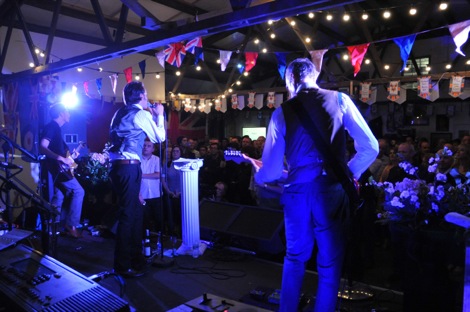 Wild Swans migrate home, Vicky Anderson is made to feel more than welcome.

Not being there the first time round, I wasn't sure what to expect from the reformed Wild Swans. Would it be a room full of fierce musos sneering at those who weren't there in the early 80s? The too-cool-for-school post punk brigade up for a trip down memory lane?
Actually, no. I don't think I've ever experienced such a welcoming environment at a gig. The strange thing about Static is they can't dim the lights – and in a strange way that forces the audience to probably be a bit more considerate than they would be in the dark. No spilt beer or pushing and shoving. Just a very laid back, happy ambience.
The second night of their intimate comeback attracted the likes of Ian McNabb, Jane Casey and Pete Wylie, but there was something more than a nostalgia trip to these, the Wild Swans' first live shows in some 21 years.
Opening the night was Rebecca Joy Sharp, an expat-Glaswegian playwright and harpist. As she began to play her mix of instrumental and spoken word songs, more and more people were lured in from the bar by the intriguing and soul-soothing sound.
Her first EP, The Mystery Workshop, is out now, but her live performance adds a little sparkle even to that.
There was a make-do-and-mend theme to the whole event which was immediately endearing. The room had been lovingly decorated with English wartime-era bunting and slogans, there was a jumble sale (!), and a fair few ladies WI-ed it up with a bit of 1940s glamour.

Combining the jangly Scouse optimism of pre-Lightning Seeds-type pop with the small-g gothic melancholy of the likes of Joy Division, there was a sweetness and a freshness to the Wild Swans' live sound that confirmed them as the real deal.
The shot in the arm could be put down to San Fransican, Brian Jonestown Massacre guitarist Ricky Maymi, whose enthusiasm for the Swans gave frontman Paul Simpson the confidence to get things going again.
Taking to the sweltering stage in buttoned-up blazer, waistcoat and shirt – if there's a parallel to be made for the benefit of newcomers – then Simpson is like our own Jarvis Cocker, lean and stylish with a mind bursting with poetic ideas. Individualistic, but understated; imaginative but all-embracing.
Later in the show, it was little, thoughtful touches which made a lovely impression – in keeping with what it's easy to imagine were those budget-by-necessity roots back in the day at Eric's, where it all began.
Simpson hands a huge tub of flying saucer sweets out to the crowd, giving 'communion', and later photocopied lyric sheets for their comeback single, English Electric Lightning do the rounds (unnecessary as it happened, most people knew the words anyway).
The live band was completed by Mike Mooney, Les Pattinson, Steve Beswick and Henry Priestman, joined by Bunnyman Will Sergeant for the encore. Ian McNabb, Simpson joked, was allowed on stage only to announce the band, 'or we'd never get him off'.
It's a well-rounded set of the classic and the new, and it's hard to think of a gig I've ever seen that rivaled such a friendly, appreciative crowd. Fans from around the world had made sure they were there – I spoke to German fan Marcel Wroblewski, who described the night as 'magical', grinning from ear to ear.
Then there was Cindy Davis, from Wisconsin, who had never even been on a plane before, nevermind left the US, who journeyed over especially.
She said: "I have always wanted to travel to England for the longest time anyway and when I heard about the exclusive show the band was putting on I decided this would be the perfect opportunity, since who knows if I'll ever get another opportunity to see them live."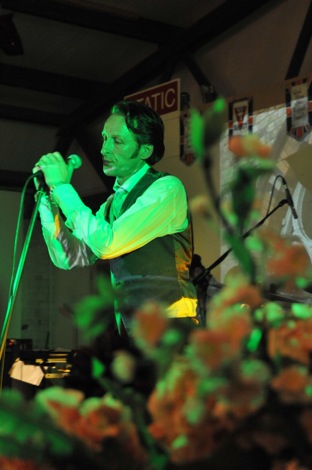 http://www.thewildswans.co.uk/
http://www.myspace.com/thewildswans
http://www.myspace.com/rebeccajoysharp
Comments
comments