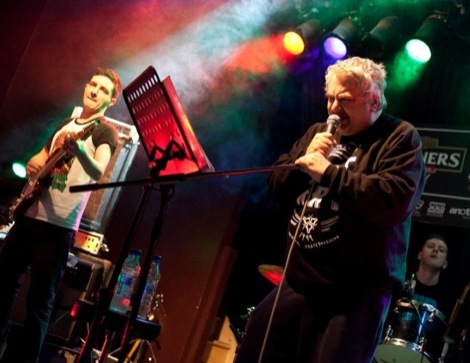 The outsider's 'outsider' finds himself joined by everyone including Slacker Sounds' Spoonboy as Liverpool Music Week rolls into action.
 I hadn't been to the Masque for ages. I am a rather withdrawn and reclusive character these days, tending to get the majority of my scene info and gossip from the rats that frequent the L1 neighbourhood after twilight.
Standing at the rim of the Masque's rock'n'roll amphitheatre, I slugged on a bottle of gin that my accomplice had smuggled in down the front of her tights, and wondered what breed of musical gladiators would be tearing themselves apart for our amusement tonight.
Just then, as my irises were struggling to dilate a little further in the gloom, a tinkling sound rose above the hubbub of conversation and drew my eyes to the stage…a harp player!
Not the usual suspect Stan Ambrose though, but a damsel in a ball gown, intoning a poetic monologue as she played. This was Rebecca Joy Sharp.
The smartness and harpness of the act had more than a whiff of LIPA about it, but she managed to save it (for me) with the highly original idea of being Scottish.
a.P.a.t.T.'s microtonal doom metal rave has been described as 'post-music'. In fact, they are attempting to deconstruct everything a band is about; the moves, stances and facial expressions of their performance amounting to a kind of Dadaist theatre.
Most of this stems from General Midi, a mad scientist whose eccentric mode of being flows through every crash, twiddle, and squonk that the band make.
I remember when he used to work in Tescos. He used to work the till then the way he works the keyboards and effects gizmos now. In fact he ROCKED that till!
All this said, it's a band of individual characters, that has risen up from the mythic Liverpool underground – all the more precious these days, when that underground is being infiltrated by students, and the wildest music is often played by the tamest people.
Their last number was the best, in that it made the least concessions to conventional… anything – an ocean of heaving, throbbing feedback punctuated by crashing, heartbreaking chords that could have gone on for ever.
After a blast of Stig's trumpety prog noise, my accomplice needed to get some air, so we went out to the corridor where I ran into a guy I know, who turned out to be a Daniel Johnston purist.
'I was into him in the 80s – in the Sub Pop days, when he was hanging with the Butthole Surfers. Yeah it's just a marketing thing now, he's the ultimate 'outsider'. He's just cashing in, or someone is.'
'He's the Syd Barrett of the grunge generation,' I offered. 'Syd never cashed in, of course.'
'Exactly. It's the same with Seasick Steve, he's got a good legend…"'
'So why are you here, then?'
'Well, I haven't been out for ages…'


Daniel Johnston
So what do we know of Daniel Johnston? My accomplice and I missed the documentary which had been shown earlier in FACT and knew little more, I suspect than most of the punters in the room – the early career in 80's Texas, the spells in mental hospital, the endorsement by Kurt Cobain, and the status as a troubled outsider legend.
Next onstage were Barbieshop, a three-piece vocal group. They looked nervous, and well they should. It was midnight and the venue was now full, and eager to see Johnston the fucked up legend. So who were these chicks, with their proper singing, vaudeville moves and 'daring' covers of The Cure?
Well, here comes Daniel Johnston at last. To call him rotund would be kind. He's a spherical giant. A dark globe of existential torment, scratching away at a half-size acoustic guitar that seems stuck to him as if by gravity.
Boldly, bruisingly honest, these are more like works of self-therapy than songs, but all the more compelling for it. The folorn voice singing Mean Girls Give Pleasure could be from a lost little boy. The trembling hands and incoherent introductions just emphasise the feeling of damage.
So, (and now we get to that point which all Daniel Johnston gig reviews must inevitably examine) to what extent are we all just voyeurs at this spectacle? Watching a madman exhibiting his pain for our pleasure. The whoops and cheers after every song seem somewhat inappropriate.
Of course suffering has been central to the singer-songwriter persona ever since the delta blues – we always find troubled outsiders irresistible. At least until we get asked for change on the street outside.
Some other musicians appear onstage. It's Hot Club de Paris, grinning as they accompany him on some more tunes. It's all quite jolly and playful. And a little bit forced. Well, the last bus was calling and the gin was all gone. It was time to go.
Next day we meet our sweet LIPA friend who asks if we went to the Daniel Johnston gig.
'Wasn't it amazing,' she gushed, enraptured.
'Oh yes, darling. It was simply lush…and everyone was there…'
How weird that the LIPA crowd are digging (and gigging with) fucked up legends like Johnston. Maybe we'll find that place offering related classes soon. I can imagine it in the prospectus: 'Outsider' Studies – A study of legend-building techniques including mental illness, drug addiction and homelessness.
Several artists have gained significant media attention for their outsider lifestyles.
Comments
comments