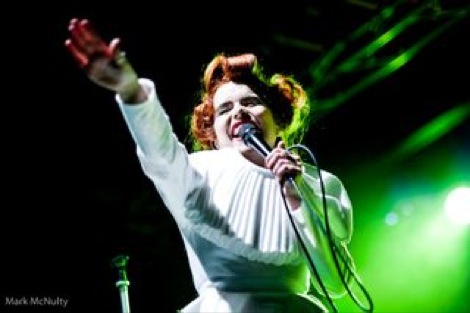 Effortless and utterly unique, Paloma Faith dazzles the Academy and Kathryn Guy, with an uncompromising style which refuses to be pigeonholed.

With a CV that includes magician's assistant, trained dancer, St Martins graduate, former burlesque dancer and actress, it would be easy to assume that Poloma Faith's talent could not stretch across so many areas without being diluted somewhere along the way.
Predictably, Faith has been compared to the numerous other female artists that have emerged into the mainstream in the last few years, something that seems a lazy comparison, and one which will ultimately be proved incorrect with the test of time.
Despite having appeared on most television sets in recent weeks via a wide range of shows, including the predictable GMTV and Never Mind The Buzzcocks, to the not so typical Newsnight alongside Michael Portillo, Faith still appears to be somewhat of an enigma, not quite getting the high profile ratings that her so called female comrades had when releasing their debut albums.
She seems to be doing it her way, and it impossible to imagine her trilling out a melody while cycling around promoting a diet fizzy drink. In fact, it is the visible determination to succeed and out do herself which has enabled her to do things the way she wants.
She may have a childlike voice in conversation, yet in song her voice is soulful, and wise beyond her years, and her stage show is slick and clearly all her own doing.
She obviously has her own 'look' and 'sound' yet neither are able to be pinned down, something you imagine Faith would deliberately keep engineering so she couldn't be pigeon-holed.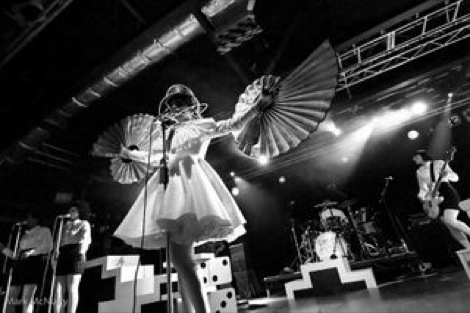 Faith opens with the album title track 'Do You Want The Truth Of Something Beautiful', complete with spotless white dress, zany hat by Liverpudlian milliner Elizabeth Parker and huge black fans attached to her wrists.
Two backing singers, one guitarist, one bass player, one drummer and a keyboard later and that is all Poloma needs to perform her debut album to a sold out O2 Academy.
Considering her usually complex outfits, video design and album art, it's a surprisingly low key affair, proving that Faiths powerful lungs are all that are needed to provide an enchanted performance.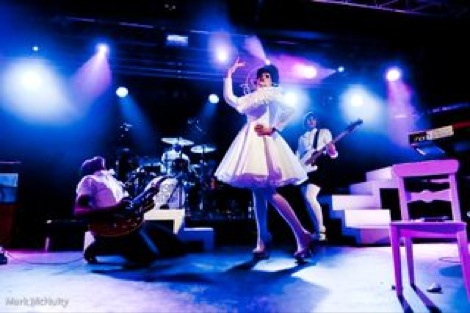 For the slow-paced, big numbers ('Something Beautiful', live lounge cover of Akon's 'Disrespectful' and the album masterpiece 'Play On') Faith is all serious, wistful looks and sultry climbing on to speakers; close your eyes and you could be in a 1930's downtown bar with the singer pacing the bar instead of the stage.
Her more upbeat performance is for her faster songs, most notably 'Upside Down', which has Faith looking like a five-year-old version of herself, all big eyes, wide smiles and bouncy dancing, whilst still maintaining note perfect vocals.
Faith decided to exclude other album tracks 'Broken Doll', 'Romance is Dead' and disappointingly, 'My Legs Are Weak' while including the weakest track 'Stargazer'.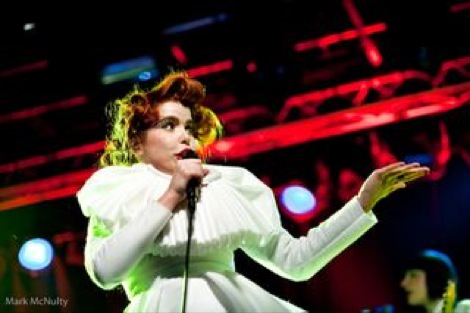 Even live, this track failed to sound less trite and still resembled a song you would find a Disney Princess singing mid-film.
Faith's support act Josh Weller joined her onstage for a rendition of their duet 'Its Christmas And I Hate You', which seemed to please the die hard fans but left us new Faith fans slightly on the outside, feeling like we were missing out on an 'in' joke.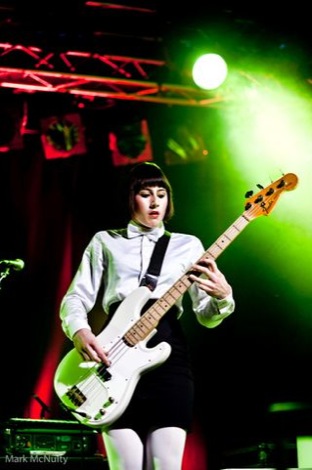 Despite this slight blip in procedures, Faith delivered a truly endearing and respectful performance, and at times slightly barmy – Faith's spotless, white dress was transformed into what looked like a a child first adventure with pastels as she stamped a powder-puff filled with coloured chalk onto her self whilst singing 'Disrespectful'.
Her finale of 'New York' was final proof to the critics that the girl can sing, just as haunting and impressive live as on the album, something this fan was worried wouldn't be possible.
Ultimately, Faith put on a highly engineered and developed show which she successfully made appear completely natural and effortless.
Her voice is just as moving live and her stage presence is honed to perfection, no doubt drawing on her past theatre training. Whatever Faith's intentions are for the future, it is doubtful someone so determined and undeniably talented is going to fail, and she will no doubt do it in her own unique, ambiguous way.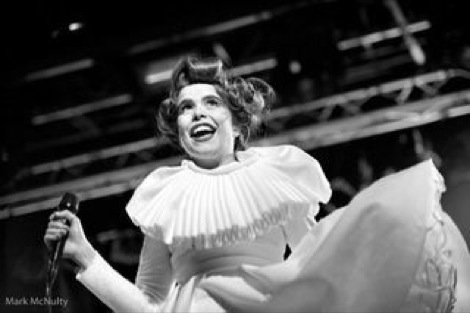 Paloma Faith: New York – live at the ICA
http://www.myspace.com/palomafaith
*Pictures by Mark McNulty
Comments
comments