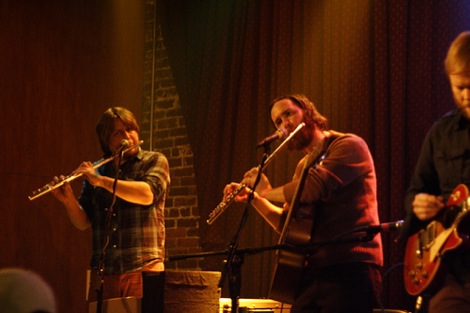 Would you like a flute with that?

The flutes are out in force.
If you were in any doubt as to the transformation Denton's Midlake have undertaken since 2006's The Trials of Van Occupanther the sight of not one, two, but at times three flute tooters tooting in unison, should have reinforced the direction to which they've taken.
Largely shedding their chugging 70s rock traits, tonight the brick cavern of Williamson's Tunnels, lit in deep maroon, plays host to a mid-paced, somewhat sombre headline set of Canterbury-soaked folk.
The scene is set earlier in the evening, as Sarah Jaffe, together with Robert Gomez (Midlake tour support the last time they visted Liverpool for their Academy cracker), lace a stripped to the bone country minimalism with a full-bodied vocal which has the power to flail the red-coated surrounds.
Her early numbers, little more than plucked acoustic, accordian and thrummed bass are undoubted spine-tinglers as Jaffe exhibits her incredible lungs – a feature which is easily the most impressive instrument on display.
But a distinct lack of variety midset finds attention spans on the wane as thoughts turn to fantasy league transfers and tomorrow's teatime arrangements.
But before you can say, 'Derren Brown', we're back in the room, as Midlake's Eric Pulido takes to the stage for a rousing and unexpectedly joyous take on Rufus Wainwright's One Man Guy.
It's one of the few moments during the course of the evening where there's a palpable sense of release, as if the intensity of the weightiness brought to the songs is lifted and everyone can exhale and feel somewhat jolly.
This of course isn't a negative, but when the Texans take to the stage – numbering seven tonight rather than their customary five – and plough into the bulk of a set made up from their third longplayer, The Courage Of Others, there's an inescapable sense of this band mean business.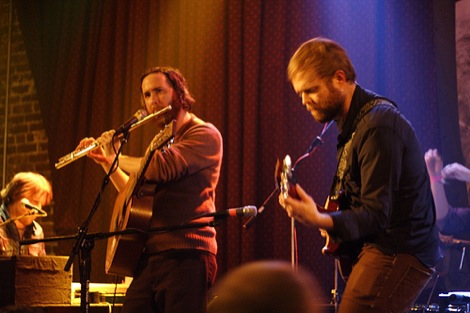 Take Tim Smith's distant expression, barely unlocking his gaze from the far curve of the tunnels as his head rests like a felled redwood on his John Motson sheepskin. His very appearance, long matted wisps of blond married to a hugely impressive beard, gives the impression of a man that's barely ventured from his wood cabin recording studio since they retreated from their …Van Occupanther days.
Like Fairport Convention before them and Espers more recently, opener Winter Dies is imbued with that twisted Englishness, all keening woodwind and wonky harpsichord it's a trick that's successfully repeated during much of the record.
But herein lies the problem – for all the fabulous harmonies of Acts of Man, the chiming arpeggios of Core Of Nature and simple wistfulness of the title track there's a very obvious lack of a change of pace and it's only the introduction of songs from their previous record that make the night regain a sense of ease.
It's not that the newies are lacking, far from it, Rulers Ruling All Things is a notable highlight with a thundering drum salvo from McKenzie Smith while Fortune benefits purely for being short and of simple beauty, but the fact almost all is delivered with such sobriety it does make for punishingly attentive listening.
Factor in lyrical refrains (sample: 'I will never have the courage of others, I will not approach you at all, I was always taught to worry about things.') which make Radiohead's Exit Music (For a Film) seem like an episode of Rainbow it's far from easy listening.
So when the likes of oldies Roscoe or Bandits pop up, it feels like they're singing 'The Sun Has Got His Hat On,' and they're presenting you with a well-earned ice-cream.
It helps that Pulido is the beaming yin to Smith's morose yang, offering slight, yet always affable banter for the rapturous Liverpool crowd.
By the time Head Home, complete with four sets of guitars crashes through the trickle of water seeping from the arched ceiling above, pings to a conclusion we're satiated but mildly exhausted. Midlake have burrowed deep, mining into the soul and it's been oh, so heavy.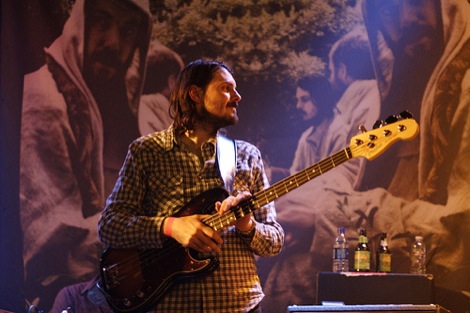 Pictures courtesy of craigowaffles on Flickr
Comments
comments