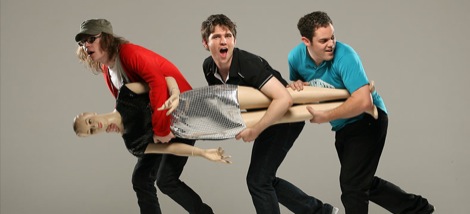 Few bands divide opinion as much as Scouting for Girls. Critics continue to savage the London trio but their popularity continues to soar. Their self-titled 2007 debut album has sold around 900,000 copies and remains in the top 30.
The follow up Everybody Wants To Be On TV debuted at number two last week and the first single from it This Ain't A Love Song enjoyed a fortnight at number one.
Getintothis' self-confessed fanboy James Pearce caught up with bass guitarist Greg Churchouse at the start of their six-week UK tour.

Getintothis: Hello mate, how are you doing?
Greg Churchouse: Great, cheers. I'm sat in the lounge area of our tour bus, just chilling out before we play in Limerick tonight.
Getintothis: You boys all set for the tour?
GC: We pride ourselves on being a kick-ass live band and every tour we want to take it up a level. Playing live is the most amazing feeling – it's hard to explain. I get to go around with my two best mates doing something I love. Nothing can beat that. We get to live the greatest life.
Getintothis: A number one single and the album in at number two, you must be chuffed with the way the new material has been received?
GC: It's been phenomenal so far. When we started the Easter number one campaign we were just larking about so for it to come true was amazing.
Getintothis: It was a long time in the pipeline. Did you boys suffer from 'difficult second album syndrome'?
GC: We took our time over it because we wanted to make sure that every song could be a stand alone single and I think we achieved that.
You're always worried where you are going to go. A band needs to move forward and have new ideas but you must never forget where you've come from.
We sat down and started thinking 'what is it people really love about us?' – it's the upbeat positively of our music and the song themes. We stuck with the nucleus and then worked on production and song writing.
We spent a couple of years penning 50 to 60 tunes then whittled it down to about 30 and took it into the studio at the start of 2009. It took about a year to record. I loved doing it and I'm amazingly proud of it.

Getintothis: Do you think it's an improvement on the first album?
GC: Definitely. It's much better than the first one. From the day we got the master copy it didn't leave the CD player in my car. We took on board some of the criticism of the first album – mainly that some of the lyrics were repetitive. There are a couple more ballads but we've kept our upbeat craziness. There's more production on the second album so we've beefed up the sound for this tour to take our live show to another level.
Our mate Pete Clements has come on to play guitar and Matt Simmons on keyboard is one of the best in the country. There's only so much the three of you can do and we're very lucky to have the other guys on board.
Getintothis: Your toe-tapping indie pop certainly divides opinion. Some of the more polite comments from critics about the new album include "their success continues to baffle", "this is music for seven-year-olds" and "think of Keane, and remove the grit. Or think of Daniel Powter, tripling the irritation factor". Does the barrell-load of stick the band gets bother you?
GC: We are the marmite band – you either love us or hate us. I've got a huge folder at home with all the stuff from the papers since we started off.
It's in a nice safe place. When this all goes tits up I'll sit down and read the lot. We get a lot of criticism but we don't get upset about it. Bring it on, it's just funny.
In fact it's been weird the second time around as some critics are starting to like us. I'm getting worried.
Getintothis: You were unsigned for a decade before Epic finally gave you a deal in 2007. What did you do to pay the bills and did you guys ever consider chucking in the towel?
GC: Yeah, I always say we were a 10-year overnight success story. Roy (Stride) and I met on the first day of secondary school when we were 11, Roy and Pete (Ellard) knew each other from cub scouts.
We were in a band when we were 14 and managed to persuade Pete to join us a couple of years later.
Even before the band took off we always spent enormous amount of time together. It's wicked playing music with your mates.
People would always ask when we were going to get a proper job. I worked in a Threshers off-licence to earn some cash and it was tough going at times but we considered jacking it in.
When we were still looking for a record deal, we made our own CDs and used our MySpace site to get ourselves out there.
We managed to get some spot plays on Radio One and things started to take off.
Getintothis: You've played across Europe, in Japan, Australia and America. What's been the highlight?
GC: We've been to so many great places but the one that really sticks out for me is a couple of years ago when we played the Isle of Wight festival.
I think the biggest crowd we had played to before that was 10,000. We walked out and there were people as far as we could see. There were 55,000 there and I just thought 'Jesus Christ'. It was a moment when you just go 'wow'.
Getintothis: What even more memorable than playing on the set of Emmerdale?
GC: (Chuckle…..). Yeah, we did that recently. We did a regional radio tour and one of the breakfast shows was from the Woolpack Pub.
It was surreal. Pete is a huge Emmerdale fan so he was like a kid at Christmas with a big smile on his face.
Getintothis: Success has obviously brought a load of cash. What have you splashed out on?
GC: I've got a vast selection of guitars but my big extravagance was a new Skoda.
I used to have an old Skoda Felicia but I've treated myself to a Fabia.
How amazing is power steering? I've never had a car with that before. It's even got electric windows as well.

Getintothis: Do you guys get noticed a lot more these days when you are out and about?
GC: Do you know what, it's really cool because we enjoy the best of both worlds.
The band Scouting for Girls are famous but the three of us as individuals aren't.
We play the music we love but we don't get hassled when we pop down to Tesco. We don't have to worry about getting 'papped' all the time.
I only live three miles down the road from where I grew up in North West London. I was in my local Tesco the other day and some guy who works there came up to me and said, 'You're that guy off TV aren't you? You're that drummer, aren't you?' I told him I was a bass player and got on with my shopping.
Getintothis: You're playing at the University of Liverpool on Thursday, April 29. You guys seem to be frequent visitors to the city.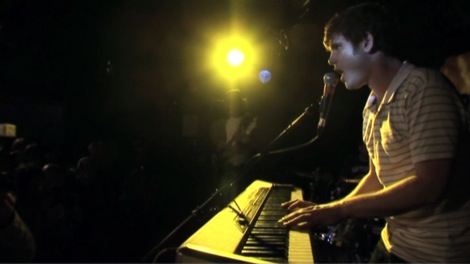 GC: Yeah, we must have played in Liverpool five or six times before. As the popularity of the first album grew and we started to enjoy more success we kept touring again and again.
We got drawn back to the city and I know everyone always says it but it's a cracking place.
We played one gig at John Moores where we met the events manager called Woody. We got on really well with him and now whenever we're on tour up north he comes out with us.
Getintothis: As you know, football rules in this city. Where do your allegiances lie?
GC: Pete is a Gooner, while Roy and I are more cricket boys. In fact I got Sky just so I could watch the cricket.
We went to the Friday of the Ashes Test at Lord's last year when we gave the Aussies a right tonking – that was amazing.
Roy and I used to play on the school team together but we haven't played for a few years now.
Getintothis: Any plans for a cricketing comeback? Are you more Freddie Flintoff or Andrew Strauss?
GC: We did go down the nets a few years ago for a practise. Roy is a bit of a spinner and I'm a paceman. It was good fun with me just throwing balls down at him as fast as I could.
I'd love to get a few games in this summer. There's been some talk about signing us up for a celebrity cricket team.
I'd be up for that but after six weeks on tour I could be feeling a bit lethargic.
* Scouting for Girls are playing at Liverpool University Guild of Students on Thursday, April 29.
Check back for your chance to meet the lads at an exclusive meet and greet before their sold out Liverpool gig.
Comments
comments