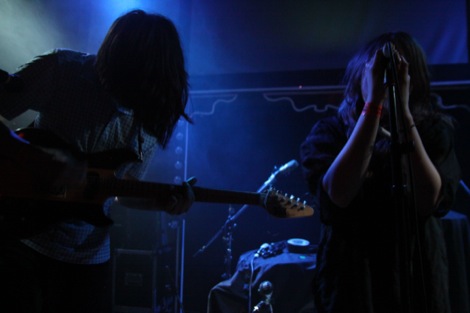 Evil stirs in the bowels of The Kazimier, just a shame it's on the quiet side – and few care to listen.

Like a vintage thundercharger that threatens to, but won't quite fire up it's ignition, Esben & The Witch, are clearly faltering.
Grunts, booms and shudders fill The Kazimier but a spark is missing. There's plenty of mist too, both literally (dry ice billows from the Kaz's stage left blunderbuster) and figuratively, as the red mist descends on the face of Rachel Davies, evidently aware their shudder of drone fails to stir most of those in attendance into life.
It's not for the want of trying though. Rachel, presumably she's the Witch in question, given that she appears to have a black sack wrapped round her head and sometimes curls a pointy finger outwardly – in the type of come hither motion a dodgy mack-wearing man may make at the school gate, is chanting and whispering while her two blokeys in tow make electro thuds and icy stomps.


But early doors the majority of the crowd have made their intentions known, chattering and fluttering between courtyard, bar and floor, they're clearly here for tonight's main draw Wild Beasts – and a trio of dark ghoulies armed with drum pads, Cocteau Twin potions and a sound which is in desperate need of cranking aint making them think twice.
Us, we're kinda partial, especially when, like on Marching Song, the guitars lurk into focus, churning against a backdrop of clonking rhythms which sound far too evil against such an angelic vocal.
Nice and naughty, just the way we like it.


Pictures by Conor McDonnell.
Comments
comments