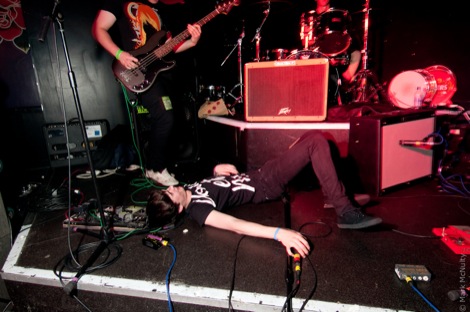 Getintothis' Mike Doherty on the glorious spirit of youth.

The honour of striking the first note at the O2 Academy for this year's Liverpool Sound City might be lost on this lot, they don't seem to be taken to any sense of occasion or decorum.
And that's a bloody good job too, otherwise we'd be denied lead singer Joey Wainwright's fantastic deadpan quips.
He displays cynicism and sarcasm beyond his years, which is evident in the biting lyrics of The Lesson and Electrolytes.
They jump and bound around the stage and swing from the rafter, which we're certain is getting to the Academy staff.
Their indifferent attitude gets them in hot water when they go one song over their time limit and are swiftly drowned out by the venue PA.
C'mon, one more song really wouldn't have hurt. Their gig at the placid Hannah's Bar on Saturday night proved another not to miss exercise in glorious shambolica.

Comments
comments