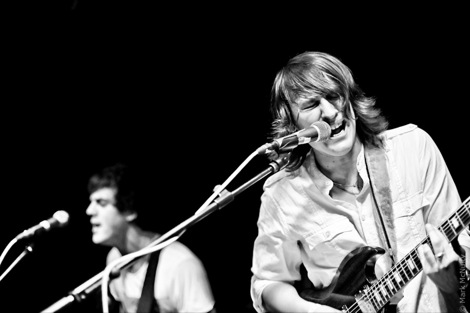 We're all in agreement, this lot are fangtastic.

As already noted Mark and myself were of different music mindsets for much of this year's Liverpool Sound City.
Indeed, on at least four occasions – twice in a corner of Tabac while huddled round a table that should seat four yet counts nine, in between mouthfuls of patatas bravas and meatballs, the words 'I'm not going back to that bloody Kazimier to listen to your hipster noise rubbish,' is barked at me from McNulty's direction.
But tonight it's early doors, and with little else grabbing our attention, we're scootling down Seel Street, aptly avoiding the early evening sunlight while scootling into the Zanzibar's darkening crypt to soak up the hometown sounds of some Vampires.
Fly with them? Who knows? But the word on the street is this lot can play.
Edging round to the right we take up residence with Slutterhouse's Rabih Salloum, from Paris via Beirut, this man arrived and he's not into messing around, however, from the get go the Liverpool youngsters on stage have us exchanging knowing nods and collective smiles.
It may be just past 7, but Rabih's friend is already at party o'clock; windmilling her hair and air-guitaring along as the combination of insistent riffs, pummeled home by bracing three-part harmonies make it nigh on impossible to resist.
Across to our left Sound Of Guns' Nathan is similarly impressed, air-punching and open-mouthed, as the likes of Call It A Night, with Paul Darhil's drilled kick-drum an impressive clamour, thundering a dense echo, which has me thinking of quite what possibilities this lot could achieve on a bigger stage.
The trick they so skilfully pull off is one of the hardest – a clarity of melodies, simple structures and a well-worn classic rockism – yet they do it with such powerful grace and fervent belief they make it look easy.
Closer Puppet Master – a fine example of a straight down the middle rocker, but a sensational one at that – is all blackened charge straight from Interpol's handbook as Phil Styles roars of 'blood seeping from every pour'.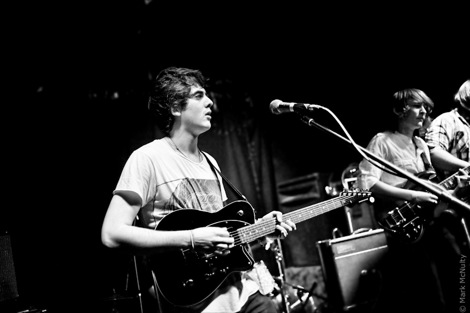 Their only deviation from the script comes with their expert use of harmonies, characterised on the belting Tear Dried T-Shirts – Styles is joined by Kieran Shudall and Graham McGivern in the vocal department as chiming licks are offset by a legion of Celtic war-cries.
It's over far too soon, but judging by the roomful of heightened chatter and fast disappearing demos being snatched from McGivern's paws it's a safe bet we'll be hearing more from this lot.
In the meantime, me and McNulty finally got to agree on something: Fly With Vampires – the find of Liverpool Sound City 2010.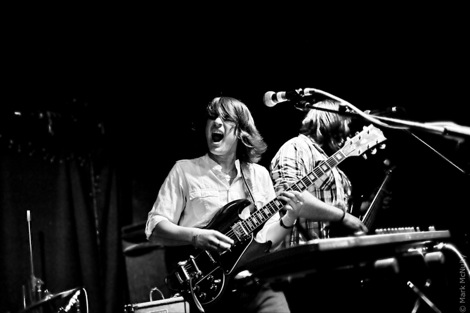 Fly With Vampires: Call It A Night
Pictures by Mark McNulty
Comments
comments