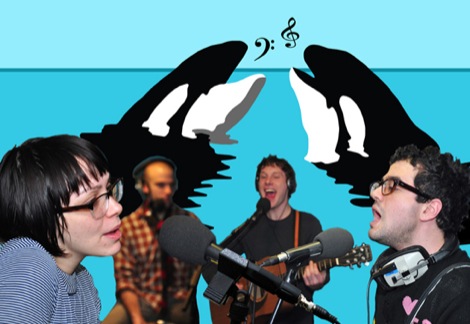 Having a WHALE of a time. HAHAHAHAHA!!! Puns, gotta love em…

What on earth is that? That my friend is a harmonium.
Surferbum Dude has adopted the crouch and squint in amazement position – not too dissimilar from that most fetching of postures: the constipation thrust.
Tonight though Surferbum Dude isn't attempting to force a movement he's instead transfixed, barely containing his incredulous glee at this most archaic of instruments being tapped and scrunched stage right by Doris Cellar.
It's one of a number of visual distractions provided by Queens' Freelance Whales; be it frontman Judah Dadone's earnestly camp (think Alan Carr-gone-Jewish) facial expressions, repeatedly readjusting his thick bins which hover precariously on the end of his button nose, or the metallic xylophone slats which bounce like crickets as they're clattered from their holsters or the mere sight of watching a five-piece trade instruments mid-song and contort round this pokey stage as they clamber for space to make their noise.
Freelance Whales are the latest in a long line of bands – Broken Social Scene, Arcade Fire, Dirty Projectors – that specialise in a cacophony of instrumentation and ideas but where they differ is in the supressing of bombast, wrapping everything in a cute, dreamy glow.
Take Starring – parping keys, quickened panging drums, banjo, glockenspiel, four-part harmonies, guitar and bass plus all manner of electronic fizzing – the result not nearly the loud overload you'd expect but a shimmering understated warmth.
Perhaps the closest reference point is one-man music box Sufjan Stevens – most readily apparent on Broken House, a nighttime lullaby custom-made for a US teen drama breakup scene, right down to the 'I'm swimming in your blood stream,' refrain.
Clearly confident of their output they dispose of deliciously lovely single Hannah third song in, trumping it with the majestic Ghostly which tumbles along pretty harmlessly til the bass kicks and all five start singing as one, as an ocean of glittery keys tumbles forth.
Then there's that harmonium – taking centre-stage on the Pulp jamming with Passion Pit, We Could Be Friends; from the chunky Motown bass, keyboard plink and an electropop disco finale; a joyous riot of downplayed wonderment. It's not just Surferbum Dude left impressed.
Completing a night of first-rate Shipping Forecast shenanigans are Thomas J Speight and Hey Tourists.
The former erring on the right side of folk singer-songwriter barnyard balladry, each track a snug candlelit mini epic romance dressed up with a plethora of tidy flourishes from his six-piece backing band. Special mention to Jessica Staveley-Taylor whose vocal support suggests a solo offering wouldn't go a miss.
Hey Tourists, meanwhile, have swelled from writing duo John and Cheryl to five including former-Rascal and bass blondmophead Joe Edwards.
Specialising in coy new-wave pop that's as instant as it is re-playable, closer Miami is a sunfried Tropicalia hit-in-waiting while Finger On Your Lips isn't just a fully formed indie disco wannabe but comes complete with its own dance routine.
There's some ironing out needed but they show there's more than the three-minute winners to be had with a penultimate punk-funk workout which chops a delightfully extended groove that induces the cry 'that's a beast, that lad!' from the back of the room.
We're in full agreement.


Tweet pic courtesy of @sevenstreets
www.myspace.com/freelancewhales
www.myspace.com/heytourists
www.myspace.com/speightboy
Comments
comments