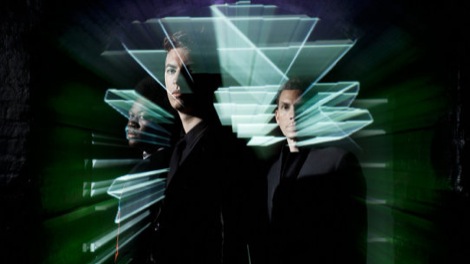 Last week on ECHO sport our work experience blad was Tom Lytton, from London. Unluckily for Tom he picked an international week resulting in near-death-through boredom. In between writing Jamie Carragher factfiles, hearing how the digital department works (that almost finished him off) and endlessly wasting his life away on the internet, he wrote these singles reviews.

Magnetic Man (feat. Katy B): Perfect Stranger – Single of the Week
Follow up single from the dominant dubsteb collaboration of Skream, Benga and Artwork comes in the form of a well made tune with singing sensation Katy B's vocals the highlight. A beat that gets your feet tapping and fingers strumming shows the obvious force of Magnetic Man.

Emily Barker & The Red Clay Halo: Little Deaths
A real beauty. The first song from the album Almanac shows off the abundance of Emily Barker's talent. Think country mixed with 70s English-folk music. A must have.

Fenech-Soler: Lies
Distictly average, almost entirely unmemorable and only avoids being completely unmemorable due to its droany, annoying beat. An attempt to jump on the band wagon of the recent return of 80s synth pop, but unfortunately a poor one.

The Wombats: Tokyo (Vampires & Wolves)
Zane Lowe claimed it was so good he had to play it twice. I didn't feel the need to play it twice but it is good. Another example of a really well made pop-rock record and it bodes well for their eagerly anticapated second album which is to be released towards the end of the year.

White Rabbits: They Done Wrong/We Done Wrong
In comparison to the explosive previous single Percussion Gun this is a far more mellow tune. A characteristically brisk drum beat provides the accompaniment to free flowing piano and the catchy vocals. White Rabbits have succeeded in creating a single of genuine quality.

Sound of Guns: Elementary of Youth
This Liverpool five-piece have lofty ambitions and have been shrowded in a crowd of expectancy and acclaim since coming on to the scene on BBC's 'introducing' sessions last year. In order to live up to their billing they are going to have to do a lot better than this. Glimpses of the brilliance they are suggested to have punctuate an otherwise frustrating single.

The Zephyrs: Creative Faith
A typically psychedelic, brooding return by the Zephyrs. A dark, almost sleepy tune seemingly in slow motion, yet there is something encapsulating about the single. A real easy listener, the Zephyrs have the ability to put you in a trance and its like their not even trying.

Ramona: How Long
An energy-fuelled, fast-faced debut single from the Brigton-born, New York-influenced Karen Anne and her band. A chorus which finds it's way into your brain and then stays there. Clearly not the finished article, but bags of potential.

(We can't embed the official vid as it's disabled. So you'll have to make do with this.. Why do people do that? – Singles ed
Karoshi: Not Sitting
It's more electro pop and it's big. Clear similarities to La Roux yet very good in its own right. Definite potential for big dance floor filling remixes. Very impressive.
Listen here.
Comments
comments