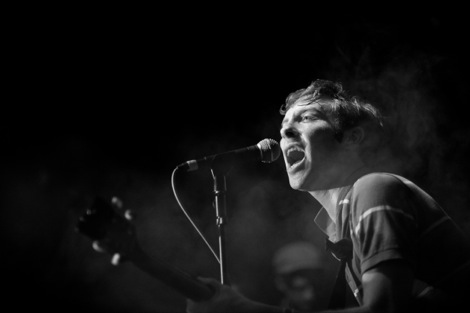 IT'S ALL GOIN OFF! What do you expect, it's The Black Lips. Will Fitzpatrick reports as the Masque descends into a fight club.

The Red Suns are for those of conservative taste.
Followers may enjoy ticking the boxes marked 'epic', 'soaring' and 'graceful', but the Deltasonic hopefuls struggle even to retain the attention of a half-full Leaf.
The best chance of this sounding good would be if a total stranger asked, 'Have you ever heard of music before?' and you could honestly reply, 'No, what is it?' As things stand they're a bit dull, like.
The only solution to dullness is Black Lips, and they rule the Masque in rip-roaring fashion.
Bratty garage tunes, a raucously pogo-ing crowd…. Great fun. In fact it's all going swimmingly up until their penultimate number, the anthemic Bad Kids.
As soon as the first crowd surfer goes up, three bouncers descend upon the crowd and start to get 'a bit rough'.
Incensed guitarist Cole Alexander reacts by launching himself into the melee, which results in one bouncer storming off in a huff, and the others hauling him out of the crowd.
When one of the burly security types grabs Alexander by the shoulder, the rest of the band waste no time in squaring up to the heavy-handed security team.
The audience is gobsmacked. Is this rock'n'roll? Is this a bit uncomfortable?
Hmm, maybe somewhere in between.
In any case it's tense as fuck, and results in a searing, furious version of I Saw A Ghost (Lean) before our heroes call it a night.
It's an angry end to a fun evening. Oofffff.
Picture by Mark McNulty.
Comments
comments