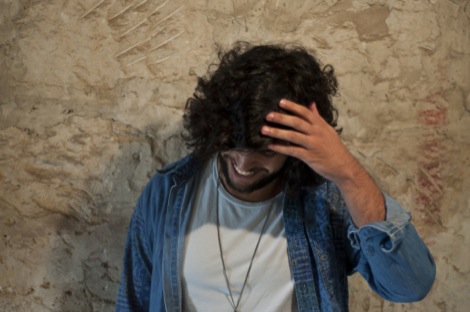 Getintothis' Sean Bradbury unearths a talent with the potential to not just emulate but better James Blake as 2012's dance music crossover.

Oliver Tank: Last Night I Heard Everything In Slow Motion – Single of the Week
Like James Blake with smoother edges – understated auto-tuned vocals, playful glitch beats, soaring synth strings and probably the capability for even greater mainstream success.

Teeth: U R 1
This is hard work. A cacophony of flatline fuzz and a relentless tribal beat pound away underneath a repetitive vocal line with minimal variation for four minutes. Probably best employed by secret services the world over to force confessions.

Ragz: You Started It All
Quirkily seductive ambient pop that sounds like Zero 7's rendition of the X Files theme tune.

Delilah: Love You So
Catchy but hollow power pop with the feel of a more vocally nimble but slightly less engrossing Ladyhawke.

The Albany: Secrets Of The Night/Train
With their angular, jangling guitars, 60s influences and recurring themes of wayfaring and daydreaming, The Albany are well-equipped to be the next entrants into the Cosmic Scouse club.
Can they channel their boundless ideas and energy into something that truly stands out
from the local crowd?
Train by The Albany
The Fifth Movement: This Brewing Storm
Impossible to guess what musical style is coming next on this varied and well-crafted EP, with the highlight being jazz fusion James Bond-theme-in-waiting Stop The Chaos.

Meg Baird: Babylon
Meandering folk by numbers ballad brought to life by shimmering lap steel guitar lines and the delicate tremble and light touch of Meg Baird's voice.

Meg Baird – The Finder from Wichita Recordings on Vimeo.
Junior Boys: You'll Improve Me
Whispered vocals wrap around techno glitches and stabs before dropping into a thumping Juan Atkins throwback on the Caribou remix, with the more melodic and funked up original take on the b-side.

Rams' Pocket Radio: Dogs Run In Packs EP
First it's a Tom Vek style lo-fi shuffle then a full-blown Ben Folds piano-led blast; one-man-band Peter McCauley (aka Rams' Pocket Radio) has got a lot to offer on the evidence of this EP.

Big Deal: Distant Neighbourhood
With a similarly tuneful but unpolished boy-girl brand of introspective shoegazey pop/rock to Slow Club, this is easy to appreciate but difficult to heartily recommend. Nothing offensive, nothing ground-breaking.

Comments
comments