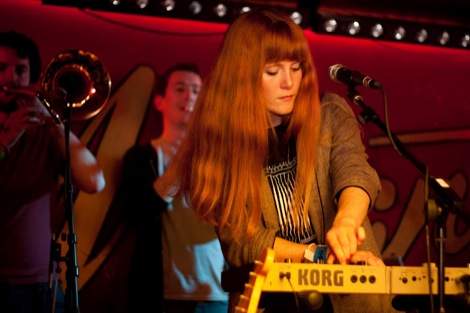 Harvest Sun pull in one of their finest billings to date, Getintothis' Tom Jefferson questions why there's just a handful of people there to see it.

It has been a great start to 2012 for promoters Harvest Sun, and current hype band Diagrams (formed by Tunng man Sam Genders) are next on their impressive calendar.
With strong support from psychedelic math-rockers Ninetails and electronic space-rocking Parisians Yeti Lane it looks as if tonight could be up with their best.
But hype, and the reality of people actually logging off and attending gigs are quite different things.
Still, it comes as some surprise that arriving midway through Ninetails' set, The Magnet, playing host tonight after Static Gallery's noise abatement order is largely empty.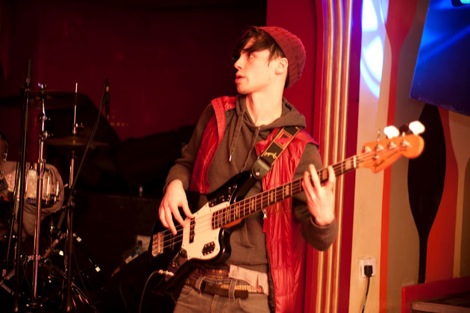 Ninetails.
Bassist Philip Morris skirts around the bereft front of stage area as the band launch through a slick and tight set, treating the few who do make it down to some ultra-efficient shimmering sounds.
Pedestrians impresses, and although much of its sound is borrowed, it has enough individuality to carry it through convincingly.
Rawdon Fever is their biggest statement to date, and although it is formulaically math-rock, it steers away from predictability and is inventive and ambitious.
If they can keep producing material like this, their future looks bright.
Yeti Lane quietly take to the stage and gradually some murky space age electronics begin to emanate from a wall of effects that look like something you'd find on the bridge of the starship Enterprise.
Emerging from the misty depths comes the sublime Analog Wheel, an epic eight-minute space jam that is nothing short of mind-blowing.
It merits a bigger audience, yet with eyes closed, it transports you to another planet entirely.
It's hard to eclipse such an opening, and in truth they don't manage to surpass this emphatic statement.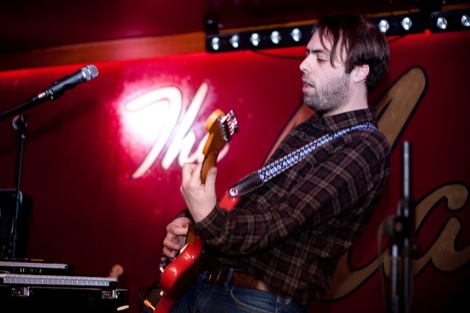 Yeti Lane.
The set is full of Gallic pop overtones, mixed with echo-laden guitar that smack of Grandaddy on tracks such as Alba.
The slick production from Antoine Gaillet of M83 fame steers it on a more pop-chique vibe.
So to the main feature, and astonishingly, the crowd appears to have diminished.
Speaking with Tom Lynch from Harvest Sun, he too is clearly baffled and at a loss as to the lack of attendance.
St Patrick's Day tomorrow, the change of venue from Static Gallery to The Magnet, Wild Beasts tomorrow night? Whatever the reason, it is a strange anomaly on Harvest Sun's impeccable radar.
Eight strong on-stage, they almost outnumber those who venture near to the front.
Opener Hill from their self-titled 2011 EP stomps and swings, full brass section adding oomph to a tight bass section, with funky guitar licks and smooth vocals in soft pursuit.
Next comes a cracking rendition of Ghost Lit, a track that is an infectious and mellow wonder.
Appetite fuses funk with melodic soul to create a fresh and lively sound, the bass and brass section tight and heavy, guitars licks funky and lithe, all intertwining with Genders' soulful vocal.
There are on stage smiles and warm words from Genders, who thanks those who came down, reminding us with the fresh perspective that it is their first tour and that it is nice just to have people to play to.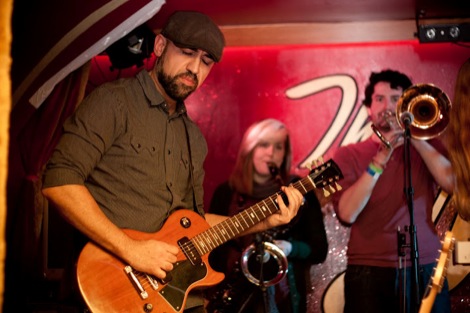 Diagrams.
What comes next exemplifies the talent that permeates this group of ephemeral musicians led by Genders.
Night All Night is a thing of beauty; a melodic pop gem that builds on what Genders started with Tuung and takes it somewhere altogether more epic.
They play the delightful Woking, a harmony led beauty, reminiscent of Elbow at their deft best (think Starlings and just about anything off Asleep In The Back).
No one puts a foot wrong, it is hauntingly beautiful, the looped vocals mesmeric.
After a jagged verse, Animals erups joyfully with trumpet trills, baritone sax and trombone all flooding the sound into a sea of trills and drones all mixed into gorgeous vocals.
Peninsula is a highlight, gorgeously building from minimalism to a euphoric, layered, electronic monster.
Black Light is their most radio friendly effort, and if heard on Radio One, Fearne Cotton professing her love for it (which she probably has), it would stay in your head for days.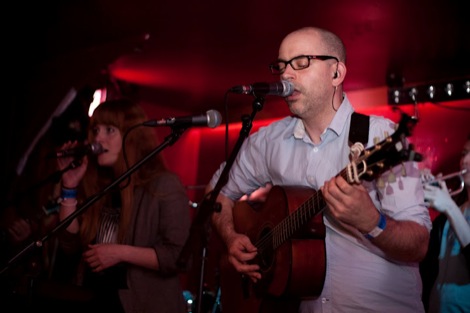 Diagrams.
They finish on their most prominent track to date, Tall Buildings which is every bit as grand and impressive as it's title suggests and Getintothis defys anyone to dislike this song.
It is an impressive and admirable display under difficult circumstances and the only disappointing element of tonight is that only 30 people showed up to see a band that everyone is talking about.
They deserved a bigger crowd, because they live up to all the hype. Liverpool, you missed out tonight.
Pictures courtesy of Marie Hazelwood.
Comments
comments