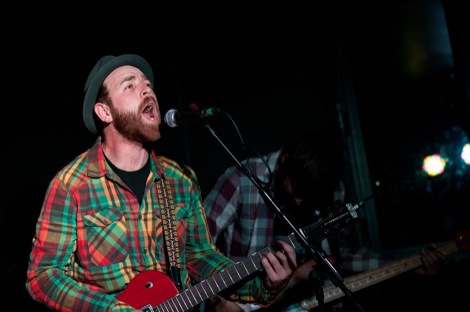 Getintothis' Emma Walsh sifts through Bumper's mixed bag at Liverpool Sound City but it's Said The Whale at Zanzibar who proves the big catch of the day.

There is something altogether weird about being in Bumper on an afternoon, and sober, but that's where Sound City brought us today.
With so many bands crammed into one afternoon, they all began to look and sound alike, and those that did stand out did so for the wrong reasons. Carnation and Asios Eyes took themselves a little too seriously, over styled and relying on the 'trippy' look rather than anything that could successfully catch the ear.
Thankfully the Dave Devlin Blues Band were on hand to bring the sleepy afternoon to life with a heavy, rootsy style backed up by punchy drums and raspy vocals. The rock stars had arrived, and their stand out song Sex and Blues showcased that even a guitarist down, the trio could create a massive sound.
After such a great performance that the Jet Black Royals could do little to impress, although musically tight, there was nothing Sex and Blues about them. You wouldn't be surprised to see them on a morally rich kids' TV show. In fact their overly enthusiastic front man made the whole thing a little cringe worthy.
A fun-filled performance from The Enquiry brought the audience back on side, pleasing the crowd with good clean rock and roll, and free t-shirts.
The day continued with ups and downs, hip-hop rock collective Strike continued the good vibe with unrelenting raps, jaw-dropping vocal ranges and the coolest bass player on the planet wearing shades throughout. The Piratones also left their mark with a mash up of reggae, soul, ska and rock – think early Amy Winehouse and you've got the general idea.
Fisted Bi-Funk also stirred some interest, not least for their interesting name, but the pitchy vocals damped an otherwise flawless performance.
After such a relentless reel of bands it was a relief to see Said the Whale at Zanzibar remind us how it's meant to be done.
The Canadian indie rockers seemed right at home in the dark and dingy depths of the Zanzibar, and it didn't take them long to have the crowd on their feet.
Their upbeat vibe and breezy harmonies, the five piece demonstrate some folky influences and a genuine and infectious joy for performing live. A refreshing sight after the amateur dramatics of the afternoon in Bumper.
Picture by Mark McNulty.
Comments
comments