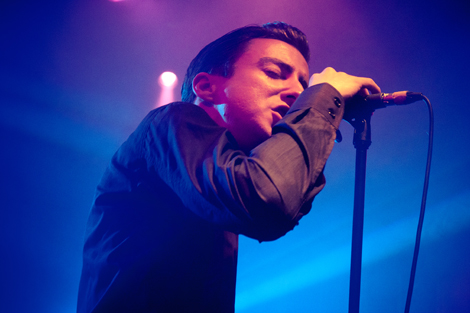 Liverpool Sound City 2012 welcomes back Eugene McGuinness – and with a swagger like this it's no wonder – Getintothis' Thomas Jefferson laps up the posturing.

Slick, swagger, pomp and arrogance are four words that could be used to describe Eugene McGuinness.
Strong, sharp and right on the money are closer to the truth, and it's almost sickening!
Lion is an instant and incredibly good hit, that he announces it with a 'grr!' is almost sickening.


Eugene McGuinness live at Liverpool Sound City 2012
Yet despite his smug resemblance to David Cameron, his prowess and style cannot be argued with.
The Kazimier is packed, and his links and obvious 'strike a pose' influence from Miles Kane are clear to see, just off in a slightly different direction.
The highlight of an impressive set is the glorious Ian Brown cover, Dolphins Were Monkeys, which is both unexpected and delightfully received.
Pictures by Marie Hazelwood.
Comments
comments