Liverpool Sound City day three kicks off with the annual Aussie BBQ at Heebie Jeebies – Getintothis' Sean Bradbury is left smokin'.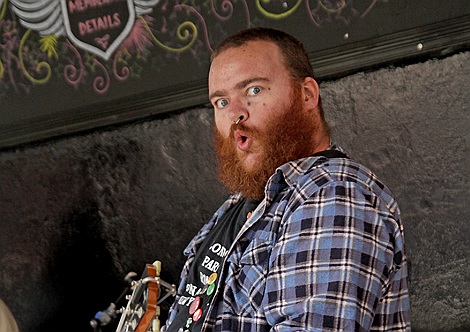 Ironside live at Liverpool Sound City 2012
Rolf Harris was in town this weekend to launch the largest ever retrospective of his paintings at the Walker Art Gallery.
But even if the Antipodean entertainer had turned up at Heebie Jeebies for the Aussie BBQ with wobble board at the ready and literally tied down a kangaroo, he'd have struggled to upstage the acts on show from down under.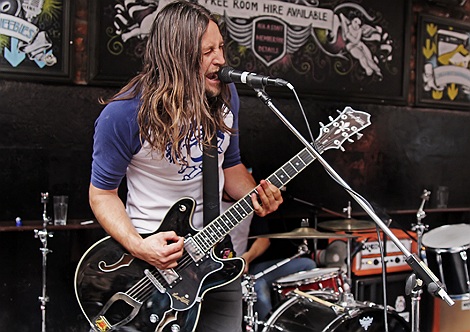 Jackson Firebird live at Liverpool Sound City
Jackson Firebird, who can only be truly appreciated with a beer in one hand a burger in the other, saluted the sight of the 'smoke machine' cooking up a storm in the corner before hurtling into half an hour of blistering blues rock.


Aussie band The Bowers live at Liverpool Sound City 2012.
If you invited the Black Keys and the White Stripes to gather round the barbie and threw on a few slabs of Deep Purple and AC/DC marinated in Chicago blues, the taste would be something like the one served up by the Northern Victoria duo.
Brendan Harvey's riotous riffing and slide guitar licks and Dale Hudak's DIY drumming – his hands covered in callouses and plasters from beating the shit out of his homemade bottle bin and washboard kit – have to be seen live to be believed and fully appreciated.
Another impressive double act came in the form of singer Caiti Baker and DJ/producer James Mangohig, known together as Sietta.


Bonfire Nights live at the Aussie BBQ
From Etta James vocals woozily swaying over jazzy Jimi Hendrix chops on Need No Help to the funked up electro and lurching beats of What Am I Supposed To Do, it was difficult to second guess their next direction.
But whatever genre and delectable groove Mangohig laid down, Baker was more than capable of meeting the challenge and giving the track a definite soulful Sietta stamp. Instantly engaging, something for everyone muscially and great performers; the perfect mix for a festival audience.
On record Emma Louise is not unlike an Austrlian Ellie Goulding – beguiling melodies gently electro-fied – but here she was acoustic and accompanied only by keyboard and backing vocals.
The stripped-back showcase was a credit to her songwriting, offering proof she doesn't necessary need the pop production to succeed. Laura Marling and Cat Power fans take note.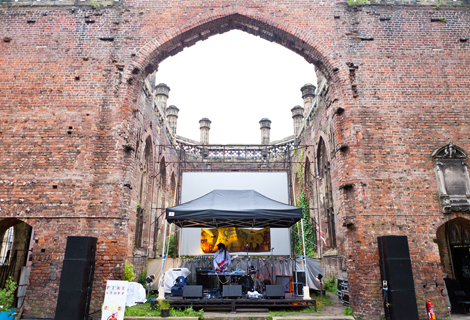 Oliver Tank live at St Luke's Bombed Out Church at Liverpol Sound City 2012
Oliver Tank's soaring synths were the Friday night highlight (pictured above) at St Luke's church, but didn't have quite the same impact here.
Whether it was being thrown off kilter by a speaker change mid-set or just plain old nerves in front of an increasingly boisterous crowd, Tank took a while to build momentum.
But his party piece cover of Snoop Dogg's Beautiful – with Drop It Like It's Hot samples thrown in for good measure – went down well and ensured he made his mark.
Pictures by Marie Hazelwood, Sakura Zilla and Conor McDonnell.
Comments
comments