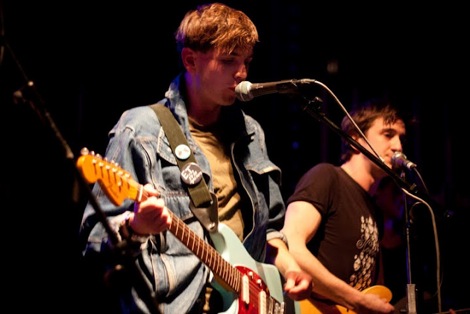 The curious case of two Scottish gangs and a rabble of Scousers, Getintothis assigns Lieutenant Lewis Stapleton to the Kazimier to unpick the pieces.

I was running late and my new loafers were murdering my feet but the Chief had told me 'be there by 8.30.'
I presume the suffix to that would be 'or I'll put your ass in a sling, wise guy.'
'Give me 24 hours and I'll blow this case wide open!' Is what I should have said. Next time, next time…
On entering the Kazimier, I found a seat next to the sound desk and settled down to a night of paying attention, facing the right way and drinking Red Stripe lager from the can. It's the done thing.
First up on this EVOL showcase, were Death at Sea and their bright, slightly skittish summer pop-rock.
My personal highlight was definitely Drag, although the crowd responded with the most vigour to final song Sea Foam Green, possibly because of the introduction as 'sentimental bullshit about Liverpool.'
Despite being enjoyable enough the set lacked enough shift in style, rhythm or tempo, which led to the each song blending into one.
Not good if you're trying to breed ear worms. Only their second gig though and I can see them being the toast of the summer in these parts.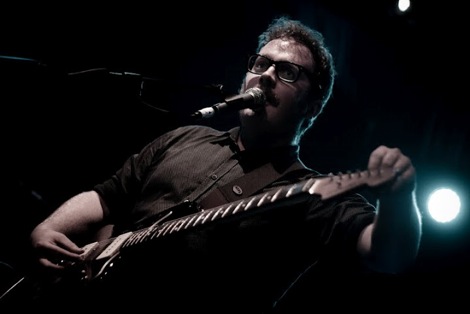 Three Blind Wolves live at the Kazimier.
Three Blind Wolves' country folk rock, with well delivered Celtic harmonies, certainly had enough variety on show.
The room had started to fill up nicely at this stage with people getting to their feet and doing a little dancing to the good timey vibes.
Their slick music matched Ross Clark's finely honed moustache, however, it wasn't long before we began wishing for more drama and darkness to bring a little contrast to the charismatic cheer.
Not that you can fault the quality, mind. And when they broke out the mandolin everything seemed to click into place.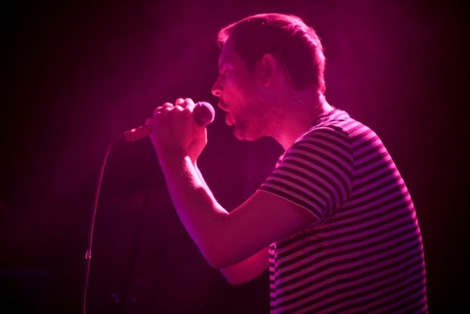 Twilight Sad live at the Kazimier.
We'd started the second tier of our lager can beeramid by the time The Twilight Sad took to the stage, and they kicked off with an almighty slab of electro-rock and despite some microphone failure it sent a thrill of excitement through the crowd. Anyone who barks 'fuck you' at a delinquent microphone is alright in my book.
I'll come out and say that these guys were considerably more to my taste. Dense sound, well crafted songs and superb presence from singer James Graham.
As an aside I should point out that …Wolves and T'Sad had brought some quality upper lip styling with them – although due to my recent expulsion from the British Association of Moustache Assessors I can't tell you who sported the finest example.
I digress. The Chief will have my badge if I don't wrap this up and he'll give the case to that asshole Ed from Traffic Division. I hate Ed so much…
Stand out tracks Dead City and Alphabet from new album No One Can Ever Know were immense. Great electronic flavoured rock songs, well delivered with both boldness and a little fragility.
So, Chief, that's how it all played out. I've sent the beeramid to the Crime Lab and I'm off to make love to Ed's wife.

Comments
comments