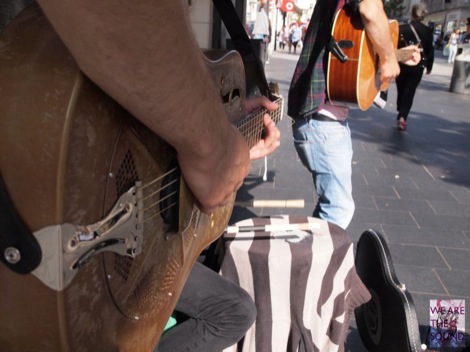 Liverpool has one of the most thriving busking communities in Britain, Getintothis' Natalie Philip and videographer Steve Cooper chat to the musicians, shopkeepers and the public to find out why Liverpool's so passionate about keeping it street.
Think of certain cities around the United Kingdom and you're bound to have some markers that are just synonymous to it.
In Liverpool these are: the Docks, the Liver Building, the football clubs, girls with rollers in their hair, The Beatles and… busking. Well, maybe?
Liverpool has the largest, and arguably the best of the North's busking music scene, and we should be proud of it. It's the one of the few places in the country where not only is busking actively appreciated by the public, but also the only place where you'll find shop owners opening their doors and floors to busker sets.
But, why is this? Why is busking such a rich and well respected tapestry of Liverpool culture? Answering this question facilitated much running around town to interview some brilliant characters.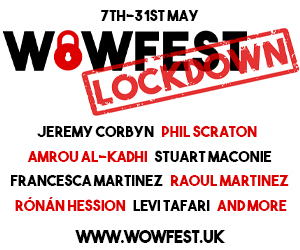 Each act had something different to say about why they love to busk, and in Liverpool. After leaving each busker, the feeling was that they genuinely enjoy what they're doing, and love being an addition to Liverpool's rich music history.
It's well-known that this city of ours is home to conceivably the most famous pop lineage in the world, and doing his part to honour that tradition is George Harrison lookalike, Josh Ferrigan.
Busking in the Cavern Quarter, Liverpool-born Josh represents the music tradition The Beatles left behind.
While the city moves forward in terms of creating new innovative music, the fact remains thousands of people flock to 'The Birthplace of The Beatles,' every year.
What spritely young men like Josh are doing, is being proud to sing songs that they love, written by local magnates and to people who love to hear them. Busking, for guys like this, is not just about capitalizing on tourism, it's about making a contribution and his cheeky-grinned performance makes for a valid one.

Josh Ferrigan, local lad and Beatles enthusiast, busking around the Cavern quarter
Go around the corner to Church Street and busking is in full force, the street is literally draped with a constantly changing stream of performers. Most of them are working to show that Liverpool isn't just about The Beatles, other musical heritages run through the city, and it's important to them to help people remember that.
One such personification of this is a young Danish busker, with a fiddle. This girl brought a breath of fresh air to the reasons behind busking with one sentence, 'People forget that Liverpool is part of a large Irish tradition.'
For her, busking with a fiddle is a way of bringing that influence back into people's minds and adding to the atmosphere of the city. She is a particularly good example of why people love to busk here, because she says she feels appreciated.
People not only stop to listen to her, but they tell her, her fiddling is a welcome piece of sanity against the busy nature of city life.

Liverpool shop owners give their opinions on the city's busking community
This, is the centre of why so many people come to Liverpool specifically to busk, people will listen to them play, but they also compliment them. Almost every street musician will tell you that the response they receive from the local scousers is unfalteringly friendly.
And, it seems that this, is what boosts musician's confidence enough to be able to busk in the first place, they know people want them here.
This is none so true as for The Hope Street Busking Band, which is basically a pseudonym for, the three friendliest buskers in the city.
Talking to these men about their passion is an eye-opener, because they busk as their only source of income and it seems it's incredibly lucrative for them. Agreeing with our young Danish busker, they say that the positive response from tourists, and from Liverpudlians is outstanding.
It's easy to see what they're talking about. Hardly a person walks past without stopping to drop some coin into their bag, or stand and listen while they're singing.
As it goes, these boys are quite the network hub, they have professional business cards and been involved in making a TV advert about Liverpool.

The Hope Street Busking Band who make their art their living
Having been approached by television channels and asked by tourists on advice on where to go out or to eat in town, clearly Ste, Francis and Alun aren't just buskers, they're a public service.
They absolutely love it as well, give yourself a treat and have a little chat with them on Church Street, they'll be more than happy to talk to you.
There is much debate about whether you need a license to busk in Liverpool, you will find it hard to get a definitive answer from anyone.
Whether you ask buskers, the council or your internet search engine the answer will be split down the middle. It seems though, that there can be quite a fight to hold onto particular spots during the day, particularly on Bold Street.
So the opinion on the need for licensing, is again completely up for debate among buskers. Some, like the man who plays the hang drum (you can't miss him!) have auditioned in front of the council, to receive the right to busk in a particular spot.
He and others are told that as long as they're not too loud or causing an obstruction, they remain free to busk at their leisure. However, it seems difficult for these buskers to fight their corner, for their spot due to the lack of concrete 'ownership'.
This is exactly why some performers want more support from the local council, while others enjoy the freedom of being able to move around to different areas of the city. They say this luxury would be stripped from them, if a strict licensing policy were put in place.
Certainly, new or sporadic acts turning up for the day couldn't happen anymore, such is the opinion of 19-year-old, Dextor Hoff – the travelling busker. This young lad uses busking as a way of journeying around all the cities in the UK, he says that it's the best way for him to go everywhere he wants to see and he has been doing so, successfully, for five years.
Dexter is one of the many who continue to return to Liverpool streets, because of the inherent welcome he feels when he's here. 'People in London will walk straight past you, pretending you're not there. But here, in Liverpool, people stop and notice you.'
He's got a quippy little sign beside him as he busks, so maybe he appeals to the fun nature that emanates from this particular public. The reasons for him, are plentiful and he hopes to continue to feel free to breeze in and out of Liverpool, being a part of it's active culture.
General response from the public and shop-owners, particularly those on Bold Street is: busking is a part of what makes this city so nice to live in, let's have more of it.
So many people have let performers busk in their shops, and are more than happy to let them do so again.
This is because Liverpool is a creative city, there's no denying it, everything from the architecture, to the way people dress here is an art form. It makes sense then that busking is so popular, where else would it, or could it be as accepted and encouraged than in a place that is so vibrant with music.
The street is a stage we can only hope that buskers continue to take to, as they help sustain a wonderful tradition of Liverpool life.

Busker Neil Ward in action in Weaver's Door in the Cavern Quarter
Filming and editing by Steve Cooper.
Main image The Hope Street Busking Band.
Comments
comments