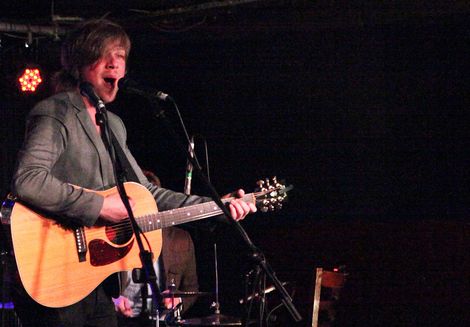 Combining NYC staging, emotive songcraft and a nous for social networking Getintothis' Andy Kettle says former Lancastrian Greg Holden is one to watch.

Greg Holden is an Aberdeen-born, Morecambe-raised artist, who for the past three years has been a resident of New York City.
With a loyal online fan base that stretches to more than a million online followers, he's clearly somebody who knows his way round social networking sites; especially with his Not My Living Room series on Youtube.
Following on from the highly successful release of charity single The Lost Boy – which popped up as the Christmas number one in Holland – and ahead of the release of his studio album I Don't Believe You, he lands in Liverpool slap bang in the middle of his European tour.
The stage is arranged in the style of his New York apartment and the positioning of the drums give it a studio feel, but it's his vocal ability which truly captivates.
With pin-drop silence, the backup of drums and an extra guitar give the perfect flavour to compliment the songs. The arrangement of the stage coupled with the various vocal melodies, guitar-picking and stories of Holden's personal life through the highs and lows of New York living lends the evening an involving, immersive experience.
The performance ends with Bar On A, and joined by a dozen fans singing with him on the stage his set ended with rapturous applause. The former Lancastrian is without a doubt, someone to look out for.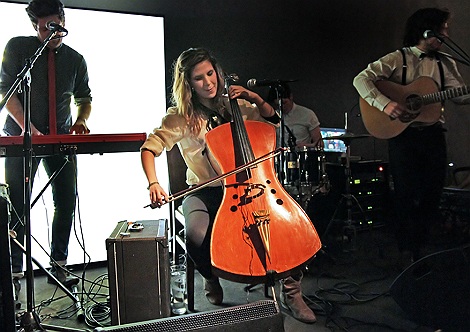 Tibi and her Cello live – picture by Sakura
The modest crowd gathered for this See The Sound evening, earlier saw Madrid's Liverpool-based LIPA graduate, Tibi and her Cello open the proceedings, with a hopeful offer of something a little different.
With her website containing a ringing endorsement from Paul McCartney, stating that other pro cellists out there cannot do what she does, expectations were certainly raised.
Unfortunately the performance itself was not what we were hoping for, or expecting, and with the vocal harmonies out of kilter it made for a disappointing listen.
Nigerian singer/songwriter Ogo followed, delivering a heartfelt set drenched in positivity. Combining soulful textures with a superb vocal range, which emanates around the room, he provided a fine combination of folky soul music. With a full band behind him, the possibilities are endless.

Tibi & her Cello review at Liverpool Sound City 2012.
Greg Holden picture by Dave Munn.
Comments
comments