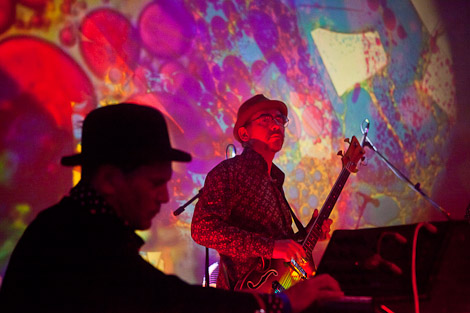 The first Liverpool International Festival of Psychedelia whirls into the Camp and Furnace – Getintothis' Peter Guy, Alistair Houghton and Joseph Sheerin are taken on a journey to the outer limits of sound, visuals and sonic magik.

'We're nicely warmed up now… Time to freak out! This one's called Set Phaser To Stun!'
Doesn't get more psychedelic than that, really, does it?
That was The Time and Space Machine main man Richard Norris, two songs into their blazing headlining set at Liverpool International Festival of Psychedelia.
And for 15 hours the freaks, the cats, the mop-tops, the Swedish guy offering a trick or treat back of pick and mix minus the Haribo, the dancers, the girls in floor-length furs, the fake Apache Indians with day-glo make-up, the DJs with fancy neckerchiefs, the dudes with maroon ankle boots, the beatniks that had travelled the globe a thousand times and were not done yet and the musicians soaked up the sounds of the first Liverpool International Festival of Psychedelia…
The Shook-Ups kicked the day off in the enveloping surround of The Furnace – the main room, main stage, main battle ground for wide-eyed, whacked out sounds to feast and twist with the brain chords – and with an intoxicating fusion of '60s garage and '70s psychedelia that hits you square between the eyes, frontman Dan Coyote prowled the stage like a sexed-up cheetah howling and gyrating to the extent that would make Mick Jagger blush.

The Wild Eyes waltzed into the Blade Factory – a white cuboid of a room, all angles and fizzing visuals – a shoe-box love in which had bodies crammed early doors.
The Psych soul seekers were in no mood to mess about – the happening was all go – heads had waited eagerly for this for years and the fervour was tangible as those white doors pinged open at 2 bells.
And the Liverpool-based trio were perfectly suited to the early fever, evoking the spirit of The Stooges but channelling it into a primordial synergy that evokes a feeling of raw vitality.
Lead vocalist and guitarist Huw Roberts spits out the lyrics to single I Look Good On You with the feral ferocity to match the dreamy drone pop of the track itself. It will be completely criminal if these boys do not get the acclaim they deserve.
Ex-Spacemen 3 head Rosco warmed up the solar system, solo, seated and trilby-clad, he and his guitar did their best to fill the open space of the Furnace while the sparse early crowd gathered nervously at the back.
He sang softly til mid-way through when the singing became a scream, the strumming grew to a squall, the foot tapping turned to foot stomping and he piled on the guitar noise and echoes for a Golden Hair soundalike, even standing up for a closing slide tremelo feedback squall.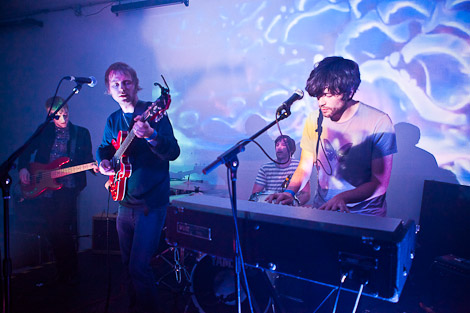 The See See live at the Liverpool International Festival of Psychedelia
Irish psychedelic navigators Altered Hours provide a surprising duality, thanks to the vocal duties being split between Nora Lewon and Cathal Mac Gabhann.
It leads to an intriguing sonic unity that leads you from dreamy '80s shoegaze through to the hallucinogenic pop that could place them safely alongside any of their peers of the 1960s.
Down in the Blade Factory, local hero Edgar Summertyme got a warm welcome as he told the crowd, 'I'm going to use this as an excuse to play some covers I haven't played for a long time', before screaming into Texas psych classic You're Gonna Miss Me.
He's gloriously ramshackle; the guitar powered by a metallic rattle and hum, his vocal squeezed out of a neck anxious for support – veins pop and hips shake.
Soon there were some new songs, tales of lost gigs in St Helens and big choruses boosted by three largely inaudible backing singers who look both delighted and awkward as Edgar implores them to sing up – a telling off at the disco, Anton Newcombe would surely nod in approval.
And finally to cheers and Summertyme's self-deprecating 'Here's another one I haven't played for 20 years', before screaming his old The Stairs sinagalong Weed Bus.

Lucid Dream provide an altogether different proposition; cavernous thunderclaps of bass drums collide with a sonic six-string propulsion so much so The Furnace feels like the walls are closing in as ears become panged by a deafening ping. It's malevolent, mean and marvellous. They leave the stage with a little fuss, we're feeling it bigtime.
Back in the Blade Factory, Drenge plead with the audience not to get 'too emotionally involved' with the film of a boy and his red balloon being projected behind them as they play.
However, it works to the advantage of the Loveless brothers from Sheffield, with the combination of Eoin's dirty, bluesy riffs and Rory's galloping drums providing a magical aural soundtrack and an afternoon's work very well done.
Back in the Furnace, Ancient Rivers doled out moody, bass-driven riffage with a Pink Floyd-like space gaze undercurrent.
By turns they recall, Black Rebel Motorcycle Club if they were fronted by Russell Brand's younger brother and had a Mary Chains fixation.
But comparisons undersell their atmospheric heavy drones which finally got some Furnace heads nodding their approval.
Two of Getintothis' early day favourites – Glasgow/East Kilbride post-rockers Helicon and London's The See See transcend the psych axis perfectly. The former a ghostly wall of loud/quiet dynamics that blister and burn your brain while soothing your inner psyche with a heavy duty bass rumble, the latter a swaggering Brit-evolved fusion of Brian Jonestown Massacre retro rock and roll which manages to avoid all cliche turning in one of the sets of the day – white-hot and urgent, the Blade Factory almost melts in time to their chiming ferocity.

Next up are Dark Bells, whose crashing cymbals and a ferocious bass-as-lead-instrument noise a foundation to singer/guitarist Teneil's walls of noise and squealing solos.  
It was almost post-punky at times, with a touch of The Edge in their glittering echoey guitar, but the fiery walls of sound kept our psych heads thoroughly happy.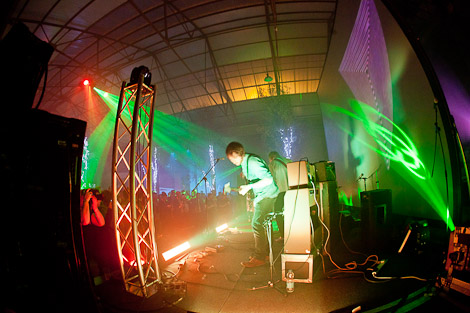 Wolf People live at the Liverpool International Festival of Psychedelia at Camp and Furnace
By this time, the Furnace is fuming, well-weathered faces eager to lap up the sounds of one of the day's most anticipated prospects – Jagjaguwar's Wolf People – and they don't disappoint.
However, it's far from plain sailing, a busted bass early doors threatens to throw them from their stride, but instead of shaking them, they stride into a lengthy instrumental which takes in early Canterbury prog before blasting through to the other side with primal dusted licks and some of the finest drumming of the day.
A smattering of new tracks fit neatly into their already classy canon and as they leave the stage with a resounding 'we'll be back soon,' there's a healthy portion of those watching on nodding with anticipatory approval.

And just as we're descending into an Alice In Wonderland swirl of psychosis there's a humming of sinister Italo-strings and we cast our eyes to the rooftops and spy a white rabbit; huge in stature, glowering from rooftop beams, convulsing in time to the Dario Argento glass-cutter synths. We reach for that pick and mix as things dissolve into a semblance of order. Or not…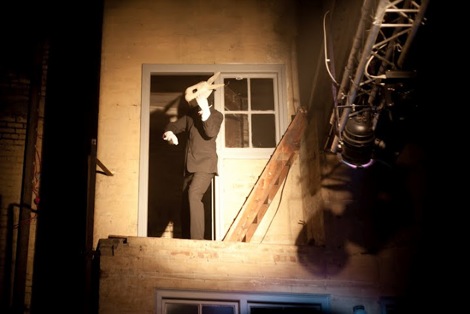 Odrah Zackor orchestrates his audience from upon high. Upon high indeed.
Wrapped up currently within the poisonous hype machine are Lambeth residents, Palma Violets.
They take to the stage in the Furnace among a feeling of great anticipation and it is to their ever expanding credit that they make believers out Liverpool.
While they never really manage to achieve the intensity of other bands on the bill, they do provide a glimpse as to their potential and forthcoming single Best of Friends sounds as massive in here as it will become before you know it.
Keysman Pete Mayhew sported some fetching 'No 1 Son' socks on stage probably pre-empting a feeling that there could be more number one's of another kind before too long.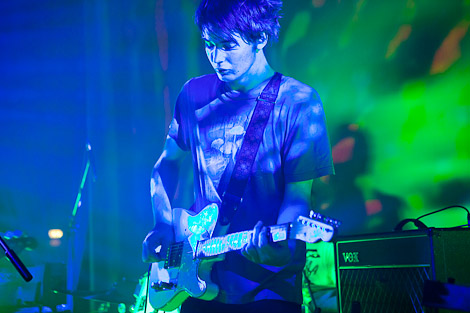 Palma Violets live at the Liverpool International Festival of Psychedelia at Camp and Furnace
Koolaid Electric Company brought their fuzzy 90s harmonising psych, with shades of Teenage Fanclub, before Black Manila energetically bestrode the stage with their bass driven garage rock jams.
With bassist Conrad Armstrong bouncing across the stage and sharing lead vocals with guitarist Gareth 'Sun King', their passionate psych-punk had folk dancing all the way through.
Bernie Connor and Will Sergeant are plotting at the back around this point; the former channelling voodoo swamp beats and a dose of Maggot Brain – just in case you weren't rife with boogie – the latter's white headphones a fix our gaze and suddenly we can't remember the time…
Mugstar have a habit of blowing most bands away with their ethereal mixture of styles and tonight is no different.
They thunder along in their half hour set and show why they remain such a hot ticket after so long; they never relent in their creativity nor do they restrict themselves from becoming as expansive and eclectic as possible.

Manchester's Milk Maid hammered out their post-grunge alt-rock to a small gathering, as the Dead Skeletons sucked up the crowds upstairs. But those that stayed lapped up the crunching sounds and the pulsing crescendo.
The shit-stained after-the-rugby-match-meets-Trainspotting smells that greet our eyes and ears in the Blade Factory toilet send us to a side of the void we'd hoped not to visit, and just as we're wishing we'd not feasted on those landscapes, we decide to order the remaining food on offer – a spicy bean burger – it's quite possibly the worst mouthful we've ever had the displeasure of digesting; a shame as events were going so well. But back to music…
Upstairs the hoards did groove their giddy little frames away amid the sonic scything of the aforementioned Reykjavik warlords Dead Skeletons.


Dead Skeletons live at the Liverpool International Festival of Psychedelia
Mixing a heady brew of motorik malevolence, electronic dissonance and can't-keep-your-eyes-off-a-him-brilliance-Jón Sæmundur they unleash another of the sets of the festival.

It's visceral but completely dance-floor led stomp – and as the spittle drips from our companion's mouth, our eyes roll back and we see nothing but yellow spots of light – mind's being burnt…
Thee Piactions brought the sound back to the 60s with their turbocharged garage rock.
However, having made the trip from Domodossola in Italy, you have to feel sorry for them as their set is marred by technical difficulties. Credit is due however, for when they do truly take off there's a mix of shoegaze, punk and psychedelia winningn over a willing crowd. The bassist and guitarist even manage a celebratory jump into the crowd – well, they step into the crowd. The stage wasn't that big.
Leeds' Hookworms make music to psych out and boogie down. With a nod to Wooden Shjips, Spaceman 3 and all things mind-blowing, their cascade of noise and lights provides a fitting soundtrack to Saturday night turning into Sunday morning.
The Cult of Dom Keller gave us a widescreen garage drone, with keyboards atop the guitars this time. And there was another epic ending as pulsatiing drums added a fizzing foundation to the guitar noise atop, keeping the packed room dancing and nodding those heads right to the end.

Genre bending Mancunians, Plank!, exhilarate with a fusion of experimental rock, avant-garde, drone and afro beat. Their rawness and presence suggests a bright future particularly with epics like King Rat I, II & III.
Lola Colt, meanwhile, were driven by a whip-crack drum sound; a vicious cracking metronome driving their garage rock, post-punk fusion drones and clanging as singer Gun Overby gives it some Karen O upfront.
Black Market Karma provide a crescendo-driven vortex of guitars and thumping drums, the boys from London show why this festival is so vital.
Featuring tracks from new album Cocoon, an outlet like Liverpool International Festival of Psychedelia is exactly what bands such as Black Market Karma need, a perfect chance to spread their sonic creed to thousands of new disciples.
And then it was upstairs for Time & Space Machine. With a Hammond-spattered sound, they stormed into songs including Black Rainbow and Good Morning…
'It's morning now', announced band leader Richard Norris to the 2.15am crowd, 'so we can do Good Morning'.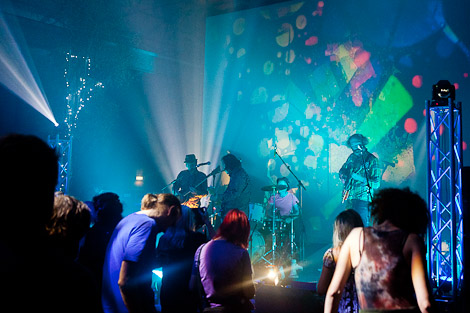 The Time and Space Machine live at the Liverpool International Festival of Psychedelia
DJ/producer/writer Norris is the embodiment of the band on record, but live he's happy to share the limelight with his collective, including a mad scientist on lead guitarist whose psych squalls inspired "we're not worthy" gestures from some upfront.
Norris even left his guitar aside at one point to take lead cowbell providing the perfect main stage closer, bringing together so much that you think of as psych – guitar squalls, Hammond organs, spacerock song titles and intros like "Angel visions cross the sky".
Finally, Norris told the swaying crowds that the festival would end 'with a hymn and a prayer' – which turned out, unexpectedly, to be the Super Furry Animals' own psych-tinged God! Show Me Magic.
'Let's pray  and hope that this is the first  inaugural Liverpool International Festival of Psychedelia and it goes on for many years to come!' he cried.
Amen to that.

Pictures by Keith Ainsworth.
Comments
comments