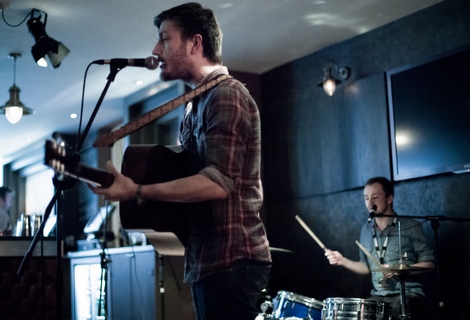 Northern Ireland folk charmers bring good vibes and good hats to Mello Mello, Getintothis' Emma Walsh endures a couple of bum notes before a rousing finish.

Suffering with a bad case of the Monday blues, Getintothis and our weary friend joined an intimate crowd at Mello Mello where The 1930s were stopping off on their UK tour.
While the Belfast duo have fast become one of our favourite bands since we bumped into each other at Sound City earlier this year, it seems their reputation hadn't exactly preceded their visit to Liverpool.
And the support acts who preceded them on the night did little to convince my weary friend that her venture out of the house was going to be worth it.
Pete Cunningham kicked off the evening with a pleasant acoustic set; tongue in cheek lyrics and shades of Billy Bragg, but there was something old-fashioned about his song writing, not necessarily a bad thing, just lacking in urgency or edge.
From a good, old-fashioned songsmith to the perfect example of youth.
Placing, Faces (very fresh faces at that) were clearly a little green on the Liverpool music scene, and a mixture of adolescent lyrics and the obvious nerves of singer Bekki James made it all a little knuckle-biting – when you hit a bum note, pointing it out mid-song isn't necessary, and is particularly remiss if you insist on singing in an accent clearly not your own.
The other half of the duo, Alex Dopierala, showed more potential vocally, and proved a promising guitarist in his solo efforts, but inexperience and lack of vocal control left the audience unimpressed.

A cover of Living On A Prayer was (thankfully) the final nail in the coffin.
There is something very assured about The 1930s. Usually a guitar and drums duo (joined on tour by bassist Steven Barrow) Jonny and Andrew Cameron have pinned down a tight, rich, folky sound with great energy and clever, beautifully-crafted song writing that is anything but predictable.
Flesh and Bones and the charming Vapour brought some life to the small crowd and proved why the pair have supported Duke Special recently.
Making big waves in Belfast, they showed little signs of fatigue from their 11 date UK tour and (take note dodgy support bands) they hadn't left their own accents at home.
While The 1930s were delighted to be playing Mello Mello, we were left with the distinct feeling that the next time they visit Liverpool it will be to grace a slightly bigger stage.
Beautiful melodies, great energy, catchy hooks, and exquisite taste in hats. Very much our cup of tea.

Picture by Richard B.
Comments
comments