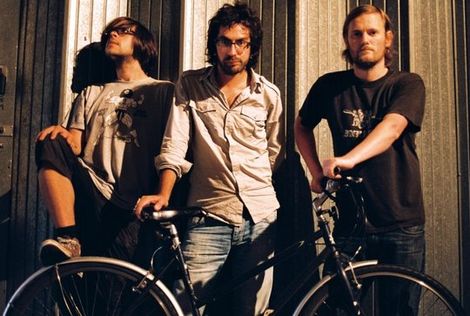 Geoff Barrow is many, many things – fearless producer, record label boss, influential musician – and a huge fan of The Coral. Later this month he brings his band Beak> to the Kazimier – Getintothis' Joseph Sheerin caught up with him to talk studio swag, the Wirral and that long overdue Portishead Liverpool gig.

The last 12 months have been quite remarkable for Beak> and Geoff Barrow's label, Invada Records.
With debut album Drokk and the quite stunning Drive soundtrack, released alongside Beak>'s acclaimed second album, it's been all go for the man behind Mercury Prize winners Portishead.
Ahead of their date at the Kazimier, in Liverpool later this month, Geoff took some time out to speak to Getintothis about pushing boundaries, the Skelly brothers and what exactly is a Wool?
Getintothis: What's striking about Beak> as a group is the method of recording and writing, particularly how they seem to be quite focused upon live improvisation and the immediacy of the music. How does it differ from your previous experiences in groups and does it allow you a sense of freedom?
Geoff Barrow: It's very different. I mean, usually people will go in to a studio once they've practiced for however long, going on tour, playing in different places, honing their craft, really.
Writing can be painstakingly long winded to the point where the vibe has gone out of it. There is something about this that is weird and wonderful, the vibe was there.
We all knew what we did and the fact we could go in and press record was really enjoyable. I mean, take the first track on the first record, it was the first song we ever did together! Freedom? I'd say yes, but a song you've really worked on and crafted can give you freedom too.
Getintothis: Does the immediacy of the set up and recording feel like the handcuffs are off and perhaps a way of breaking from normal conventions?
Geoff Barrow: There is no feeling of structure; it's just what comes out when we play together. Matt (Williams of Team Brick) and Billy (Fuller – Fuzz Against Junk) are both very experienced experimental musicians.
They have both played a lot of gigs off the cuff, so they were able to bring those experiences with them. To be fair, I'm probably the least likely of us all to be doing this type of thing! But then, I think we all bring something different and add to the vibe.

Getintothis: Do you feel the pressure to push boundaries, whether through Beak>, Portishead or your production work?
Geoff Barrow: I think it's the ultimate of what I do. For other people, their main passion is being able to write a song that speaks to a lot of people in a very certain way.
But my whole world is sound and production. If I listen to the radio or something and hear new techniques or methods of production or hearing a different way of recording or even an interesting time signature – that's what gets me going.
Getintothis: How do you approach playing live as opposed to your live recording sessions? Do you try and maintain a level of improvisation?
Geoff Barrow: Well, we have to re-learn our songs to be able to play them live! It's like we go backwards and start over for shows.
We go into rehearsals and we're learning from what are essentially improvisations. So we do try and keep the element of improvisation. We like to achieve a similar sound as the record. I mean there is no big production on the record so we don't want our live shows to be different.
You see many electronic acts now on stage with backing tracks dominating but that's not something we look for. We're very different from that. It's unstructured, with tempos being up and down. It's an odd sound.
I think the best way of describing it would be 'regressive rock'. I saw it described it as having an 'eerie wrongness' too which is quite apt.

Getintothis: How do you manage to split your time between making music and running a record label?
Geoff Barrow: It is a lot of work to be honest. But I thrive of it and I really love doing it. Bringing new acts and sounds in. I really love working with bands.
One of the bands I was really honoured to work with was The Coral and the Skelly brothers. I was really lucky to be involved with the Invisible Invasion.
They're great guys and they're great musicians. I've got a copy of Ian's (The Coral's drummer) new solo album (out December 10) which is fantastic.
I remember New Brighton. It's a lovely part of the world. Are they Woolys? I remember hearing that a lot! (Getintothis explains the woolyback reference).
But no, I think that there are a lot of similarities between Liverpool and Bristol. There is an, 'us against them' feeling, a sense of always trying to be better than our rivals, Manchester and London. They are people who are into their music.
Trend setters in a way. I mean what we did in the 90s, similarly to Liverpool in the '60s, it broke walls down. In fact, this will be the first time I have ever played a gig in Liverpool!
It's a great city but for some reason, with Portishead or anything else, we never played here. I'm sorry – I will bring Portishead at some point!

Getintothis: How hard is it to maintain an independent record label in the current industry state? Particularly, a relatively underground one?
Geoff Barrow: It's really weird because I'm really lucky.
My career from 1990-99 was Portishead. That was what I did, and I'm never going to lie and pretend anyone can do it. But then, I've not piled any money in. That's the whole point, to not have to spend loads of money to be a successful label. I've been in the business for ages and I've seen a lot. I guess it has helped me learn how to put records out.
But I can say that this year, 2012, is Invada's best year ever, better than all of the other years combined! But that has allowed us to get people like Jay, working for us and get a plugging company for Beak> which we never have been able to do before.
You see many labels washing money away, like hiring lawyers in their first week of existence wasting £10k straight away. It's a waste. We're not the most technological label but small labels are finding ways to exist. In fact, we could be described as a dinosaur of a label. But then we've been lucky.
Lucky with the bands we've had and worked with. We were lucky with the Drive soundtrack this year. I mean we just called them, asked for the rights to release it on vinyl and got it! A lot of it is just smoke and mirrors.
But it is first and foremost about the music. Old systems will crash and I feel sorry for the people who work there because they probably get into the industry because of why most people do, for the love of music, but proper record labels like XL, they do it properly.
For instance, XL made £48million last year, which is incredible for an independent record label.
But then you look at artists on these labels like Adele – I have so much respect for Adele because she's a proper artist.
Then you look at The Coral, who have always done their own thing and even Arctic Monkeys who did well because they had their own identity. Savages who are coming through now, have a strong sense of who they are. The power is being put back into the hands of the artists.

Getintothis: You've also been involved with hip-hop collective, Quakers on Peanut Butter Wolf's Stones Throw Records? Was that a new experience for you or was it a natural project to be a part of?
Geoff Barrow: It was anything but a new challenge. In fact it was the oldest challenge for me.
Pre-1998 that is where my head was at, with hip-hop, soul music. But it's strange because I had to get my head back in to it. I'd fallen out of love with the blues.
I couldn't stand traditional blues music. I could second guess what was going to happen. It had lost its edge and only Madlib, for me, really tried to take it elsewhere.
So I got some help, Stuart who runs the studio did the beats and Ashley Anderson (A.K.A Katalyst, Australian DJ and producer) did the majority of the work. It basically lived in his computer. But it was our idea.
The concept was to have exciting hip-hop music, in the form of short tracks and along the lines of Leaders of the New School, Native Tongues and 'Scenario' by A Tribe Called Quest.
I phoned up Peanut Butter Wolf who is a good friend of mine and he put it out on Stones Throw. There's no better label.

Getintothis: Dare I ask, but what's left in the diary for Beak>, and then would it be too early to suggest Portishead may return?
Geoff Barrow: Well, Beak> have a tour planned for America early next year, but it's going to be dropping in and out of that up until then. I'm also moving to a new studio as well. But then afterwards, yes, I'll be straight into Portishead.
Geoff Barrow brings his 'regressive rock' experimentalists Beak> to the Kazimier on Monday November 19.

Comments
comments