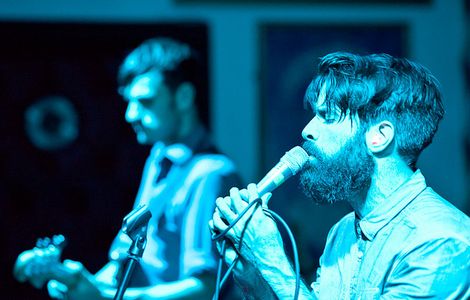 Ballsy bass lines, bulging beats and pop bangers are brought to Liverpool, Getintothis' Andy Minnis barely catches his breath.

With the Kazimier buzzing and the lights dimmed there was a hushed fever in the air ahead of Clock Opera's return to Liverpool.
The London-based quartet, who were a big highlight of Sound City in May and impressed at Latitude back in July, played a faultless set encompassing nearly all the tracks from their debut album Ways to Forget.
Front man Guy Connelly was a ball of, impressively-bearded energy and captivating to watch.
Highlights included the cinematic Once And For All and the dynamic Lesson No. 7 – both executed with aplomb. Amid a frenzied all-singing anf dancing crowd they closed with the final track from their album, Fail Better.
Once again, Clock Opera lived up to all expectation – we'd urge you to see them.

Earlier, as the Kazimier began filling up, Liverpool quartet The Red Suns began proceedings.
Opening with a set of brooding songs, full of dark-edged riffs and powerful bass lines, they grabbed our interest from the off, recalling early Kasabian, with tinges of Joy Division.
Our attention waned mid set when an interlude of lighter songs were introduced as a metallic twanging of acoustic guitar proved a jarring distraction in the midst of otherwise textured instrumental lines.
But they recovered when the stirring bass-drum combination of Racing Cars kicked in displaying what The Red Suns do best – barely restrained, dark, dirty riffs and driving percussion. Despite some rough edges, they're certainly ones to watch.

Main support was provided by Mercury-tipped Welsh act Bright Light Bright Light waltzed into Liverpool off the back of supporting The Scissor Sisters.
The trio, headed by front man Rod Thomas, provoked initial responses to that of Friendly Fires; all sweet xylophone touches, layered cascading glistening synth lines with a great mix of electronic and acoustic drums.
Inviting comparisons from Black Box, Josh Wink and most obviously The Pet Shop Boys – this is music to make people move – and with a dance floor positively hemorrhaging with busted limbs it's hard to argue.

Picture by Keith Ainsworth.
Comments
comments