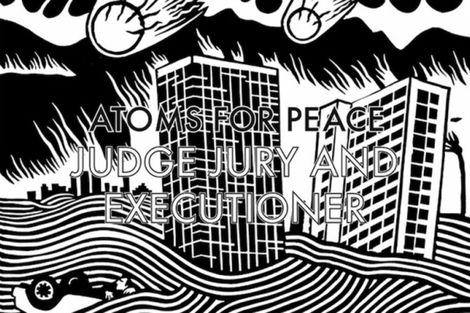 It's back! After an indefinite hiatus due to artistic differences, the much acclaimed yet sparsely decorated Singles Club whirs back into action. Getintothis Mike Doherty sifts through our cardboard box of tat to select the best new music released in the coming weeks.

Atoms for Peace: Judge, Jury and Executioner – Single of the Week
Although it may not be as immediate as Default, the song that Atoms For Peace put out last year, it hints at a broader body of work to come from Thom's new band. Oh, and it's rather amazing. Single of the Week klaxon!

Pere Ubu: 414 Seconds
414 Seconds involves the mutterings of the enigmatic and constant lead singer of Pere Ubu David Thomas. I'm not entirely sure what it's about, but it's a hypnotic listen. Rather impressively, it's from the band's 17th studio album Lady From Shanghai.

Hurts: Miracle
What did you think when you first heard this? Did you think 'Oh, I've already heard this Coldplay song,', and then immediately switch it off?
Well, you shouldn't have done because you missed out on hearing the new song by Mancunian balladeers Hurts. While it displays Theo Hutchcraft's ability to pen a song that Gary Barlow would be proud of, there's not much else going on behind the familiar sound. Unless you're a fan of Radio 2 in the afternoons, there's not a lot in it for you.

The White Album: Season's End
This one is perfect for the weather we're having. Since there's nothing more important than talking about the weather, looking at a forlorn man walk round a snowy fairground seems ideal.

Low: Just Make It Stop
Another band with an impressive tally of albums is Low, with their tenth album, The Invisible Way. Fans of their melodic slowcore will not be disappointed.

Fimber Bravo: The Way We Live Today
Fimber Bravo, the celebrated steel pan player's new album features a multitude of contemporary guest spots. One of which is Hot Chip's Alexis Taylor. Listen as he lends his unmistakeable timbre to this beautiful song.

Grouper: Vital
Grouper's new album The Man Who Died In His Boat is an echo-drenched collection of songs. This, the first single is perhaps the most haunting.

Gold Panda: Burnt Out Car In A Forest
Gold Panda is back with a new 4-track EP called Trust, out in March. This is perhaps the highlight of the EP, and hints of an exciting new album to come.

The Loud: Mary, Just Hold Me
Liverpool's answer to T-Rex, The Loud have released the first volume of their three-part cassette tape series.
It's an expansive sound for the trio, who invited Nick Power from The Coral to punch the organ, giving their basic rock sound a grandiose presence.

Comments
comments