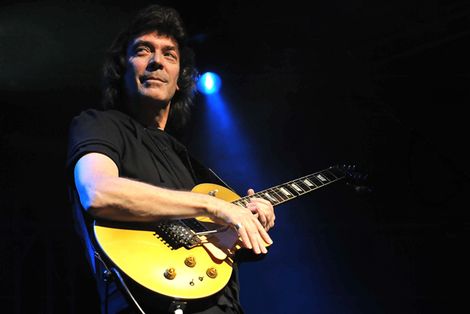 Steve Hackett and his Genesis Revisited play two special nights at Liverpool's Philharmonic Hall in 2012. Expect an adventure into sound Hackett tells Getintothis' Mike Torpey.

If anyone ever doubted the fascination, stature and charm of Genesis and the band's influence on succeeding generations of musicians and rock fans, then there's a telling statistic out there.
It's not the fact that in its 45-year career lifework the group has sold more than 150 million albums, it's something that should prove even more flattering to the five players whose talents produced the complex sounds of a rock music explosion.
There are no less than 52 top line Genesis tribute groups currently plying their trade worldwide, and the majority focus on the period from 1970 to 1977, the era of prog rock and one of the genre's most flamboyant frontmen – Peter Gabriel.
A major reason why these appreciation outfits are so popular – and anyone who has seen regular Liverpool visitors The Musical Box will vouch for their meticulous attention to detail – is because the originals either aren't around anymore or simply don't play the old songs.
For this reason guitarist and songwriter Steve Hackett's 2013 world tour, which takes in six UK dates including the Liverpool Philharmonic on May 12, will be among the most eagerly anticipated of any featuring rock's illuminati next year.
Hackett joined Genesis in early 1971 staying with the band from its recording of the Victoriana-inflected Nursery Cryme through to the Wind & Wuthering album six years later.
And the Genesis Revisited show hitting the road will mark the first time any original former member of Genesis has toured the band's repertoire from that classic period.
The tour will also support the Genesis Revisited II double CD release in which Hackett uses a host of musicians in putting together two 73-minute discs comprising 21 Genesis songs.
Seeing as the band combined everything from burlesque, progressive music, classical and even the big band sound, to social comment and pantomime, the song selection can't have been easy.
Says Steve: 'I've had a long time to think about this project. It presented a great opportunity to record with half the music industry, some fantastic musicians, so I couldn't call it a solo effort by any stretch of the imagination.
'Originally I chose my favourite songs. I wanted to go back and revisit them using the techniques we now have and using my experience as a producer and musician and do them as enlargements.
'I have changed some of the guitar work and done the mixes in a more considered way. Some of the mixes we did back then were put down at about 5am.'
Given the way things were in the mid-70s it's a surprise gems like Supper's Ready, Dancing With The Moonlit Knight, Can-Utility And The Coastliners and Chamber of 32 Doors – all of which are included on the fresh offering – sounded quite so accomplished.
As the guitarist explains: 'The songs the band wrote were really interesting back then but the standards of execution could be a bit on the sloppy side.
'The precise modern methods weren't available and we tended to grab studio time when we could.
'I remember when we were recording Foxtrot we had been playing in Italy and I was the only one to fly home because I still had some tracks to lay down. The rest of the band had a two-day journey home in a clapped out old van. That's just how it was.'

The personnel on Genesis Revisited II is an interesting mix of styles, including people like Nik Kershaw, Phil Collins' son Simon, Steve Rothery of Marillion and Swede Nad Sylvan.
Steve adds: 'In a way Nad is a chameleon. He sings with Agents of Mercy and sounds like a heavy metal singer much of the time.
'What he manages on the album is to sound somewhere between Peter Gabriel and Phil Collins. He has that big, rich voice and manages what's almost like a soul singer's interpretation of the songs.
'Listen to Nik Kershaw's take on The Lamia and it sounds completely different while Amanda Lehmann on Ripples sounds in part like the older Marianne Faithful and on the chorus like the younger Marianne. So there's a lot of variety there.'
The live shows will also feature some special guests, though Hackett isn't giving away too much at present, but the classic era Genesis sang about the most unlikely things, so expect the unexpected.
The group's fans wanted a musical journey, an odyssey, a sound adventure – they're about to get another one.
Steve Hackett and Genesis Revisited play the sellout show at Liverpool Philharmonic Hall on May 12 2013. Plus an extra date on Tuesday October 29.

Comments
comments