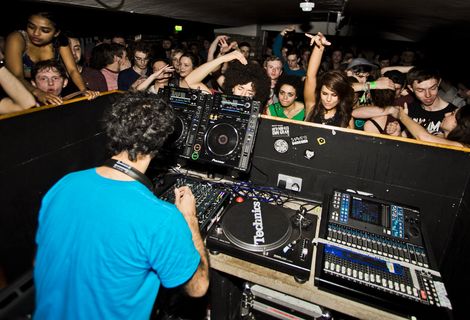 Four Tet delivers a three-hour EDM wrecking bomb oozing with class, Getintothis' Edward Black revels in the magnificence mixed bag.

Abandon Silence has been bringing stellar EDM to Liverpool for a couple of years now – and you can now add the name of Kieran Hebden aka Four Tet to their Grade A guests.
The rescheduled (due to an ear perforation in January) 'three hour special' sold out within 24 hours, and as Hebden takes to the the Shipping Forecast's decks at midnight he was greeted with loud, excited cheers as dozens of kids banged their fists against the ceiling.
He opened with a snippet of Burial's Shell of Light then proceeded to play the entire a cappella sampled in the track. People were gently swaying and dancing awkwardly, not really knowing how to react to this beat-less beauty, and then all of a sudden he broke into dub reggae. And the room came alive.
Twenty minutes of reggae and funk bangers ensued (ending in the eight-minute outro to Herbie Hancock's Chameleon, played in its entirety – a personal highlight) before Four Tet dropped, much to the pleasure of his audience, his aptly named 12″ The Track I've Been Playing That People Keep Asking About And That Joy Used In His RA Mix And Daphni Played On Boiler Room which was made available as a limited free download on FACT earlier this month.
THEN shit got real.
Mr Tet's (yeah I just called him Mr Tet) sets have often been described as 'innovative', 'inventive' and 'eclectic'. Tonight was all three. Over the three-hour period Getintothis' ears were treated to a seamless blend of hard-hitting house, funky post-dubstep, aggresive grime instrumentals and what can only be described as 'large' bassline bangers.
He even snuck in a Justin Timberlake remix. And with each mix, Four Tet somehow managed to surprise and take it up a gear.
He closed with Sly & Family Stone's Family Affair into Hendrix's Crosstown Traffic, which pretty much summed up the eclecticism of the night given that the two hours prior were entirely beat-oriented electronic music.
Like a bag of Revels, you never know what you're going to get with a Four Tet DJ set, but you know its going to be really fucking good.
Earlier, Abandon Silence resident DJs Harry Sheehan and Rich Furness got the night started with a subtle blend of UK-funky and grime instrumentals ending on Radiohead's Idioteque, which left those whose 'favourite-album-ever-of-all-time is Kid A (everyone in the audience) suitably aroused.

Comments
comments