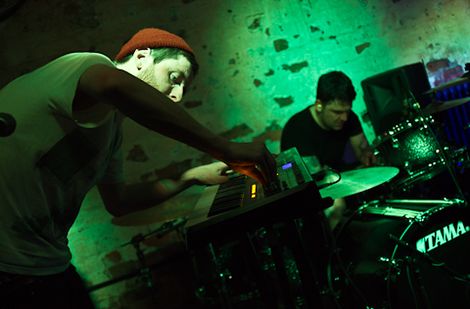 Gallops and label mates Portasound cook up a bracing storm of beats and bruising riffs, Getintothis' Stephanie Heneghan misses Olly Murs and the Brits for it. Serious stuff.

It has to be said, we're avid viewers of the Brit Awards at Getintothis.
So it was with mixed feelings that we learnt we would miss the entire ceremony due to one of our favourite bands playing in The Hold. Overblown musical consumerism broadcast live on ITV only happens once a year… but then the opportunity to see Gallops was extremely tempting too.
Off we trudged to prop up the bar with a pint of Diet Coke and our phone Twitter app to keep us abreast of Brits action (stage invasions! Unlikely musical duets! Swearing! One Direction!)
We've got a few support acts to entertain us, first up are Phonetics – a three piece outfit, who launch straight in with little (actually, no) introduction. They're angry guitars layered over samples and despite having slight microphone issue – damn those vocals were LOUD – they produce a thoroughly decent sounding set.
Next up is Portasound, an instrumental get up consisting of five lads who appear to have won a trolley dash round Urban Outfitters.
There's a lot of equipment set up for this bunch and the keyboard player in particular appears to be taking it very seriously – unlike the crowd who are joshing with request shouts of Wonderwall!.
We learn that it's their first visit to Liverpool and as they get into their groove the atmosphere relaxes with the uptight keys player now cutting loose with a bit of dancing.
They're heavily synth reliant and produce a set that feels rehearsed – but not overly so. It's evident these guys care deeply about their sound and that comes across in the performance. It flits from genre to genre – first some spacey electro, a spot of prog, then a jaunty theme that could soundtrack a Tarantino film.

Prior to Gallops, while some drawn out instrument tuning is underway (we know it's essential but it doesn't ever stop being boring), we take the opportunity to check in on the Brit Awards. Mumford and Sons have been given a special award for services to Tweed and Emeli Sande has turned up, but that isn't really noteworthy. Absolutely no one has taken the opportunity to punch out Olly Murs' lights, all in all a dreadful oversight for all present at the O2.
Finally, Gallops take the stage and we're into the final furlong (there's a very tenuous pun there if you can be bothered). They've been critically acclaimed for their recent album Yours Sincerely, Dr. Hardcore and it's obvious that the crowd is well up for the set; the energy in the basement is palpable, the Oasis song shouts have all but died out.
Energy is the key here, they're full to the brim with the stuff. It's an overwhelming infectious sound that's produced with heavy drums (sometimes a bit too heavy… the drummer is enthusiastic to say the least).
There's always the danger acts like this can feel slightly unhinged but as with Blood and Biscuits label mates Portasound they're tight as a baboons backside and it's a bit like being on some mental musical rollercoaster but knowing you've got your safety belt well fastened.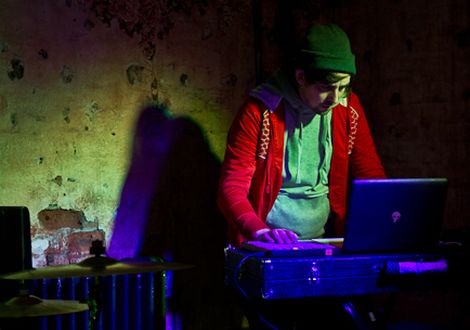 Gallops live in Liverpool
Thoughts of the Brits have long since dispersed and we've almost forgotten that we're not actually drunk – these are virgin Diet Cokes but the sound is definitely intoxicating. Wow that's a bad line, but we like it.
The opening numbers follow the album's lead with Astaroth and Jeff Leopard kicking in together before a treat of earlier tracks from their self-titled EP.
Occasionally with instrumental acts there can feel a void where a vocal would slot in nicely but on this occasion that thought never comes to mind as Gallops positively race into the night with a set neigh close to delirium.
PS: Special mention has to go to the couple who were full on necking at the bar for most of the gig. Takes a certain heady mix of booze-fuelled lust and lack of shame to get it on like that. We applaud you.

Photography by Getintothis' Michelle Roberts.
Comments
comments