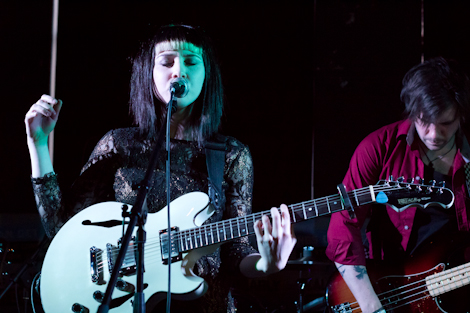 Liverpool Sound City 2013 throws up some hidden gems amid the sun soaked city, Getintothis' Dru Ryder darts round the basements and secret gardens.

The sun was up and the Kazimier Gardens were go. With the cider flowing and the weather playing it's part, all we needed was some chilled out summer vibes, so lucky for us, Norwegian Alfred Hall was on hand.
Their first gig outside of Norway, the boys looked at ease in the packed-out garden. Relaxing indie at its best. Sun-drenched and alcohol fuelled, the crowd weren't captured by the blonde-haired boys but used them as refreshing background music to complete the summer ambience.
Liverpool's The Liberty Vessels offered instantaneous pop that stuck in our heads. A set of group hugs later, the Liverpool lads pulled no punches with their performance, even if it was only to a few mulling strangers in a garage before Natalie McCool sent Leaf into a sedate trance with her folk vocals and melodies that belonged on a 101 break-up songs anti-Valentine's Day album.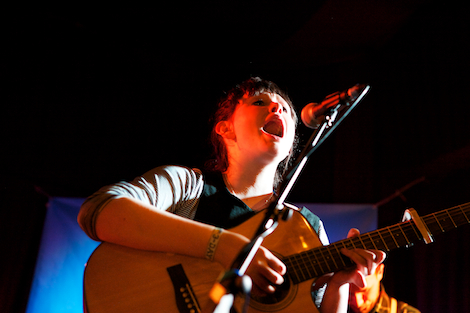 Natasha Hawes
Meanwhile, Natasha Haws demonstrated how folk should be done. The Geordie lass had a way of saying it as it is, bluntly introducing her band as 'the handsome old man band' and starting one song by saying 'it's about religion fucking people up'. Crooning like a country girl she was perfect fit for Mello Mello.
It was time to rid the indie folk vibes and don the rock and roll as the night began.
The Bazaars brought back cool and classic electric guitars as singer Johnny provided some raw rock vocals to match. Complete with a 60s vibe and repetitive riffs they were ones to watch.
Sweet Jane were a no-show at the gardens, but over at Studio 2, Secret Rivals attracted another two drunken dancers who lapped up the indie pop and jerking around the microphone from the lead singer. Suddenly pulling out a secret weapon – an Italian guitarist named Manuel – the band had him talk in sultry tones down the microphone, claiming that he was their USP.
Brown Bear and the Bandits charmed with childlike vocals. Sounding teenage fresh, they were never going to start a mosh pit but were feet-tappingly good.
Thursday was a night of the big names but some unknown gems shone out amid the darker corners.
Pictures by Getintothis' Matt Owen and Matt Thomas.
Comments
comments