Rampaging brutal force and nagging frustrations, Getintothis' Matthew Crist endures a day peaking through letterboxes and sonic left hooks to the lugholes on day one of Liverpool Sound City 2013.

Somebody once said that the Saturday afternoon TV phenomenon known as Soccer Saturday is like standing outside a house party, looking through the letterbox and telling everyone what they're missing.
Those of us stood on the wrong side of a heaving Mello Mello could only nod in agreement as Blank Maps rocked the joint on Thursday.
It's a marathon not a sprint. Right?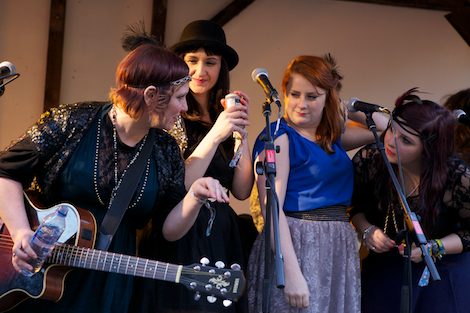 Science Of the Lamps in Kazimier Gardens
We edge up the road to Bold Street Coffee anticipating a set by former Ninetails frontman, Ed Black, only to find an empty room and no sign of Mr Black. We do manage to catch the close of the charming Science of the Lamps, though, schedules are out of sync and it leaves barely enough time to sprint back towards the action.
The slightly funereal entrance of Rachael Wright may have caused the odd heart to flutter down in Leaf. But offerings such as the brilliant Black Swan, backed up superbly by Steve Pilgrim and his fellow Good Sons, make it all worthwhile as her haunting and mood-filled guitar fill the sometimes cavernous space with an effortless attitude.
"We may have got you here under false pretences," confesses Wright as the slow burning and angst ridden nature of her lyrics go from battle scarred, bloodied landscapes to lost love and lust in the flick of a fringe.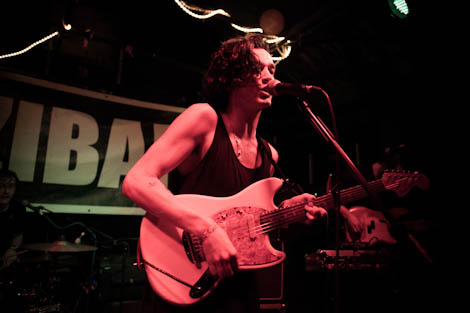 The 1975 – we'd love to tell you more but we were denied access
Anyone wanting to see The 1975 in Zanzibar may as well have been waiting since 1875, as the line snaked past The Peacock a good hour before the Manchester four-piece were due on stage. There's a pattern developing here isn't there? If only there was a letterbox.
At least those seeking a little after-hours action and the chance to keep drinking until Wetherspoon's open again for "coffee," have the option of Screenadelica's hospitality.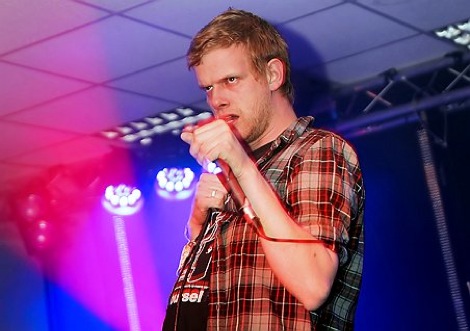 Blacklisters kept the ears ringing in the early hours at Screenadelica
The bottom end heavy, and guitar laden Black Listers ensure not a wink is grabbed, before Hawk Eyes' thunderous set sends an audible message to the nation's favourite early house to start mopping the floor. Full breakfast for table 22.
Pictures by Getintothis' Sakura and Matt Thomas
Comments
comments