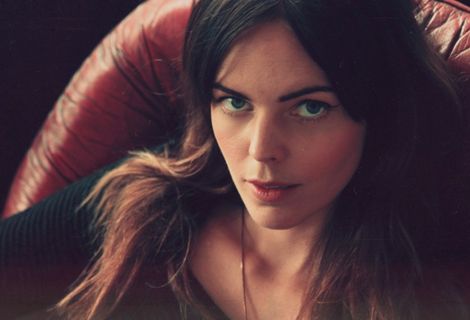 This week's Singles Club finds Getintothis' Liam Fay bus riding with annoying toddlers, killing birds accidentally in his back garden and being knocked out the park by a breathy young lady. Scorching stuff.

I Break Horses: Denial – Single Of The Week
Maria Linden is a crafty bugger. She kind of sits in the background, quietly beavering away on her lonesome and then BAM blows you out of the water with a sultry pop stunner.
She's very probably a complete tease, judging by her latest offering – which we're not even sure is to be included on the forthcoming follow up to her amazing 2011 eponymous debut – as she woos you in with warped backward loops and scorching breathy vocals before slam-dunking a chorus hook out of nowhere smashing you clean out the park. Ruddy marvellous.

Big Deal: Dream Machines
Fuzzy, harmonious and damn infectious Dream Machines has been on constant rotation all week now and I still can't put it down. Once the intro gets its claws into you that's it. Surrender to it. You won't regret it.
Guaranteed to turn even the dreariest of morning bus journeys to work into a bass laden odyssey. Except you know that once the track ends you're sitting at the lights in Norris Green behind a 4-year-old playing Bieber skull crushingly loud on her Dad's phone.
You've got no choice but to press play again.

Manic Street Preachers: Rewind The Film featuring Richard Hawley
The Manics are back and with a little help from Richard Hawley they intend to make us fall in love with them all over again (as if anyone had done so in the first place) with this tantalising offering from their new album Rewind The Film to be released in September.
Hawley makes me swoon. So pretty much anything starring the steel town 'crooner' gains my approval.
This isn't a fickle thing; he is a full on beast. On first listen this track feels as though it goes around in circles without ever really going anywhere but the jolting, punctuating vocals from James Dean Bradfield saves this from meandering into lovely nothingness. File this one firmly under G for Grower.

Scott & Charlene's Wedding: Lesbian Wife
Recently it was Scott & Charlene's 26th wedding anniversary. For those of you who don't get this pop-culture reference I'll explain; they were characters on Aussie soap Neighbours (oh, God, I feel VERY old reading this – Singles Ed). I used to watch that twice daily back in uni.
Oh those halcyon days. Should've gone to class more though I might have learned how to use punctuation correctly.
This is a decent taster of Scott & Charlene's Wedding's brand of fuzzy, slacker pop/rock/indie/something something (insert your own superfluous genre tag here) which can be witnessed in all of its antipodean glory at The Shipping Forecast on August 7. That's my birthday. Buy me nice things.

Phoenix: Trying To Be Cool
Phoenix have been riding the crest of a wave for a few years now but, has anyone noticed that the majority of their songs are a touch bland?
It feels as though the Parisians aim for the mostly filler approach when giving birth to an album. They haven't really done anything brilliant since the beautifully catchy Consolation Prizes from 2006 (this is simply not true – slightly irate Singles Ed).
Trying To Be Cool is pleasant enough and a couple of listens will be more than enough before it's overplayed and discarded on the indie slag-heap. I wish I was Thomas Mars though, just look at that fringe.

Hawk Eyes: Cheap
Less Hawk Eyes and more piss holes in the snow.
This is music to make you feel angry and not just because of the heavy, shouty and thoroughly banal chorus. The lyrics are horrible. They gave me a greasy, spotty feel that forced me to cleanse myself and my laptop as soon as this was done with.
Even the wildlife in my garden couldn't take it, with one of the birds – Glen Chapple he's been dubbed after his resemblance to Lancashire stalwart – fell from the tree and lay motionless on the floor. He leaves behind a wife and 3 chicks.

Robyn: U Should Know Better feat. Snoop Dogg (Christian Falk remix)
Well. Errrm. Wow. This remix made me want to pour wet cement into my ears and then provoke a scorpion with my wang while I waited for it to set. Even Snoop's appearance can't save this. Worth a guffaw or two.

Lewis Fieldhouse: Don't Be A Stranger
After the onslaught of horrendous and downright banal my spirits were more than lifted when this popped into my inbox.
So happy did this track make me that I've been humming it at my desk for the past few days. I'm sure my P45 will be arriving in the post imminently.
This is a gorgeous wee slice of upbeat guitar pop. Also, he's playing The Caledonia on July 14. Definitely worth a punt.

Pale Seas: Evil Is Always One Step Behind
I've been on a My Bloody Valentine kick for the last couple of years and so anything that sounds even remotely atmospheric and offers up a wall of sound for great lengths gets a thumbs up from me.
This has been dubbed an anti-single and normally such labels only make me pre-judge and consequently feel angry not so in this case.
Don't be put off by its running time it'll take you somewhere this track. Enjoy with a good cup of tea and maybe a digestive.

Comments
comments