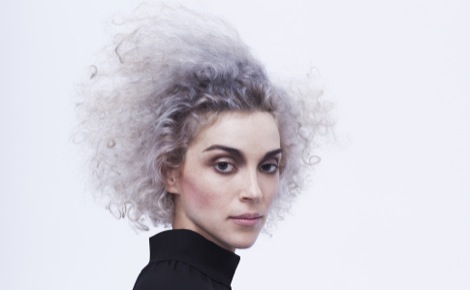 A Christmas cracker of a Singles Club includes festive releases from PINS, Goldblade, Peace, Jazzhands and finds Getintothis' Chris Burgess on the edge of reason thanks to Wham, perfume adverts and spoilt children.

St. Vincent: Birth In Reverse – Single of the Week
One of the most exciting and original artists around right now Annie Clark's St. Vincent return, and continue to constantly shift instrumentation, genre and styles.
Birth In Reverse is an extraordinary way to mark a comeback, almost forgoing all that St. Vincent have previously produced. Layers of distorted, choppy guitars, wild synths and glam-rock rhythms underpin Clark's soaring vocals. There are shades of Bolan in there too, making this an absolute monster of a tune.
St. Vincent's new self-titled album is released in February. It can't come soon enough.

Salem Rages: various Misfits
Nothing says Christmas more than a big dollop of covers by iconic US punk band Misfits. Fortunately, Scouse horrorcore vagrants Salem Rages are sympathetic to our needs and have carefully crafted a garden shed load of festive noise to count down the days until December 25.
Our favourite is I Turned Into A Martian featuring We Came Out Like Tigers – it sounds like a load of suicidal elves jumping off a cliff complete with nine second guitar solo. Heroic stuff.

Sean Taylor: You'll Never Walk Alone
North Londoner Taylor gives us a genuinely haunting and moving cover, with proceeds from its sale going to the Hillsborough Justice Campaign.
With a distinctly Deep South flavour, this isn't like any other version of the song you've ever heard, or perhaps are likely to hear.

Pixies: Another Toe In The Ocean
I'm still not too sure how I feel about the Pixies' reunion, and this song isn't really helping. It seems far too poppy and overproduced for a Pixies tune and the cartoon video doesn't seem to fit in with any of their previous work either.
I'd be generous and say that this might just be an album filler track, but since when did Frank Black and Co. release mediocre singles?
As a massive Pixies fan, I really, REALLY want to like this, but they aren't making it easy.

Peace: Last Christmas
C'mon guys, I know it's a bit of festive fun, but you're better than this. With at least the fifth Last Christmas cover I've heard this week, Peace don ridiculous outfits and lark around in the studio.
This is very annoying. Not so much the fact that a decent band has such an unoriginal choice of cover, but the whole 'ho ho ho, let's make Christmas ironic' thing. It ties in with the 'let's all wear crap Christmas jumpers' lark too and makes everyone feel uncomfortable. Stop it this instant.

Goldblade & Poly Styrene: City of Christmas Ghosts
Another charity Christmas song here, and one with a real poignancy to it.
Goldblade, led by the inimitable John Robb, are joined by former X-Ray Spex singer and punk luminary Poly Styrene, who sadly passed away two years ago.
City of Christmas Ghosts, previously released in 2008, is a melancholic lament to loved ones lost and memories thereof and acts as a tribute to Poly's remarkable life.
Proceeds from the single will go towards St Michael's Hospice, who looked after Poly.

PINS: Kiss Me Quickly (It's Christmas)
Manchester four-piece PINS deliver a gorgeous slice of festive magic with this new track, taken from a compilation of Christmas tunes curated by the band themselves.
Set somewhere between Blue Christmas and the Ramones' Danny Says, the band capture Phil Spector's production values perfectly and leave you pining for your loved one and a decent branch of mistletoe.
The album Hymns also sees bands such as Shinies, September Girls and Brown Brogues performing, and all proceeds go to SWAP, a charity helping refugees and asylum seekers in the North.

Jazzhands: The Christmas Jazzhands Roughly 2 Minute EP
Now this is more like it, from Liverpool noise-rock outfit Jazzhands.
The only Christmas album you can listen to in less time than it'll take a five year old to unwrap and get bored with their brand new Macbook Air, or whatever the spoilt brats ask Santa for these days.
With crashing drums, shouting vocals, screeching horns and crunching guitars, it's probably slightly less noisy than a five year old on Christmas day, too.

Various: A Christmas Gift To You From Moshi Moshi
Another compilation here, from the always-excellent Moshi Moshi, the record label that brought you Slow Club, Hot Chip and Bloc Party, among others.
Hot Club de Paris' Will You Still Be In Love With Me Next Year? is a highlight – all singalong chorus, sleigh bells and wistfulness.
Points off though for the melancholic female cover of Last Christmas by Summer Camp. I like them a lot, but as the last Singles Club will attest, this kind of thing makes me very angry, AND STOP BLOODY COVERING WHAM!

ENGINE: Formulate a Plan
A perky, dreamy little debut from local band ENGINE.
No sleigh bells on this one, but plenty of loops and synths to drive the song, bending and altering as it goes along.
With lush, reverb drenched vocals; it's remarkably self-assured for a debut. We look forward to hearing more.

Andy Burrows: Light The Night
Taken from the soundtrack to The Snowman and The Snowdog, this is about as far from Aled Jones' wailing as you could hope for.
Luscious strings, beautifully arranged, and Burrows' magnificently melodic voice take you back to childhood hopes and dreams, before capitalism came and stole Christmas.

Breton: Envy
Nothing sums up Christmas more than steel drums, calypso beats and…hang on…what?
Londoners Breton, soon to release their second album, deliver a Caribbean-infused blend of indie-rock and tilting rhythms.
Possibly the most poppy thing they've done to date, it'll have you dancing in your Christmas stockings.

Britney Spears: Perfume
I honestly can't work out if this is an actual song, or an extended advert for her new fragrance. Either way it stinks.

Comments
comments