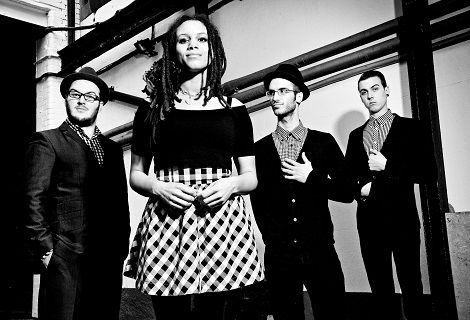 The latest chapter in the Singles Club exegesis sees Getintothis' Chris Burgess welcome the new world order of music, sing the praises of our Japanese brothers and sisters and live the Guitar Hero experience for real.

The Skints: The Cost of Living Is Killing Me – Single of the Week
Whatever happened to the protest song?
In these days of welfare cuts, bedroom taxes and financial belt-tightening, you'd have thought a song like this would have come along much sooner.
East Londoners The Skints have made up for lost time though, releasing an incredibly catchy, swaggering song protesting against the price of living. It's the Brangelina of the dub reggae/hip-hop worlds, marrying the two together perfectly to create something bigger than the sum of its parts.
It recalls the eerie oppression of Ghost Town by The Specials, but with a modern edge, and will hopefully get a lot of airplay and inspire other bands to follow suit, politically. This might not be the most original song this week, but it may be the most important.

The Horrors: I See You
A welcome return to Southend's finest goths, who have released this track ahead of their new album Luminous, due for release on May 5.
And you know what? I think they're daring to have fun! This is an epic, swirling song that you can actually dance to. From an almost poppy start, the track evolves into a spaced-out, stratospheric riot of a soundscape.

Bo Ningen: DaDaDa
There's nothing as magical in music as a completely off-the-wall Japanese band. Over the years there have been many, with a lot to get your head around. No other country produces bands that twist song structures and experiment within genres with so much originality.
Bo Ningen, releasing this track on a limited edition 250-copy run of black and white vinyl, are superb at their craft.
The acid-rock of DaDaDa clangs into action, crashing and bashing along and reminding you that the world is a crazy and fantastic place.
You can see for yourselves on May 14, when they play the East Village Arts Club.

Amen Dunes: Lonely Richard
Toe-tappingly infectious, Lonely Richard is the first track to be unveiled from Amen Dune's forthcoming album. It's raw, understated and actually quite haunting.
Amen Dunes, the project of New York-based Damon McMahon, have paired up with singer Elias Bender Ronnenfelt of Iceage on this song.
The sparse arrangement, reverb-laden vocals and simplicity of Lonely Richard underplay the emotional core of its lyrics.

Hatcham Social: Don't Go To Sleep
The London indie-pop trio have produced a perfect slice of lazy, carefree shoegazing pop in Don't Go To Sleep – full of 80s influences like The Jesus & Mary Chain and early Primal Scream.
Ostensibly there's not much here at all, as it seems to wash over you. Dig a little deeper however, and the melodies and laidback rhythms stand out and stick with you.
Not much of a video though. The highlight is when you think a man is going to fall off a car roof in someone's back yard.
SPOILER ALERT: He doesn't.

The Juan Maclean: Get Down (With My Love)
Another instant dancefloor classic from Maclean, released on DFA Records, Get Down (With My Love) is part three in a trilogy that includes the two singles released in 2013 – You Are My Destiny and Feel Like Movin'.
A new album by The Juan Maclean is being mixed now for a Summer 2014 release, and is hugely anticipated. On the evidence of this track, it's going to be BIG!

Nick Waterhouse: It #3
A straight-down-the-line, sharp-shooting rhythm & blues song (originally by Ty Segall) from the LA-based singer/songwriter. It #3 is all Roy Orbison and Sun Records cool, with perfect instrumentation and production.
Having said that, there's not much new here – and you've heard these blues licks a million times before. A cynical man would say it's more music for beer commercials than 50s saloons.

Real Estate: Crime
In a world chock full of music videos, it's hard to cut through the clutter and offer something new and unique. New Jersey's finest Real Estate have hit on the novel concept of giving away guitar tabs in their video for new single Crime.
Now fans can play along at home to the band's jangly indie pop, safe in the knowledge that they're playing the exact same notes. It's like Guitar Hero come to life.

Brody Dalle: Meet the Foetus / Oh The Joy
The erstwhile punk pin-up frontwoman of The Distillers, Dalle has gone solo, releasing a new single that can only be described as ferocious.
Seemingly gone is Dalle's trademark slurred vocal style and f-you attitude, replaced by and joyous deliveries, on respective songs.
Shirley Manson turns up to help out too, lending the whole affair a girls-sticking-together vibe. I'm looking forward to hearing the album.

Chain & The Gang: Minimum Rock n Roll
Chain & The Gang have released a teaser video ahead of their fourth album, out 14 April.
It does exactly what it says on the tin, with the crime rockers (their own invented genre) sounding increasingly like an American version of Earl Brutus – intent on world domination. They play the Kazimier on May 25.
I, for one, welcome our new rock overlords.

Comments
comments