As Leeds' Black Moth being their first headline tour , Getintothis' Chris Burgess bears witness to a strangely underwhelming night.
Bit of a strange gig this one, on many levels.
First up was The Bendal Interlude, a band full of meathead metal swagger. With tight, southern grooves and crunching guitar, the local lads managed to get the crowd warmed up well for the night ahead. Their singer Nat growling magnificently, dressed in a Seal t-shirt.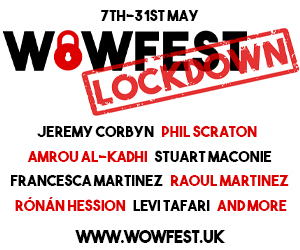 Armed with a set of killer stoner-rock tunes and at-times psychedelic solos, the Interlude didn't dip in form from their first chord onwards, playing a lot of songs from their new album, finally released after a year in production.
Despite this, however, Nat's moaning about money in between songs put a bit of downer on proceedings. "We're getting £20 tonight, which might just cover our taxis home. Winner!"
Although raising some very valid points ("There's an assumption that if you're a local band in a support slot you're just playing to get taxi money") it was hard to shake the feeling that they were going through the motions to some degree. The music didn't suffer at all, but perhaps they were holding back a little.
So far, so good, we thought, and looked forward to Limb, fronted by actor, writer, comedian and ex-Multi Purpose Chemical guitarist Rob Hoey. After a frankly ridiculously long change-over between sets – during which most of the crowd dispersed and half of those left sat down – Limb arrived in a cloud of stage fog. Most of the crowd didn't even bother to applaud their appearance.
Unlike MPC's energetic, frenetic sound, Limb are a more sludge-laden affair, with plenty of groove. Hoey's cod-American accent was still evident however, even when chatting between songs.
Even with a decent opening salvo of doom-laden tunes, the crowd seemed to grow uninterested (apart from the stalwarts at the front of the stage). This seemed a shame, as the band weren't bad at all. A little sludge does go a long way though, and after a few songs their set did get slightly samey.
Daemoness was a standout, but for all of Hoey and his bandmate's efforts, the sparse crowd didn't ever quite ignite for them.
Then came another seemingly endless wait between sets, during which we pondered on whether it was actually a long wait, or the usual time between bands that just happened to be highlighted by the general lack of crowd excitement.
The crowd were still largely sat down when Leeds' Black Moth walked down the stairs and started playing. This seemed more like it though, we thought, when the ferocious riffs of Tumbleweave kicked in.
Bordering-on-cheesy lyrics notwithstanding ("your lies say rock and roll, but your breath says pepperoni") the song injected a moment of energy into an otherwise pretty lifeless night, with singer Harriet Bevan's air of cool nonchalance adding a bit of edge, her haunting voice lightening up the Sabbath-esque backing beneath.
Guitarists Jim Swainston and Nico Carew worked together well, giving the band a beefy sound in comparison to the previous support bands, floating hard yet fuzzy riffs and fine solo work over the band's rigid rhythm section.
Black Moth then switched up a gear, with White Lies, making us nostalgic for the late 90's days of L7 and the Riot Grrl scene. More rock and less metal, they started to get the crowd standing, tapping along and dancing. A few shouts from the crowd livening things up even more, as Bevan answered shouts of "I love you!" with delightful amusement.
The Undead King of Rock'N'Roll, a slower, much more filthy-sounding track was followed by the incredibly scathing Chicken Shit, performed with glee by the band. The faster, aggressive tune even started some small outbreaks of moshing, that seemed unlikely at the start of the set.
Then the weirdness started to take shape, as Bevan's crowd interaction began to devolve into giggles, smiles and platitudes to the crowd. As polite, genial and nice as she was, it seemed totally at odds with the sound the band made, their genre and rock bands in general.
A goth rock/metal band with a smiling and happy singer just seems very unexpected, and seemed to take any attitude and edge away from the group. Dozens of people remained sat down throughout the gig which added a surreal air, at times making this feel more like a performance art piece than a rock concert.
Blackbirds Fall, from 2012's marvellous The Killing Jar, was the definite highlight of the night, it's hypnotic, ambling riffs and fantastically delivered vocals showing that the band are capable of writing scuzzy stoner rock classics with the best of them.
Then another slight musical shift, with the early 90s L.A. rock sound of Looner and the wall of noise of Room 13, magnificently broken down and rebuilt as the song progresses.
Their final song, and the title track of their new album, Condemned to Hope saw a riotous intro and a return to the taut riffs and sludgey bass of earlier songs in their set, still without actually provoking much of a reaction from a pretty docile crowd. Bevan happily said her goodbyes and the band left the stage, to a smattering of applause yet deserving more.
That's possibly the problem we had with the whole night. For a Kazimier Saturday metal/rock gig, there wasn't really any attitude, bite or edge to the night.
We're not sure that it's the bands' fault though. Other than a few dodgy moments from each, all three bands performed well, and certain sections of the audience seemed to be having a blast.
Maybe it was the relatively sparse crowd (perhaps due to the Liverpool International Festival of Psychedelia taking place at the other end of the city) or maybe that's just not what the kids are into these days and we're just older and more nostalgic for the gigs of our youth.
Overall the night seemed a deeply sanitised version of a metal gig – nothing new, nothing dangerous. Call use purists, but aren't rock concerts supposed to leave you feeling like the night might boil over at any point?
Despite the mostly great performances this didn't even really simmer.
Pictures by Getintothis' Antonio Franco
Comments
comments