The third coming of our monthly electronic music roundup sees Getintothis' Martin Hewitt compile a bumper, Bank Holiday-worthy run down of new releases and essential events.
There comes a time in everyone's calendar when they have to ask the inevitable: is it too early for the festival season to start? Answers on a stamped, addressed envelope, please.
Whether or not you can call a weekend at Butlins a festival, or simply the weirdest and most fun rave ever conceived, is open to debate. Either way, the return of Bloc. earlier this month marked the beginning of Britain's 2015 dance music mega-sessions, and marked it with some gusto.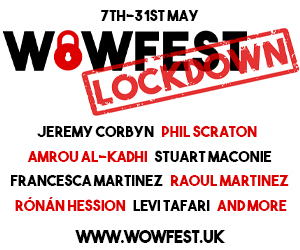 So much so we're still reeling from all the pounding techno, chalet parties, and one unfortunate incident involving a chicken statue, a waitress in a chicken shop, and ten tired but far from beaten clubbers who wanted to see if the fowl busk would move. One hell of a way to start the ball rolling, in between missioning down to the back of beyond (Minehead) from here in the North West, we've somehow managed to find time to listen to a few tunes too. Hold tight then, it could (will) get bumpy.
Kruder & Dorfmeister The K&D Sessions
Kicking off the albums is a release that's not new, but rare and- just in case you're the one person who has never heard of it- amongst the greatest electronic mixes ever made. Ever. First unveiled in 1998, The K&D Sessions comes from the minds of Peter Kruder and Richard Dorfmeister, legends in their own right, and until recently a vinyl copy would set you back about £250. Come April 6, that should change, with new pressings made available of this timeless, smoky, broken beat triumph. Now excuse us whilst we wet ourselves
ALSO ALSO
On a vastly different, what-on-Earth-was-that note, the same day sees the eponymous debut from ALSO hit stores via the decade-spanning R&S Records. A product of none other than Appleblim and Second Storey, it's one for the bass music heads who will no doubt be enchanted- or at least driven into a frenzy- by the staccato rhythms it delivers. Here's a little taster of what all that means, just in case it wasn't clear enough.
HVOB Trialog
A little later into the month and we're recommending the second long form from Anna Müller and Paul Wallner, AKA HVOB. Trialog will land on April 16, and veers between stark minimalistic vocal tech numbers, full-sounding left of the middle melodic steppers, and one of the most beautiful beatless works to cross our paths in some time, Attention, which we've embedded below for your listening pleasure.
Various Arists Fabric 81: Matt Tolfrey
London's Fabric team continue their never-ending stream of well-above-average, if not bloody fantastic, compilations on April 20. Matt Tolfrey's turn at the series helm has been a long time coming, and his efforts to create a booty shaking, fist thumping, up front but intricately detailed house mix is, by all accounts, successful. We've become rather fond of the transition from Skat's Nightlife (as remixed by the sorely missed Kenny Hawkes and David Parr), File One by Bell and Nail's I Think It's Love. Nevertheless, the whole thing is worth cracking on next time you're hosting. No previews or streams for this, though; proper soz.
Dave DK Val Maria
Rounding up the long formers is the immaculate new LP on the mighty Kompakt from none other than Dave DK. The German has been crafting beats and other such noises since he was 17 (that's a while back now), and only gets better. Val Maira, out April 27, is a real treat, from appropriately-titled first track, Fade In– a beautifully textured neo-ambient piece- to the bass-influenced finale, Kronsee, and its deeply hypnotic notes. Along the way it calls at infectiously warm tech (Halma), and baritone-fuelled spatial prog Sasha would be proud of (We Mix At Six), amongst other tones. Suffice to say, your life will be better with this.
CAIAZZO The Dredge EP
First up on the singles front is a belter from New York freshman CAIAZZO, released April 6 on Spencer Parker's Work Them Records. Moodiness and strange metallic accents define all four of the tracks, so if you're not into that kind of thing you probably won't like this much. We do, though, and this atmosphere-building techy breaks number is our pick of the bunch; definitely one to drop just before that slamming four kicks in.
Christian Löffler York
Far more relaxed, and almost lost forever thanks to a missing laptop, is Christian Löffler's York triple-header, which is finally making it out on April 6 thanks to Leeds-based institution 2020Vision. Have a listen to Lhotse, it's sublime stuff indicative of what the rest of the EP sounds like.
Saytek Challenging Behaviour EP
Next up is Saytek, who, despite being in and around four four culture for longer than most have been able to get into clubs, has only really started to gain the recognition he truly deserves in the last five years. Challenging Behaviour drops through Republic Artists on April 9. Here's Bubbling Under, our favourite from the three tunes.
Truss Kymin Lea
We've also fallen for the first solo EP from Truss since 2012, which comes out on April 13 via the ever-aggressive, industrial-edged and wholly danceable Perc Trax. Entitled Kymin Lea, whatever that means try not to be too scared after pressing play.
Robert Hood / Floorplan Shaker / Ritual
Next up we have two particularly special cuts. April 20 sees the godfather of minimal, Robert Hood, unveil a pair of soon-to-be-anthems on EPM Music, one produced under Robert Hood, the other his Floorplan moniker- so look out for Shaker / Ritual when the time is right. You will not be disappointed, but you'll also need to take our word for it because we can't get streams in this instance.
Various Artists CLT001
Last but by no means least, one week later (April 27) the first in a string of planned limited edition EPs from the Brighton and London-based imprint, DJ agency and party promotion outfit, Construct, will be available to buy. Simply called CLT001, it features the likes of Waterwalk (Paul Louth & Mike Thornhill), Hugo Barritt, Stratowerx (Sam Russo) and William Welt, and already has the likes of Danny Tenaglia and Stacey Pullen supporting. Unfortunately, it's too early for any samples here too. Don't let that put you off, though.
***April event highlights***
Samuel Kerridge at 24 Kitchen Street – April 2, £5
Samuel Kerridge's reputation continues to grow amongst fans of loud things in dark, dark rooms. Catch him doing what he does best- a live techno set using kit we don't know the name of- at the Baltic Triangle's wonderfully ramshackle 24 Kitchen Street, along with DROHNE x VEED, Bodies On Everest, Tomasu, Blenky and JC. Should be heavy going.
Rhythm Theory at Soup Kitchen – April 3, £10
We attended an excellent Rhythm Theory soiree last year, headlined by Jonas Kopp, and have been looking forward to the next since. Jerome Sydenham is in charge this time round, a chap who lays claim to a lengthy career including A&R for Atlantic Records during the 1990s New York house wave, and serious techno rhythms, so get involved.
Bedrock at Gorilla – April 4, £18
How in God's name could we not recommend this one? The mighty Bedrock bossman John Digweed is in Manchester, and that doesn't happen every day. More so, he's down to play a four hour set, which usually makes for something very special indeed. Meanwhile, local-ish lads Pirate Copy– who represent Kaluki– are on hand to warm up.
Circus at Arts Club – April 5, £20
The big one for Bank Holiday madness in Merseyside sees Yousef going back-to-back with Eats Everything, but more exciting is the prospect of a not-so-common appearance from DJ Tennis, and Kolsch playing a DJ set. Oh yeah, that's all in addition to Butch, Matador (live) and Liverpool hero Lewis Boardman.
Selecting Hearing at Secret Venue – 24 April, £15
This one is bound to sell out given main man Robert Hood unfortunately had to cancel his Selective appearance last year, meaning people have been waiting months for a new date to be confirmed. In addition to one of Detroit's finest (although he now lives in the Deep South), She Works chap Sunil Sharpe will also be on the decks. Get. A. Ticket. Now.
Collect! & Bulletdodge Records at Constellations – April 25, £10
Celebrating the opening of a new venue for Liverpool, Collect! team up with Bulletdodge Records to welcome one of the pioneers of electronic music, DJ Pierre. A bona fide Chicago don who helped invent acid house, he'll be joined by UK veterans XPress 2 for a session that will move from courtyard to inside dancefloor as the evening progresses.
Comments
comments