As Ren Harvieu performs a stripped back show at Leaf, Getintothis' Tom Konstantynowicz reflects on the Salford singer's stunning vocal display.
"Her voice is just too much isn't it?" says warm up act Jay Lewis in his attempt to big up Ren Harvieu towards the end of his set, he's not wrong.
He and the enchanting Ragz Nordset provide superb support upstairs in Leaf, which is looking every inch the fifties jazz bar with trinkets and fairy lights draped from the ceiling and candles on the tables scattered in front of the stage.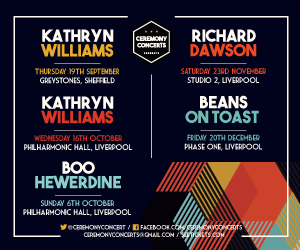 Harvieu walks on stage sipping a glass of red wine, in keeping with the smoky jazz aesthetic, in fact the only thing missing is cigar smoke in the air, à la the famous Fast Show 'Jazz Club' sketch. Her voice on opening number Forever In Blue, as Jay Lewis predicted, kills all noise stone dead.
It's a stripped back performance compared to what many people familiar with Harvieu might have expected. The full string section backing that creates that full sound on her records is swapped for the sole accompaniment of Joe, her excellent keyboardist/guitarist. This only adds emphasis to her stunning vocals.
The songs are a mix of old, new and covers, a duet with Joe on Chris Isaak's Wicked Game is stunning and Open Up Your Arms, even without the extravagant strings, is a highlight as Harvieu begins to slide up and down the mic stand, throwing her head back in rapture. At times she borders on the theatrical and that is when she looks like a true star.
If there's one thing guaranteed to endear you to a partisan Liverpool crowd it's calling David Cameron an 'arsehole', especially after the Tories, just days ago, secured a majority election win. At that moment Salford-born Harvieu, already in the hearts of people on Merseyside after lending her vocals to the Hillsborough Justice Collective charity single, became one of their own.
Her debut album seems a lifetime away now, back in 2012, but Harvieu assures that she should have something out by September, revealing she's been writing songs with The Magic Numbers. An impromptu encore, containing one of the fruits of this partnership, is the unprecedented high point.
As she walks off stage for the second time, meandering through tables towards the back of the room, there are claps, awed silence and some cries for another encore. Like a true star, she leaves us wanting more with everyone's appetite sufficiently whet for new material.
Photos by Getintothis' Martin Saleh
Comments
comments