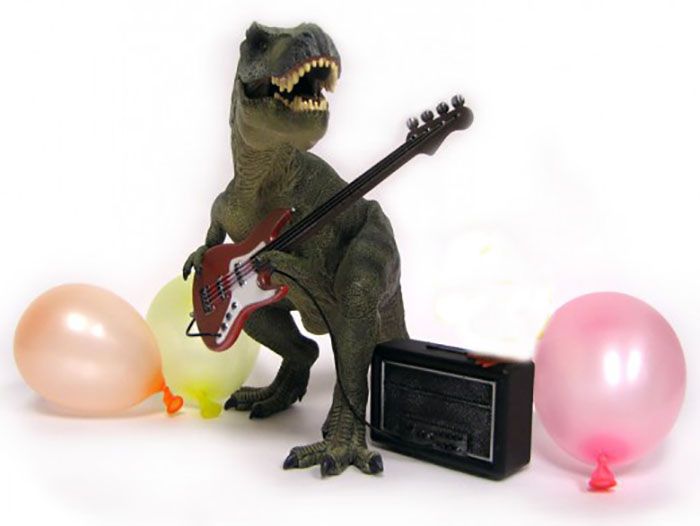 As Jurassic World hits the nation's cinemas this weekend, Getintothis' Chris Burgess journeys into the land before time to reveal the top ten dino-inspired bands.
Music has an inexplicably strong link to the dinosaur kingdom. From the delights of paleontology summed up by They Might Be Giants to the funkasaurus grooves of Was (Not Was), many acts have keenly taken inspiration from the prehistoric period.
The B-52s have got in on the act, alongside Johnny Cash and even the Wu-Tang Clan, proving that musicians' love for the big beasts crosses the most diverse genres. Incidentally, it should be noted that Jurassic World star Chris Pratt is a pretty decent rapper himself.
It also works the other way around, with Dire Straits' guitarist Mark Knopfler having a dinosaur named after him. Insert your own 'rock dinosaur' joke here.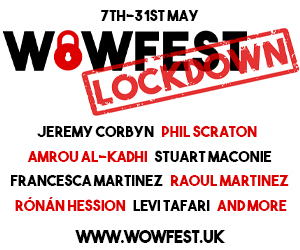 With that in mind, we've taken some time to put together a list of our ten favourite bands with dino-inspired names:
10. Dinosaur Feathers
The Brooklyn indie-popsters seem firmly set in the herbivore section of the lost world. All jangly guitar lines, harmonies and upbeat sensibilities, they're not very likely to come snarling at you in a theme park.
As dinosaur bands go, they're probably most likely to evolve into birds.
Scariness rating: 1/10
If they were a dinosaur they would be: Littlefoot from The Land Before Time, bringing some dino emotion to proceedings.
9. Dinosaur Pile-Up
Leeds three-piece Dinosaur Pile-Up are slightly more gigantic, with their alt-rock much more likely to make the earth shake beneath your feet. The band is named after a scene in the 2005 remake of King Kong.
Singer Matt Bigland explains: "there was this part in it where this stampede of dinosaurs, the front one is shot in the leg or something, and then all these huge dinosaurs trip up…it just ends up in this massive pile up".
Scariness rating: 6/10
If they were a dinosaur they would be: Rex from Toy Story, fierce on the outside, soft on the inside.
8. Tyrannosaurus Alan
The 7-piece ska/rap band from Medway in Kent appear to be named after a bonkers advert for bottled water. The group's shouty yet upbeat tunes make the ideal soundtrack for running away from velociraptors.
Scariness rating: 4/10
If they were a dinosaur they would be: Yoshi from Super Mario World, fun and dependable.
7. The Dodos
San Francisco's The Dodos manage to merge psychedelia with elements of folk and baroque music, creating sounds larger than a diplodocus.
Yes, we know that dodos aren't dinosaurs in the traditional sense, but the band are so good we felt we just had to include them.
Scariness rating: 3/10
If they were a dinosaur they would be: The Family Ness, weird, wonderful and folky.
6. Totally Enormous Extinct Dinosaurs
The pseudonym of London-based DJ, singer and producer Orlando Higginbottom, TEED has become a festival staple worldwide, with his trademark electo beats and synth bleeps perfectly suited to the great outdoors.
Having worked with many diverse artists, including Disclosure, Foals and Damon Albarn, it's clear that this is one dinosaur-sized act that should roam in herds.
Scariness rating: 5/10
If they were a dinosaur they would be: Denver, The Last Dinosaur – definitely friendly.
5. The Flying Lizards
Avant-garde and experimental, The Flying Lizards were a big deal for a short period of the late 1970s, deconstructing a number of songs from Money to Summertime Blues, each in a distinctly minimalistic style.
Not the most thunderous of the lizards, the band are more likely to have flown high above the action, swooping down to pick up the leftovers.
Scariness rating: 1/10
If they were a dinosaur they would be: The Pterodactyl from Lost Valley of the Dinosaurs.
4. T.Rex
Led by the uber-hippy Marc Bolan, T. Rex were one of the biggest bands in the UK in the early 1970s, their glam rock stomping ushering a wave of platform boots, hairspray and outlandish outfits.
Less of a dinosaur band and more of an erupting volcano of psychedelic sequins.
Scariness rating: 0/10
If they were a dinosaur they would be: Barney, without shadow of a doubt – big, colourful and camp.
3. Jurassic 5
The LA-based legends combine to make a ferocious sound, with 12 legs (yes, there are actually six of them) and more teeth than a Tyrannosaurus Rex.
We're sure that Chali 2na's deep baritone voice is probably lower than the roar of a Stegosaurus, too.
Scariness rating: 7/10
If they were a dinosaur they would be: Godzilla, tearing up the city and destroying all those who oppose them.
2. Dinosaur Jr
Louder than any dinosaur's stomp, J Mascis' noisy alt-rock outfit produce giant slabs of distortion-heavy meatiness, living up to their name.
The Massachusetts-born band is renowned for their ear-splittingly loud live shows, with Mascis' squealing feedback sounding just like a monstrous lizard's roar.
Scariness rating: 9/10
If they were a dinosaur they would be: Earl from Dinosaurs – basically because he wears plaid shirts.
1. Mastodon
The prog metal band from Atlanta, Georgia are perhaps the only band on this list that would have fit in perfectly during the Jurassic era – such is the heaviness of their step and the ferocity of their rock roar.
The Mastodon is a distant relative of the elephant or woolly mammoth, but, like their namesake band, much more muscular. Mastodon simply have to win our battle of dinosaur-named groups, on sheer power and brute force alone.
Scariness rating: 11/10
If they were a dinosaur they would be: The Tyrannosaurus Rex from Jurassic Park, the scariest dinosaur ever committed to film.
Honourable mentions go to Terry Dactyl and the Dinosaurs, When Dinosaurs Walked The Earth and Heavisaurus.
Comments
comments